Royal Expert May Sue Over 'Devastating' Meghan and Harry Interview Prank
A royal expert has called in lawyers after being caught up in an "utterly devastating" YouTube prank ahead of Meghan Markle and Prince Harry's Oprah Winfrey interview.
Victoria Arbiter—and her father Dickie Arbiter, Queen Elizabeth II's former spokesperson—both gave interviews reacting to the Sussexes' bombshell CBS tell-all days before it aired in March 2021.
The former CNN royal commentator said she was told the footage would run on U.K. network ITV, after Meghan and Harry's interview had been broadcast, and that her comments were based on preview clips that had already aired.
She told Newsweek other information already in the public domain also informed her comments.
However, they, along with two other prominent royal commentators, were the victims of a prank by Archie Manners and Josh Pieters, who posted the footage on YouTube headlined: "We Proved Royal Experts Lie About Harry and Meghan."
Arbiter said she was the victim of a torrent of social media abuse in the aftermath, though she feels she was misrepresented.
She told Newsweek: "I retained lawyers in May 2021 given the fallout from the prank. Being falsely accused of lying which I absolutely didn't do has been utterly devastating.
"According to my lawyers I have grounds to sue based on their numerous fraudulent misrepresentations."
Newsweek approached Manners and Pieters for comment.
The YouTube Prank
Manners and Pieters set up a fake production company called Beneath the Fold and asked four royal commentators to do a "pre-record," a common practice in the TV industry in which experts give generic reactions ready for broadcast in advance of an event.
On the video's narration, Pieters says: "Would these paid commentators give a review of an interview they've not yet seen? To put this to the test Archie and I set up a production company, Beneath the Fold Ltd."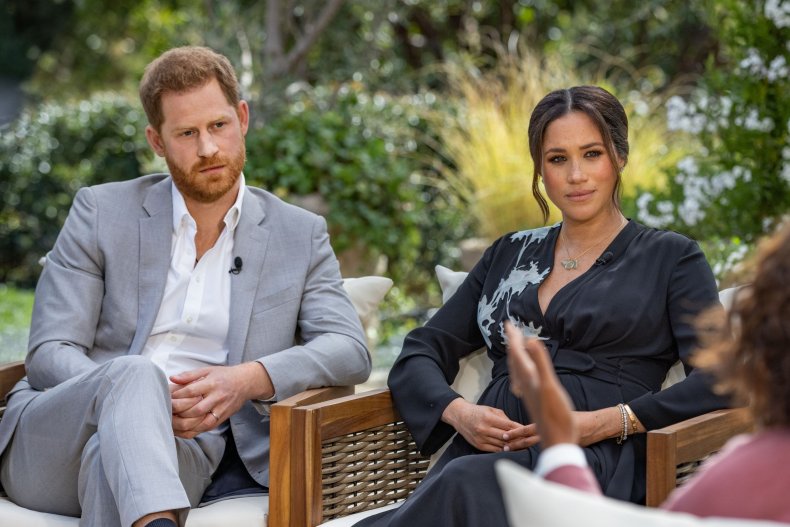 He added: "The experts were happy to act as if they'd already seen the interview. Their fees were negotiated and their contracts signed."
At the time, CBS had put out preview clips including one where Oprah famously asked: "Were you silent or were silenced?"
However, the full explosive interview had not yet been broadcast, meaning the experts did not know Meghan would allege racism at the heart of the royal family and describe feeling suicidal in the face of negative media coverage.
Victoria Arbiter Calls in Lawyers
Arbiter said the reaction on social media after the prank went online had "been horrific" and that her contract with CNN was not renewed as a result.
She told LBC: "It was made at the expense of my livelihood, my future career, my mental emotional, physical well-being. I didn't leave my house for two weeks because the avalanche of hate was so monumental, so extreme, and the anxiety that evolved as a result has been devastating.
"There are times I'm so paralyzed by the anxiety associated to what happened I can't go outside, I don't leave my house. And I was just stunned that so many people opted to take a narrative that was put out by two self-described pranksters at face value."
Arbiter, who lives in New York, told Newsweek her lawyers believe she has a "strong case."
And she told LBC there were a number of questions that she told Manners and Pieters she could not answer but that this was not reflected in the footage that ran.
She said: "Archie and Josh, when lawyers got involved, they removed me voluntarily from the video but the damage was done. I lost my job. I haven't worked in the U.S. since March 2021."
She added: "It was important to me I clear my name, to state categorically on the record that I did not lie, I did not offer a reaction, I did not review the show. I spoke to how things had been done before."
Arbiter told LBC she asked the pair to confirm they would adhere to the "standard protocols" of a pre-record and that they said they would.
"I can only speak to my own commentary but I can say emphatically that I spoke truth accurately, I only spoke about the clips we had already seen."
For more royal news and commentary check out Newsweek's The Royal Report podcast: