Trump's Election 'Lies' Made Georgia Election Worker Afraid to Use Her Name
A former Georgia elections worker said that she is now afraid to share her name in public after becoming a "scapegoat" for former President Donald Trump's 2020 election "lies."
The House committee investigating the January 6, 2021, Capitol riot played recorded testimony Tuesday from Ruby Freeman, who attended the panel's fourth hearing but did not speak live during the event. In the recording, Freeman emotionally recounted being "targeted" by the former president and his allies as they tried to push unproven claims of election fraud in Georgia.
"I could have never imagined the events that followed the presidential election 2020," Freeman said.
Both Freeman and her daughter Wandrea ArShaye "Shaye" Moss, also a former Georgia elections worker, have said that they were harassed and threatened by Trump's supporters after attorney Rudy Giuliani released a video of the two counting ballots on the night of the 2020 election. Speaking during the House committee's hearing on Tuesday, Representative Adam Schiff said that Trump, Giuliani and others used this video to falsely accuse the mother and daughter of taking part in an election scheme to bring in and count false ballots for Biden.
For Freeman, the aftermath of these accusations was devastating, according to her recorded testimony.
"For my entire professional life, I was Lady Ruby," Freeman said. "My community in Georgia, where I was born and lived my whole life, knew me as Lady Ruby."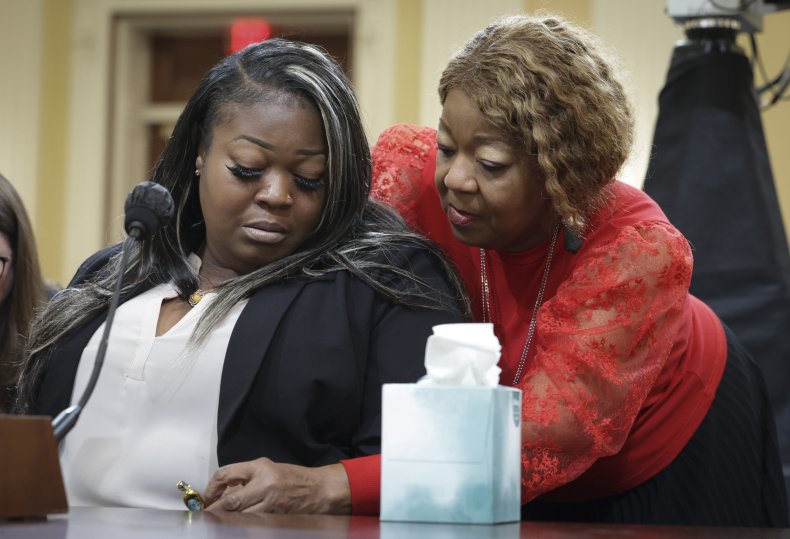 Freeman then spoke about building her business around her name, and even owning a shirt in every color that declared to the world that she is "Lady Ruby." But now, she refrains from even introducing herself by name, she said.
"I get nervous when I bump into someone I know in the grocery store who says my name," Freeman said. "I'm worried about who's listening. I get nervous when I have to give my name for food orders. I'm always concerned of who's around me."
"I've lost my name, and I've lost my reputation. I've lost my sense of security. All because of a group of people starting with number 45 and his ally, Rudy Giuliani, decided to scapegoat me and my daughter, Shaye, to push their own lies about how the presidential election was stolen," she continued, referencing Trump's role as the 45th U.S. president.
Later in her testimony, Freeman said that there is "nowhere I feel safe."
"Do you know how it feels to have the president of the United States to target you?" she asked.
Moss, her daughter, testified live in front of the House committee Tuesday, saying that the hateful and even racist messages she received in the wake of the election "turned my life upside down."
"I no longer give out my business card. I don't transfer calls. I don't want anyone knowing my name," Moss said. "I don't want to go anywhere with my mom, because she might yell my name out over the grocery aisle, or something. I don't go to the grocery store at all. I haven't been anywhere at all."
Newsweek reached out to a Trump spokesperson for comment.