Rudy Giuliani Accuses Judge of Creating a 'Fantasy,' Says 'We Don't Need Courts' in Election Fight
During an appearance on Fox News Friday night, President Donald Trump's lawyer Rudy Giuliani said the campaign doesn't need courts to change the outcome of the election, and accused one Nevada judge of creating "a fantasy out of the law."
Giuliani, a key voice in the election fraud fight, went on Sean Hannity's show after several states – including Arizona, Nevada, Wisconsin, and Michigan – rejected cases that day.
In Nevada, Judge James Todd Russell said that he saw no clear or convincing proof to nullify the results of the election or to change the outcome in Trump's favor.
"Contestants did not prove ... that illegal votes were cast and counted that should have been rejected during the signature verification process, or legal votes were not counted that should have been accepted" in numbers that would have swayed the outcome of the election, the judge said.
In response, Giuliani accused the judge of unfairly changing the law. "The reality is, the judge has completely changed the law, he's created a fantasy out of the law," he said.
"We can get a reverse, but he's accomplished what he wants to accomplish. He's delaying things. I'm sorry to say he's a Democrat. And you can't tell me he made this decision based on his legal knowledge unless he really didn't go to law school," he continued.
Giuliani went on to explain that Trump's legal team has sought to go straight to state legislatures rather than courts, because he "saw what the courts were doing, and I wanted to go around them so the facts could get out."
"The simple fact is, we don't need courts," Giuliani declared. "The United States Constitution gives sole power to the state legislature to decide presidential elections."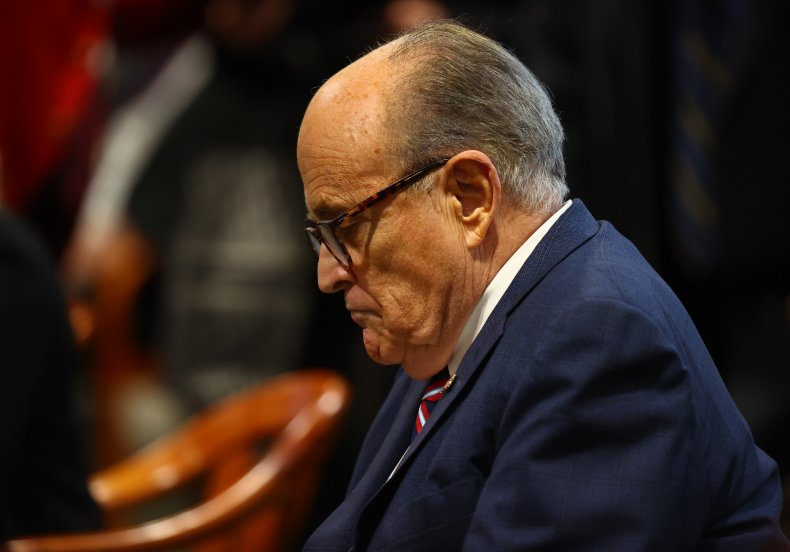 The Trump campaign has so far gained only one victory out of over 30 lawsuits filed in six different states, as the rulings have come from both Republican and Democratic judges. Some have even been Trump-appointees.
"Despite his attempts to flout the rule of law, when [Trump has] acted egregiously outside the scope of his authority, the courts have really knocked him down," attorney Marisa Maleck, a former law clerk to Supreme Court Associate Justice Clarence Thomas who served as general counsel to the District of Columbia's Republican Party, previously told Newsweek.
While the campaign continues to put up a fight in state courts, the team has shifted toward a strategy of targeting state legislators to slow the process of certifying election votes – with the ultimate goal of convincing Republican electors to certify the vote in Trump's favor.
According to a report from Reuters, Trump's legal team sought to enlist fellow Republicans who control the legislatures in Michigan and Pennsylvania to influence the election in their favor.
But after holding a meeting with two Michigan lawmakers in charge of certifying the states electoral votes, Trump failed to convince them to appoint Republican-friendly electors to flip the vote from Biden.
The Trump legal fight is coming down to the wire, with less than 10 days until the final electoral vote.
States will convene in the Electoral College on December 14, and the 538 appointed electors will officially cast their ballots for the next president and vice president.
Newsweek attempted to reached out to Giuliani for additional comment, but did not hear back in time for publication.