Rudy Giuliani Admits an Associate Did Ask For $20,000 a Day From Donald Trump Campaign
After weeks of denial, former president Donald Trump's personal attorney Rudy Giuliani has conceded that an associate of his did ask for him to be paid $20,000 a day for his work for the Trump campaign after the 2020 election.
Giuliani acknowledged to The New York Times on Friday night that his associate Maria Ryan had sent the email shortly after Election Day, but denied being aware of it at the time.
He maintained that Ryan had consulted with another associate, Larry Levy, about the payment Giuliani should seek while he was traveling.
"Mr. Giuliani began working the case in the wee hours of the morning on November 4," Ryan wrote in the email sent from a Giuliani Partners account, The Times reported.
Noting that a team in Washington, D.C. was working out of rented hotel rooms, Ryan added that instead of $2,000 an hour, "we will contract for $20,000 a day which will include all of the expenses for Mr. Giuliani and his staff."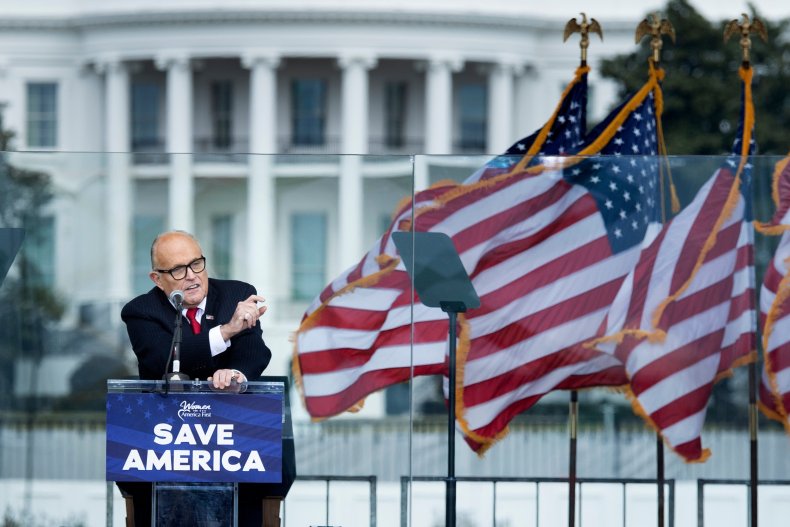 But when The Times asked Giuliani about the request in November, Giuliani denied it—and continuing denying that he ever sought $20,000 a day, including as recently as on Friday afternoon on his radio show.
In an interview with the newspaper on Friday, he claimed he "never had a single expectation of being paid a penny" and that he represented Trump "out of my sense of commitment."
Giuliani has been contacted for additional comment.
Giuliani was one of the staunchest supporters of the former president's baseless claims that the 2020 presidential election had been stolen from him.
Earlier this month, Middlebury College in Vermont revoked an honorary degree it had awarded to Giuliani in recognition of his response to the September 11, 2001 attacks as mayor of New York City.
The private liberal arts college's president Laurie Patton accused Giuliani of "fomenting the violent uprising" at the U.S. Capitol on January 6.
Shortly before his supporters stormed the building where lawmakers were meeting to formalize President Joe Biden's victory, Trump had exhorted a crowd in Washington, D.C. to "fight like hell" to overturn the result.
Giuliani also gave a speech at the rally, reiterating the baseless claims that widespread election fraud had cost Trump the election.
"Let's have trial by combat," Giuliani told the crowd, after myriad attempts to change the election's outcome in court had failed.
Giuliani is also facing expulsion from the New York State Bar Association.
"We must address the root cause of this abhorrent incident, the blame for which lies first and foremost with President Donald Trump," the association's chief communications strategist, Susan DeSantis, said in a statement. She added that "the president did not act alone" and that Giuliani was also to blame.