Rudy Giuliani Exaggerating Store Slap, ShopRite Employee's Lawyer Alleges
Lawyers for a man charged with assault in the slapping of Rudy Giuliani's back allege that the former New York City mayor has given a misleading account of the incident to keep his name in the media.
The Legal Aid Society on Monday blasted Giuliani in a statement accusing him of overplaying the incident and law enforcement of overreacting to the widely publicized encounter in a grocery store. The statement is the latest after headlines emerged earlier that ShopRite employee Daniel Gill made physical contact with Giuliani during a confrontation on Sunday.
The nonprofit law firm said Giuliani sustained "nothing remotely resembling physical injuries" and that Gill "merely patted" him during the altercation to get his attention.
"Given Mr. Giuliani's obsession with seeing his name in the press and his demonstrated propensity to distort the truth, we are happy to correct the record on exactly what occurred over the weekend on Staten Island," the statement from the Legal Aid Society said.
The confrontation occurred at a Staten Island, New York, ShopRite where Giuliani had stopped to use the bathroom while out campaigning for his son Andrew Giuliani's Republican gubernatorial bid. The Legal Aid Society statement casts the altercation in a strikingly different light than Giuliani.
Earlier, Giuliani said on The Curtis Sliwa Show that the slap felt like "a shot on my back." Giuliani, 78, described himself as "lucky" to be in "pretty good shape" because he could have "hit the ground and probably crack my skull."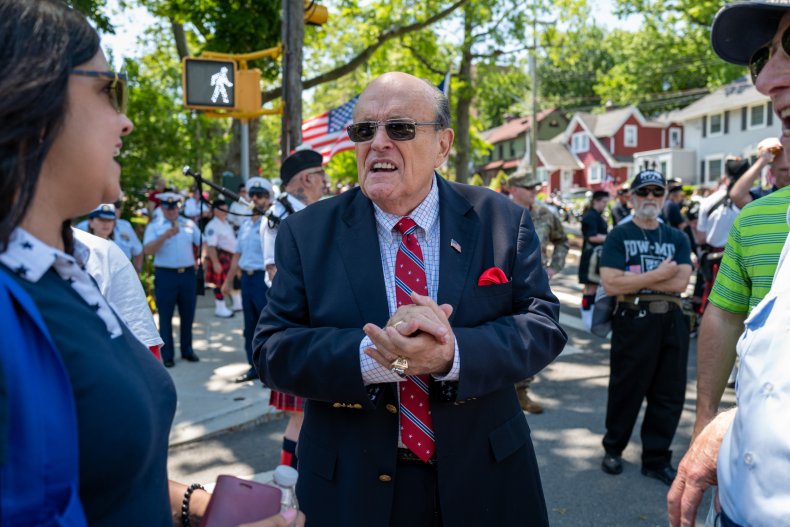 Giuliani, a former advisor to ex-President Donald Trump and one-time GOP presidential candidate, told the New York Post that he felt a "tremendous pain in my back" after the slap. After making physical contact with him, Giuliani said, Gill called him a "scumbag" and cursed at him over the Supreme Court's decision on Friday to strike down national abortion rights, saying "you're one of the people that's gonna kill women."
After a video of Gill's slap went viral, Giuliani was mocked on social media before calling for Gill to be charged. Gill, 39, was arrested and initially charged with felony second-degree assault, which was later downgraded to misdemeanor assault along with two other misdemeanors, reports ABC affiliate WABC-TV.
The Legal Aid Society said Gill has had no previous contact with the legal system and called the charges "inconsistent with existing law." Gill was poked in the chest and threatened by one of Giuliani's associates, the law firm alleged. Additionally, the law firm said Gill was "needlessly" held by the New York Police Department (NYPD) for more than 24 hours.
Still wearing his ShopRite uniform, Gill was released on his own recognizance, reports WABC.
Giuliani, meanwhile, has continued to insist the incident put him at serious physical risk.
"I got hit as if a boulder hit me," Giuliani said during an online press conference Monday. "It knocked me forward a step or two. It didn't knock me down, but it hurt tremendously."
Newsweek has reached out to Robert Costello, a lawyer who has represented Giuliani, and to the NYPD.