Fox's Kennedy Tells Rudy Giuliani She Was 'Grossed Out' by 'Borat 2' Scene in Tense Interview
Rudy Giuliani had something of a car crash interview Tuesday after the attorney exchanged harsh words with Fox anchor Kennedy over the Hunter Biden controversy and his appearance in the new Borat film.
President Donald Trump's personal lawyer went off on Fox Business host Lisa Kennedy Montgomery after she compared him to British ex-spy, Christopher Steele the, man behind the so-called Trump Russia dossier while also admitting she was "grossed out" by his behavior in Borat Subsequent Moviefilm.
"I have a 15-year-old daughter, I watched that, I was kinda grossed out by it," she said.
A disturbing scene in the sequel features Giuliani appearing to attempt to seduce an actress playing a young female reporter. The 76-year-old was caught in a compromising position on camera—his hand in his pants while lying on a bed in a hotel room with Borat's fictional daughter, Tutar (Maria Bakalova), who was dressed up as a conservative journalist. The set up is interrupted by Sacha Baron Cohen, dressed up as Borat.
"Do you regret your interaction in the Borat movie?" Kennedy asked.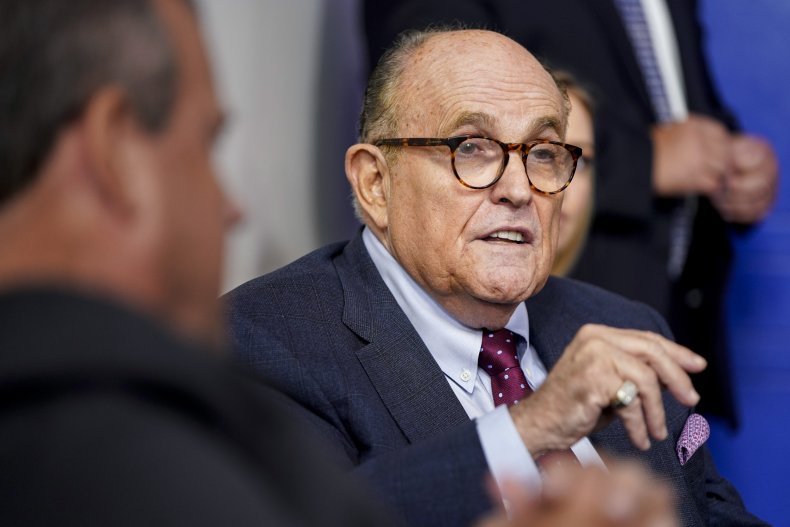 Giuliani replied: "Now that's a stupid question, isn't it? Whether you believe it or not, I was tucking my shirt in. He made it appear as if it was something different."
He has consistently maintained he was tucking in his shirt and denies any wrongdoing.
Giuliani also demanded an apology earlier in the interview after Kennedy said he was "acting like Christopher Steele" by continuing to promote documents and emails relating to Democratic nominee Joe Biden's son Hunter Biden.
"Some can say that you're acting like Christopher Steele, that you were abstracting information," the Kennedy host said.
"You got to be kidding me. I was acting like Christopher Steele?" Giuliani interrupted, referring to the Steele dossier which alleged collusion between Moscow and Trump's 2016 election campaign.
"You better apologize for that," he added. "I mean I've been a United States attorney, associate attorney general, mayor of New York City and a member of the bar for 50 years. I've never been accused of anything, and you're accusing me of being Christopher Steele."
The pair continued to talk over one another, with Kennedy saying: "I'm accusing you of acting in a capacity similar to Christopher Steele and that you were going back and forth between Ukraine and the United States."
Giuliani claimed that Kennedy's statement was "outrageous defamation" and invited her to come to his office to view the documents on Hunter Biden.
"What you're saying is an outrageous defamation of me, of my reputation," he said. "I came on your show in good faith to give you evidence that is being withheld from the American people, and I get defamed."
"I think our interview is now over," he added. "I don't talk to people who accuse me."
The former mayor then stayed another tense few minutes, but went on to accused Kennedy of "repeating lying propaganda."
The interview ended with Kennedy saying: "You can't tell me you haven't loved this conversation." To which Giuliani replied: "I have not loved this conversation. I find this conversation totally insulting."