Rudy Giuliani Spent $12,000 on Cigars, Estranged Wife Claims
Rudy Giuliani spent thousands of dollars a month on cigars, the lawyer of his soon-to-be ex-wife told a Manhattan judge.
Speaking in a New York state court on Wednesday, Judith Giuliani's attorney Bernand Clair told the judge that Giuliani's lavish lifestyle saw him spend approximately $900,000 over five months.
His expenses included $12,000 on cigars and expensive jewelry for a new love interest, as well as $7,000 on pens.
Giuliani's wife filed for divorce in April, but the former New York City mayor has since claimed he can't afford to pay her support of $63,000 a month.
"When a man, a litigant, whether it's Mr. Giuliani or a bartender in Buffalo, makes the claim that he can't make the payments anymore and we have to lower our expectations, we look at spending," Clair told the judge, as reported by Bloomberg.
Clair also dismissed Giuliani's claims that she had "jazzed up" her expenses to the court. She noted the pair had both calculated their personal monthly expenses to be in the region of $230,000.
"It seems both parties spend money on certain expenses that most Americans wouldn't," Justice Michael Katz said. "But that was their lifestyle."
She also told the judge that Giuliani's claim that he can't afford to pay for Nathan is also undermined by his decision to work for free as a lawyer for President Donald Trump.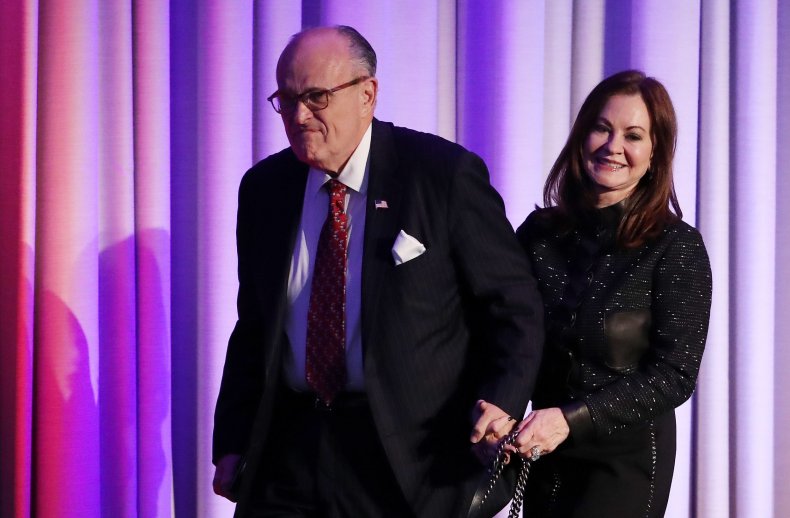 Giuliani's lawyer, Faith Miller, said that 63-year-old Nathan had not accounted for the $172,000 his client spends on a monthly basis on expenses that benefit her.
Miller also defended the decision to work for Trump for free. "At age 74, if he chooses to work without compensation for the president rather than, say, at a private law firm, I submit that he should be entitled to do so," he said.
Giuliani and Trump have been friends for decades and the president attended the wedding between Giuliani and the former New York City mayor in 2003.
Officiated by his successor Michael Bloomberg, the wedding was Giuliani's third. He had divorced his second wife Donna Hanover in 2002.
Announcing his separation from Hanover at a press conference in 2000, Giuliani admitted he had engaged in an affair with Judith, then going by Judith Nathan, causing some controversy when he mentioned the new relationship as a factor in his divorce, USA Today reported.
The pair's divorce will be the third for both Giuliani and Nathan, who between them have three children—two from his previous marriages and one from her previous marriage.