How Rudy Giuliani's Unfounded Claims of an Anti-Trump Conspiracy in Ukraine May Have Ousted an Ambassador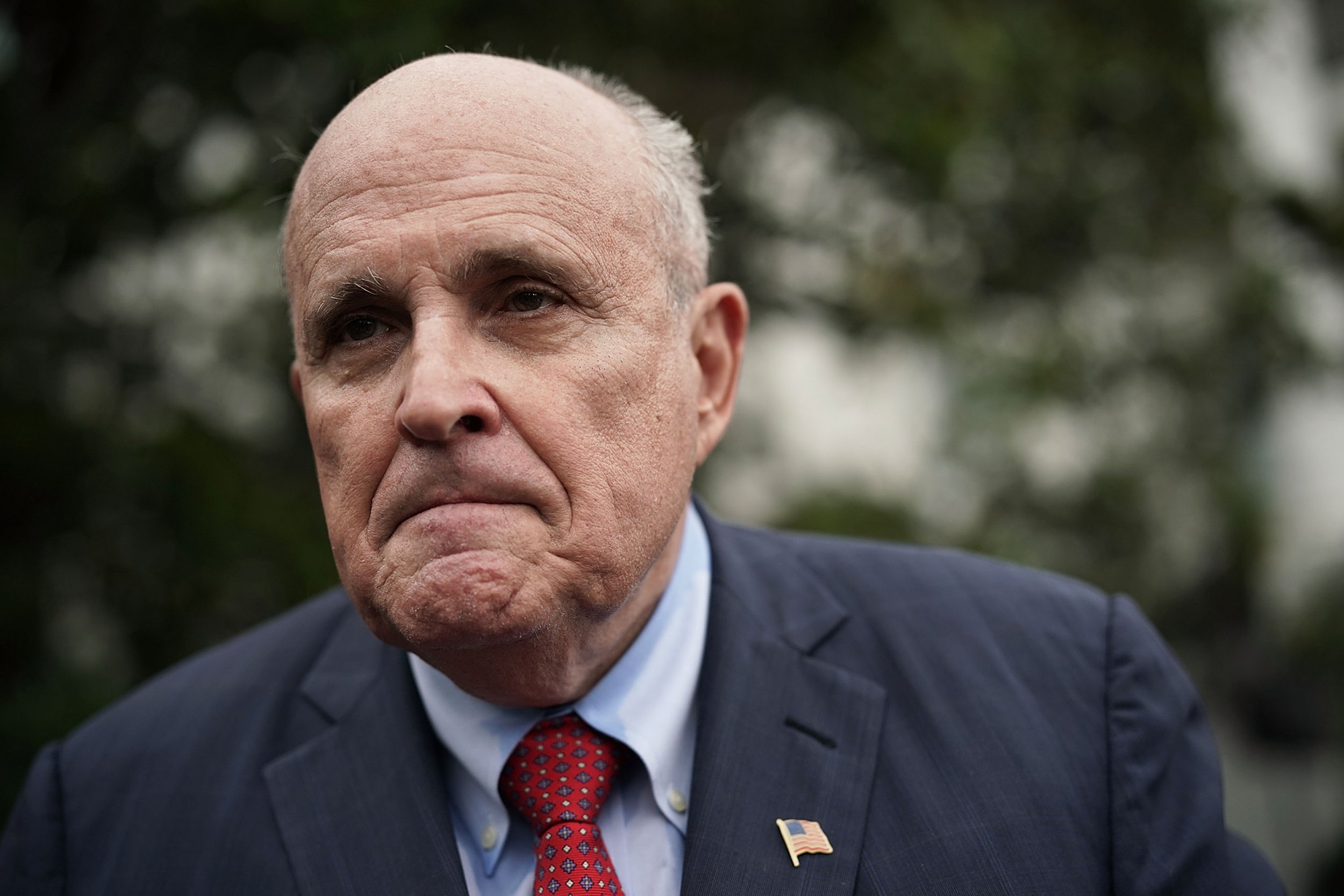 Associates of President Donald Trump are bringing Ukraine into political battles with Democrats, in a move that may have led to the early dismissal of the U.S. ambassador to Ukraine, experts say.
Ukraine's Prosecutor General Yuriy Lutsenko, who in March claimed that the U.S. ambassador Marie Yovanovitch had given him a list of individuals who should not be prosecuted, has been meeting regularly with Trump's lawyer Rudy Giuliani. Some of the meetings took place in Poland, people familiar with the matter said, including on the sidelines of a U.S.-led summit on the Middle East that took place in Poland's capital Warsaw in February.
Giuliani told Newsweek that he last met with Lutsenko six weeks ago. "I have met with him. I interviewed him for two days in New York. I met with him once in Poland…and I may have met with him one other time in America, I don't remember," Giuliani told Newsweek. "I may have just gotten a coffee with him sometime when he was here."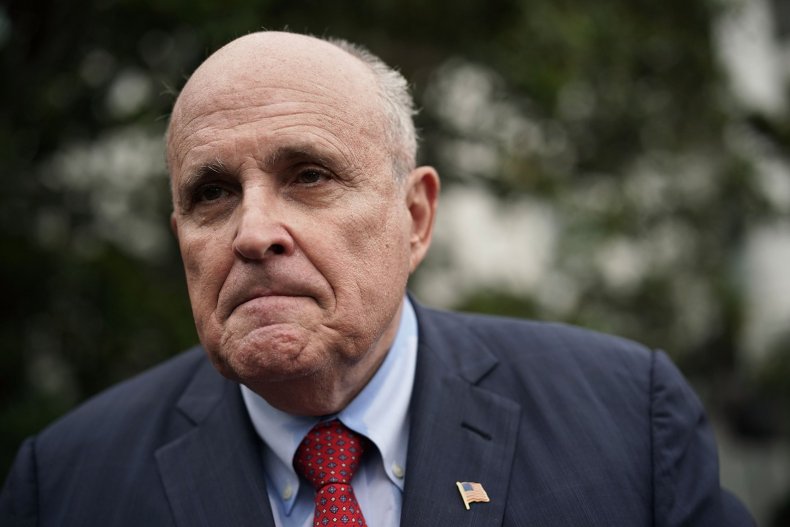 In the wake of these meetings, Lutsenko has been publicly criticizing ambassador Yovanovitch, who was appointed by the Obama administration. Conservative commentators like Laura Ingraham also reported that Republicans were concerned that ambassador Yovanovitch was biased against Trump. The president's son Donald Trump Jr. tweeted in favor of the ambassador's removal, calling her "Obama's Ambassador to Ukraine."
This week, the Trump administration recalled Yovanovitch two months before her scheduled departure. Voicing what appeared to be a number of theories without evidence, Giuliani told Newsweek that the ambassador was "fired" because the embassy under her direction had conspired with George Soros to have a key anti-corruption investigation quashed.
"My interest is really to get everybody to focus on the conspiracy between the Ukrainians, the [Democratic National Committee], and the embassy, including our ambassador who was just fired," Giuliani told Newsweek. "She was using her embassy to dig out negative political shit on Trump, on [former Trump campaign manager Paul] Manafort, and possibly others."
Giuliani also claimed that the U.S. ambassador had "possibly contributed" to the controversial dossier compiled by former British intelligence officer Christopher Steele. There is no evidence to support this claim.
A State Department spokesman told Newsweek that the ambassador's departure would coincide with the appointment of Ukraine's new President Volodymyr Zelenskiy, who beat incumbent President Petro Poroshenko in elections held in April.
"Ambassador Yovanovitch is concluding her three-year diplomatic assignment in Kyiv in 2019 as planned. Her confirmed departure date in May aligns with the presidential transition in Ukraine," the spokesman told Newsweek.
But analysts say that it is unusual for diplomatic appointments to coincide with political transitions in the country where diplomats are based, and that Yovanovitch is the victim of partisan politicking.
"It's appalling to see Secretary Pompeo recalling a career ambassador only a few months before the end of her tenure—and at a very critical juncture in Ukrainian politics—just to pander to partisan conspiracy theorists like Laura Ingraham," Michael Carpenter, a former deputy assistant secretary of defense in charge of Russia, Ukraine, told Newsweek.
"By throwing a career diplomat under the bus, Pompeo has shown he's willing to put partisanship above the interests of the Department. Yovanovitch has been with State for three decades and served two ambassadorships under the George W Bush administration before being appointed as envoy in Ukraine by President Obama," Carpenter added.
Meanwhile, analysts say that current Prosecutor General Lutsenko has also been used to launch attacks on former Vice President and current Democratic presidential candidate Joe Biden. Giuliani has alleged that Biden intervened to have Ukraine's former prosecutor general Viktor Shokin removed from his position because Shokin was investigating a natural gas company called Burisma where his son, Hunter Biden, was working.
Burisma brought Biden's son Hunter onto the company's board of directors in April 2014. Insiders say he was one of a handful of American consultants used to whitewash the company's tarnished reputation. The company released a statement at the time stating that the young Biden would help with "transparency, corporate governance and responsibility, international expansion." Hunter Biden's decision to join the company was criticized at the time.
Representatives from the Biden campaign said that the former vice president did not speak with his son about his work in Ukraine. Giuliani, meanwhile, has called for the U.S. to investigate this alleged conflict of interest.
But experts with knowledge of the case say that Giuliani's version of the story is misleading because Shokin was not responsible for opening the investigation into Burisma. Although an investigation was re-opened within the prosecutor general's office during Shokin's tenure, it was done at the request of Ukrainian lawmakers and Shokin himself did little to move the case forward, experts say. By the time Shokin was dismissed in 2016, the case had already been abandoned.
Daria Kaleniuk, the executive director of Ukraine's anti-corruption action center, says that contrary to the version of events promoted by Giuliani, Shokin helped shield Burisma and its owner from prosecution.
"Shokin was the symbol of lost hopes for justice and a symbol of lost hopes for the reform of prosecution," Kaleniuk told Newsweek. "Under Shokin there were many investigations dumped, and those were landmark investigations into associates of [former President Viktor] Yanukovych."
"I am actually very thankful to the United States and to Joe Biden for being tough on that issue," Kaleniuk added.
Giuliani has accused Kaleniuk's organization of being a wing of George Soros that is used to attack Soros' enemies in Eastern Europe, echoing anti-Soros conspiracy theories often propagated by the far-right. The anti-corruption action center does receive some funding from the Open Society Foundation, which Soros founded, as do many civil society organizations in Ukraine and elsewhere.
The Obama administration, along with the International Monetary Fund, the World Bank, and representatives of the European Union, widely supported Shokin's removal because he was viewed as corrupt and ineffective. Consequently, Biden's advocacy for Shokin's removal was in line with Western policies and unrelated to the prosecutor's investigation into Burisma, Biden's advocates argue.
Burisma belongs to Ukrainian oligarch Mykola Zlochevsky, a former energy minister in the government of Ukraine's former pro-Russian President Yanukovych, who fled the country for Russia after being deposed by a pro-Western movement in 2014. Investigations into Burisma and Zlochevsky's alleged corruption, including self-dealing, illicit enrichment, and money laundering, were launched in Ukraine and the United Kingdom that year.
John Herbst, a former ambassador to Ukraine, noted that Biden also criticized Shokin for not providing the British courts with more evidence to prosecute Burisma and Zlochevksy.
"It is true that Vice President Biden and the U.S. government, our ambassador at the time Geoff Pyatt, were strongly critical of Prosecutor General Shokin. They did not see him as a reformer. And in fact they criticized Shokin for not providing information in Britain in a suit against Burisma," Herbst told Newsweek. "So the notion that's spun out in a variety of stories that the U.S. government, Biden, the embassy were going after the reformers was silly."
In December 2014, when Biden was the U.S. government's highest-ranking emissary for Ukraine, the U.S. government sent a letter to the country's prosecutors warning that there would be consequences if they did not assist the investigation in the U.K. The assistance never came. Biden later withheld $1 billion in U.S. financial assistance to Ukraine until Shokin was voted out by the country's parliament in 2016.
Prosecutor General Lutsenko, however, recently said that he would re-open the Ukrainian case into Burisma, including into its payments to Hunter Biden. Experts say that this claim is meant to promote Republican talking points, and that the case has not in fact been officially reopened.
"It's not about justice here. I think Lutsenko is colluding here with some consultants in the United States and he's playing politics," Kaleniuk told Newsweek. "I think it has all of the signs of state treason, because Ukraine's sovereignty depends on international support and the support of the United States. It's suicidal to play on the side of one or another political force."
Giuliani, however, says that Lutsenko's office assured him that the investigation into Burisma was reopened six weeks ago. The prosecutor general's office did not respond to requests for comment in time for publication.