Rudy Giuliani: Top FBI Officials Would Have Told Obama About 'Spygate'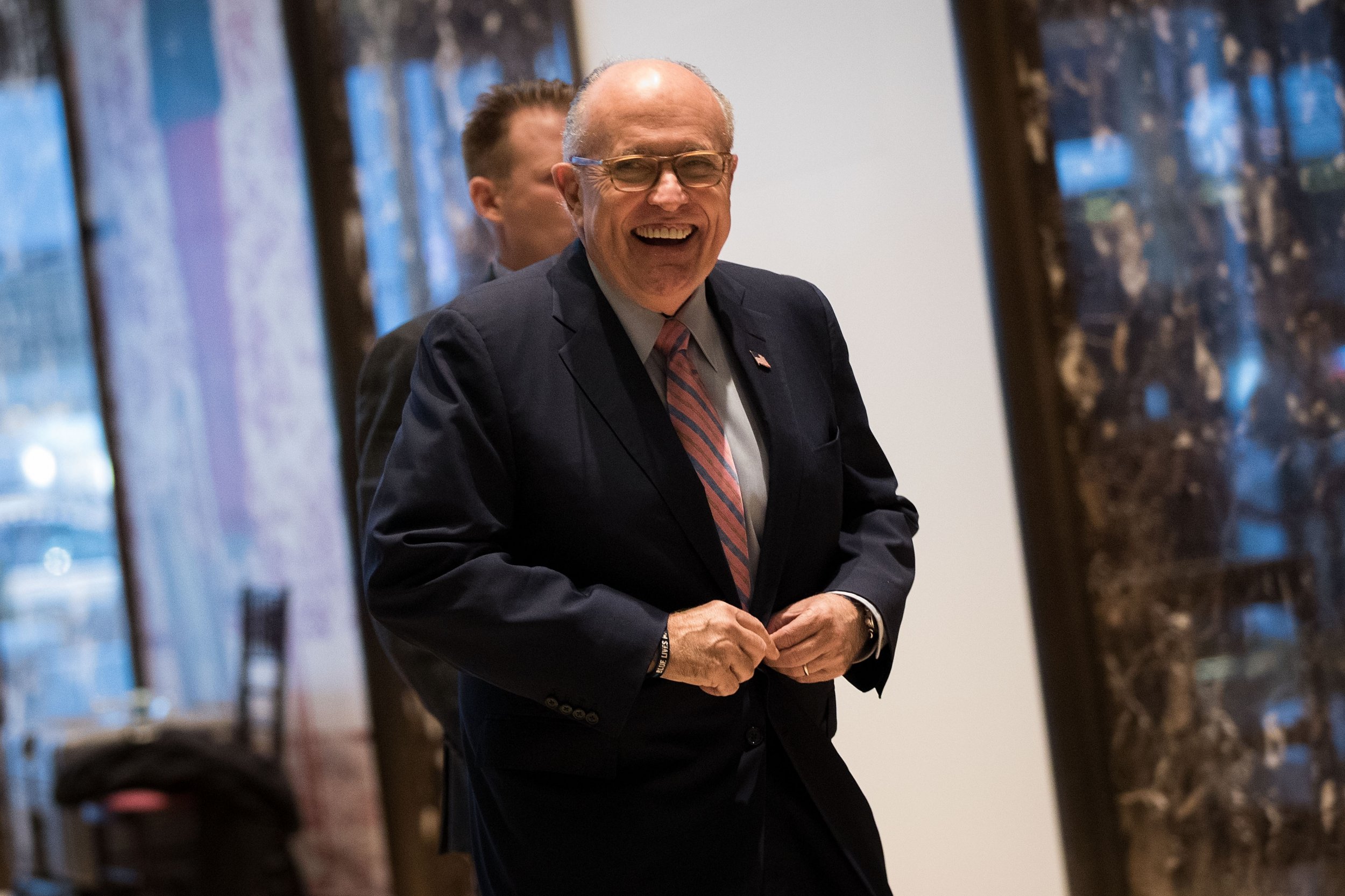 Rudy Giuliani is helping President Donald Trump push his latest FBI conspiracy theory, suggesting in a recent interview that former President Barack Obama and members of his administration knew about the informant Trump says was planted in his campaign to sabotage it.
As Giuliani sees it, if former National Intelligence director James Clapper and former CIA director John Brennan both knew about the alleged scheme—which he claims with absolute certainty that they did—they must have informed Obama too.
"Brennan and Clapper knew about it," Giuliani told radio host John Catsimatidis. "Brennan briefed him every day, Obama — well to the extent that he got briefed every day. You would have to have brought this up, wouldn't you? Gosh, I can't see how you would escape it."
The president and those in his orbit began pushing "spygate" after the Washington Post reported that Stefan Halper, an FBI informant assisting with the Russia investigation, had contacted three members of Trump's campaign in the summer and fall of 2016, just before the presidential election. Though experts have said it's likely Halper reached out to Trump's campaign advisers as part of a nonpartisan probe into Russia's interference in the 2016 election, the revelations into Halper's activities gave rise to Trump's vehement belief of another FBI attempt to undermine him.
"Spygate could be one of the biggest political scandals in history!" Trump tweeted on Wednesday.
Trump went on to misquote Clapper in a tweet, falsely claiming that the former CIA director admitted that the intelligence community had been spying on his campaign.
"'Trump should be happy that the FBI was SPYING on his campaign,'" Trump mistakenly quoted. "No, James Clapper, I am not happy. Spying on a campaign would be illegal, and a scandal to boot!"
The president was apparently twisting a quote from Clapper's appearane on The View, during which time he was asked point-blank if FBI officials were spying on the Trump campaign. "No, they were not," Clapper replied. "They were spying on, a term I don't particularly like, but on what the Russians were doing. Trying to understand were the Russians infiltrating, trying to gain access, trying to gain leverage or influence, which is what they do."
View host Joy Behar then asked, "So why doesn't he (Trump) like that?" adding that Trump "should be happy" that the FBI was investigating an attack on the country's democracy. "He should be," Clapper said. "They are bent on undermining our system."
"Clapper has now admitted that there was Spying in my campaign," Trump later wrote on Twitter, falsely portraying Clapper's comments. "Large dollars were paid to the Spy, far beyond normal. Starting to look like one of the biggest political scandals in U.S. history. SPYGATE - a terrible thing!"
Some top Republicans, however, don't agree. South Carolina Senator Lindsey Graham disagreed with the president in a Friday interview with conservative radio host Hugh Hewitt.
"A confidential informant is not a spy," Graham said, and Trump should "probably not" be using the term "spygate."
"I don't think it's — I don't think he's a spy," Graham continued. "And I don't know who this person was."