'RuPaul's Drag Race All Stars 6' Recap: Who Went Home in 'Halftime Headliners'?
Contestants on RuPaul's Drag Race All Stars have to learn a different way to play the game. In the immortal worlds of Lashauwn Beyond, regular Drag Race is not "RuPaul's Best Friend Race"—but All Stars kind of is. Queens who do well are generally those who can convince their rivals to like them and not vote for them to leave.
In All Stars 6 Episode 4 (titled "Halftime Headliners" and streaming now on Paramount+), one queen learned that lesson too late, going from an early favorite to win to being eliminated fairly early—or, at least, leaving until whatever this "game within a game" turns out to be. Here's what went down in the latest episode of All Stars 6.
'RuPaul's Drag Race All Stars 6' Episode 4 recap
The episode picks up just after the elimination of Silky Nutmeg Ganache—which has become more controversial in recent days after Silky told Entertainment Weekly about the "groupthink" that she believes influences the way that the queens vote.
Her own elimination does not seem to support her theory, however, with the vote fairly evenly split between Silky on six and A'Keria on four. Eureka, Ginger and Ra'Jah confess that they picked A'Keria to leave. The fourth vote came from Silky herself, even though she later told EW she thought Jan was the worst on the night.
It is encouraging to see the plus-sized queens voting as a block—at this point in Drag Race herstory, when we have had what feels like 100 winners, it is increasingly absurd that none of them have ever been big girls. It reflects well on Silky that she uses the platform of the lipstick message to remind us that Black lives and trans lives still matter.
Jan, meanwhile, tells the other girls that she did not believe she got "bottom critiques," which her rivals call out as delusion.
It is this delusion and drive to win that has made Jan a favored victim of the producers in her two appearances on the franchise. She has not realised that the show loves to punish over-confident people by making them safe until they snap—they did it to Shannel back in Season 1 and they did it to Jan the first time she competed. Either that, or she has realised it but is so desperate for the win that she cannot hide it, which makes her a perfect reality TV contestant.
When the challenge is announced, it seems the producers are setting up Jan to snap again. The remaining queens are tasked with lip-syncing RuPaul songs in the style of 10 iconic Super Bowl halftime show performers. Well, eight iconic Super Bowl performers, plus Fergie and Steven Tyler, whose performances are seen by many as low points for the big show.
For this challenge the queens take the following roles:
A'Keria C. Davenport: Prince
Kylie Sonique Love: Steven Tyler
Ra'Jah O'Hara: Diana Ross
Trinity K. Bonet: Beyoncé
Pandora Boxx: Carol Channing
Scarlet Envy: Katy Perry
Jan: Lady Gaga
Eureka: Madonna
Yara Sofia: Shakira
Ginger Minj: Fergie
Before you can say, "Wait, Carol Channing performed at the Super Bowl?" the queens are working through the choreography with Jamal Sims.
At this stage, it seems Ginger is being set up to go home. As Jamal admits, Fergie does not really have any signature moves. The show could have paid tribute to Fergie's most infamous live performances, such as her bizarre jazz take on the national anthem or the time she wet herself on stage, but surprisingly for Drag Race it decides to stay tasteful.
We also get glimpses of Jan, Trinity and A'Keria rehearsing. Trinity picks up her choreography instantly, Jan does OK while A'Keria gets in her head about her past failures in dance challenges—learning nothing from Silky who went home last week for being too in her head.
This segment also gives us the great moment of Jamal asking Yara why she had chosen Shakira. Who were you expecting her to be, Jamal? Bruce Springsteen? Of course Yara was going to be Shakira!
Although Yara seems a natural fit for the Colombian megastar and plays her in Vegas, there are some warning signs during the rehearsal. Yara seems too concerned about getting the belly dancing right and challenging some of Jamal's choreography, and not enough time channeling Shakira.
The next day, we are back in the workroom as the queens prepare for the challenge. This season has favored natural moments over the contrived producer-induced conversations that have been the norm here.
We get a sweet moment from Trinity, who says she is using this opportunity to make friends rather than being so focused on the competition. This is exactly the right strategy both to win fans on the outside and to win a competition where every queen's biggest obstacle is getting hung up on their track record. It is also a refreshing change—"I'm not here to make friends" is a regular reality TV mantra, but Trinity is literally here to do the opposite.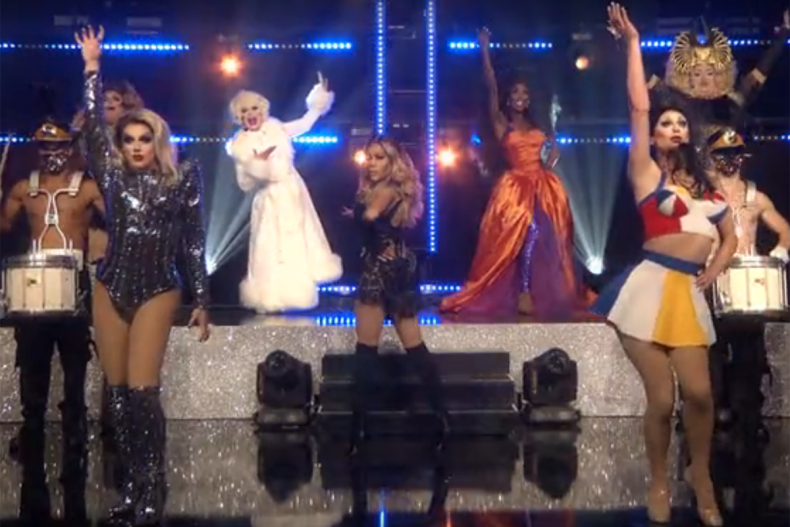 Trinity continues to edge ahead of her competition in the performance. After winning last week, she delivers an uncanny Beyoncé. Not only is this immensely satisfying to watch, but it acts as vindication for Trinity. A whole workroom chat in Season 6 revolved around how Trinity was not good enough to play Beyoncé in Vegas—and here she proves that she definitely is.
In direct contrast, Yara may frequently play Shakira, but something is missing in her performance. All the moves are there and the version of RuPaul's "Cover Girl" is the best of a mixed bag of songs, but it is lacking something. Watching Shakira at the Super Bowl, you never got the impression she was having anything less than the time of her life, whereas Yara looks uncomfortable and does not quite have the lip-sync down.
Ginger tries her best, but has nothing to work with playing Fergie. Her track also sounds absolutely nothing like Fergie, though it sounds more like Fergie than Scarlet's sounds like Katy Perry. Scarlet's performance is the victory of a diamante-encrusted left shark outfit, making her safe position one of the biggest surprises of the episode.
Overall, it is an immensely strong set of performances. Jan and Trinity nail their choreography. Kylie and Pandora perfectly channel Tyler and Channing, though are presumably safe rather than high because their performances required much less choreo.
The runway category is "The Frill of It All," and the result is an orgasm of organza. Among the highlights are Eureka's frilled chaps and absurdly large silver cowboy hat, which playfully connects to her earlier performance as Madonna. Jan also excels herself in Best Little Whorehouse in Texas drag.
Following the judges' critiques, Eureka, Jan and Trinity are top, while Yara, Ginger and A'Keria are bottom. There are two surprises here: Eureka's Madonna is fun, but does not really offer much except a few Ray of Light-era faux Buddhist hand moves. To channel this phase of Madonna, you need at least one yoga move on stage. A'Keria, meanwhile, did a far better job of capturing the magnetism of Prince than the judges give her credit for.
Jan ends up winning the challenge, which must be a great feeling after a season and a half of being declared safe. A'Keria and Yara are in the bottom.
It is here that the importance of playing the game comes to the fore. A'Keria is willing to fight for her place in the competition while Yara refuses to beg to stay. This is her third time going through the Drag Race machine, and she is not willing to play the producers' game again. This, however, is what sends her home.
Jan's lip-sync-for-your-legacy adversary is revealed to be Season 2's Jessica Wild. How much she can be considered a "lip-sync assassin" is debatable—we remember her better for her hilarious RuPaul impression in the Snatch Game and her iconic botching of the book promotion challenge. However, anything that brings back these vintage queens is a good thing.
They perform Britney Spears' "Womanizer" and Jessica wins. Jan actually seems to do a good job from the tiny amount of her performance that the editors have kept in— possibly because her robotic, medicated take on Britney seems less funny given recent revelations about the singer's life.
Jessica reveals that the queens have voted Yara off. Although this might have seemed inevitable once she refused to argue her case, it feels there was a chance it could have gone the other way. It did seem like Jan was ready to vote A'Keria off. This was later confirmed in RuPaul's Drag Race: Untucked.
Yara leaves with an ungracious "F*** you all." Just as she was unwilling to play the All Stars game, she seems unwilling to stay on the good side of Drag Race fans, many of whom are sure to lash out at her behavior. We have to respect her for being true to her feelings, however, and that resentment could make her inevitable return for revenge all the sweeter.
RuPaul's Drag Race All Stars 6 airs on Thursdays on Paramount+.