'All Stars 6' Episode 7 Recap: Who Was the "Show Up Queen"—And Who Went Home?
RuPaul's Drag Race All Stars forces the queen who wins the weekly challenge to ask herself some tricky questions when she's choosing who to eliminate. Do you base the decision purely on the latest challenge, or do you consider track record on the show? Do you keep the person you most enjoy being around, the person you think can go all the way, or eliminate your competition and potentially anger the fan base.
If this were a regular season of Drag Race, Pandora would have been sent home this week. Her performance in the "Show Up Queen" challenge was by far the worst. This is All Stars, however, so after one of the most dramatic eliminations yet, she was safe for another week. Here's what went down on Episode 7.
RuPaul's Drag Race All Stars 6 Episode 7 recap
Before this week's challenge kicked off, the top seven paid tribute to last week's eliminated queen. A'Keria is a fierce queen, but for whatever reason has been unable to replicate her greatness from her season. Still, a shame that she had to go home after what will surely go down as the worst-written acting challenge in Drag Race her-story.
Five of the final seven have one win each, with Pandora and Eureka the odd queens out. Sure, it feels like the producers have made some surprising decisions to keep everyone at one win rather than give anyone two, but it does serve to make the competition seem tighter than it actually is.
As these recaps have said for the past few weeks, Trinity is quietly setting herself up to win the whole thing. The show, meanwhile, is leaning heavily on the idea that anyone could take the crown—and it does make this a better-than-normal All Stars season.
This week's challenge is to write lyrics and perform live to "Show Up Queen," a new "inspirational anthem."
It's hard to imagine anyone being inspired by what sounds like a Drag Race song by numbers. However, it gives the producers the chance to set up their favorite targets for failure when they are "not inspirational enough"—whatever that means.
For the song, the queens are split into two groups, with Pandora, Ra'Jah, Trinity and Jan in one and Kylie, Eureka and Ginger in the other.
"Show Up Queen" sees a return of an old Drag Race standard (and an old Drag Race curse, but we'll get to that). We actually see the queens recording their lyrics, something that has been missing from performance challenges for a while. Episode 7 shows why— everyone does basically fine, which is not that interesting, and music producers Leland and Freddy are not playing the reality TV game of getting in the contestants' heads by harping on tiny details they get wrong.
It is fun, however, to see Ginger lusting after Freddy. Since she said choreographer Jamal Sims made her "flood her basement," you can always rely on her to give horny confessional about outside contributors.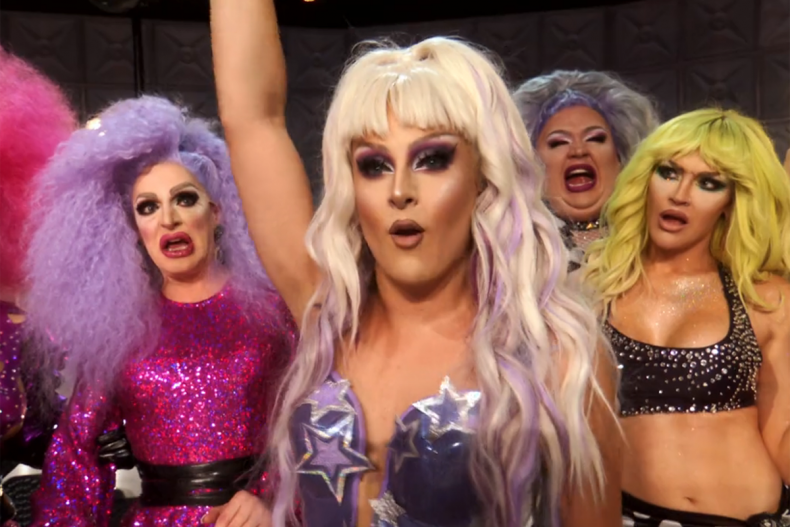 Among the singers, the one who seems to be in trouble is Jan. She really cannot win in All Stars. First she was put in the bottom for being too over the top, then her over-the-top performance nearly won her last week.
The show seems to be pushing the mixed messages until it can provoke a Laganja-like breakdown. Of course, she helps matters by taking every criticism to heart while also completely misunderstanding what it means. So it is with her lyrics this week. In the song she talks about how she needs to "bring the funk," a tiny criticism made by the judges one week that she has mentioned perhaps a dozen times since.
The choreography session offers more drama. Team Ra'Jah does pretty well in rehearsal. In Trinity they have a trained choreographer and although Pandora takes a while, she seems to be getting it. That does not stop Ginger offering her rivals shady advice, only for her own choreography session to be a shambles. Her trio share choreo, leading to a major case of too many cooks.
When it comes to the performance itself, the editors have to do some heavy work with reaction shots to establish tops and bottoms, because everyone does pretty well. The exception is Pandora, who seems panicked trying to keep up with her team. But seeing as that team contains Trinity on fire, who can blame her? Her verse is also one of the weakest and wastes too much time on a vocal stutter bit. When RuPaul told her she needed to replicate the success of her first-week song, he did not mean to copy it.
Trinity does not put a foot wrong this episode. In fact, she hasn't done so since being in the bottom two in the first week. Her verse is strong, with a message about knowing your HIV status. She took the workroom critique to make her verse less preachy, which puts her in Ru's good books. Her runway look is also stunning and a different take on the category of "Hot Tropics." Sure, it's similar to her carnival bird look in Season 6, but when it looks this good, who cares?
When it comes to the critiques, Pandora is criticized for her performance, while Jan gets read for making her song too much about self-love. That's a little rich when almost every other queen sang about the same thing, but Jan's verse was missing the heart on display in other verses (such as Ginger's).
Trinity is named the winner and Jan and Pandora are our bottom two. Although Trinity is the clear winner, Eureka also had a great showing and deserves a win. Of course, the win she really deserved was for the "Pink Table Talk," but Gay Twitter has already said plenty about that.
In the lip-sync, Trinity is paired with assassin Alexis Mateo, who always entertains.
Trinity seems to be just edging out the queen of "BAM!" until a classic Drag Race curse strikes—Trinity loses her wig. This is the sort of stuff that gets long-term fans nostalgic. Back in the early seasons, not a week would go by without someone losing a wig. In Season 4, however, Milan did it so much that losing your wig became a kiss of death.
And so it proves here. Trinity loses her wig and Alexis takes the win. That means she has to reveal that the queens have chosen to eliminate…
Pandora.
Poor Pandora. This is her third time on Drag Race and she is an iconic queen, yet she has ever won a challenge. It kind of makes you hope the judges would give her just one more cha…
Wait! Alexis has another lipstick. The queens also voted for Jan to leave. It's a tie! Although this probably happened naturally, it is great reality TV work. A few episodes ago, when the queens opened the box after the elimination, they found their votes were tied—leaving everyone wondering what would happen if there were another tie in a week when the lip-sync assassin won. Now we get to find out.
Per Ru, All Stars rules state that in the event of a tie, the decision reverts back to the challenge winner. Poor Trinity—not only did she lose the lip-sync, her wig and $10,000, but she has to send someone home anyway. The person she has chosen is…
Jan.
Mixed emotions on this one. Pandora did the worst on the challenge, but Jan just can't seem to give the judges the one thing they want from her, meaning it may be the right time for her to go. She also comes across as fairly entitled in her post-elimination confessional. She did not quite tell everyone to f*** themselves, as Yara did, but her comments leave things on a sour note.
So we are down to our final six—well, our final six and whoever comes back through this long-teased "game within a game." Seeing as the last season of Drag Race was about 500 episodes long (OK, it was 16, but still), it is entirely possible Ru will just bring everyone back and start the whole thing over.
Before that, though, we have the long-awaited "Snatch Game of Love." Please please give Pandora her first challenge win!
RuPaul's Drag Race All Stars 6 airs Thursdays on Paramount+.