'RuPaul's Drag Race All Stars' Season 7, Episode 1 Recap: Old MacDonald Had Some Winners
It's finally RuPaul's Drag Race All Stars winners season time, and everything is bigger this time around. The cast and judges' line-up is starrier, the prize money is higher ($200,000), and the episodes are longer.
Episode 1 of All Stars 7 is a full 80 minutes long.
The last time this many plastic faces were in something that long, it was Toy Story. And while that film is a perfect exercise in taut storytelling, there is a lot that did not need to be in this episode.
Paramount+ has now released the first two episodes of the season, so let's get into that premiere and its many twists, turns, and ee-aye-ee-aye-ohs.
RuPaul's Drag Race All Stars Season 7, Episode 1 Recap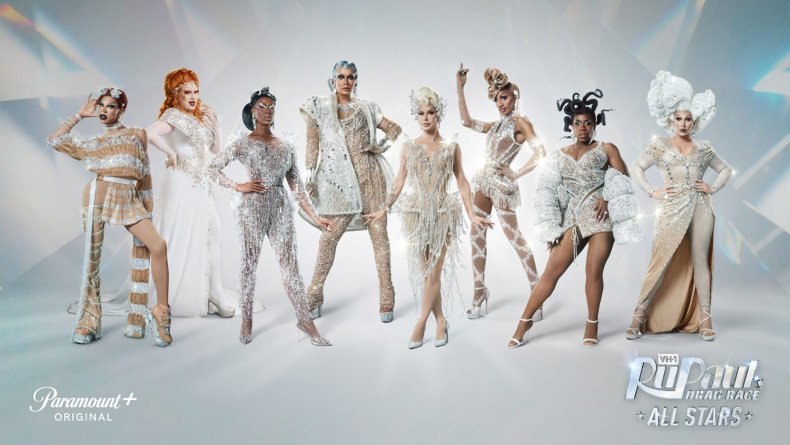 The quest to find the "winner of all winners" begins.
Or, at least, the winner of all the winners who agreed to be on this show, because you cannot have a serious conversations about the Drag Race G.O.A.T. without Bianca or Sharon.
While those two did not sign up to All Stars 7 for whatever reason, Monet X Change, Shea Coulée, Raja, Jinx Monsoon, Trinity the Tuck, The Vivienne, Yvie Oddly and Jaida Essence Hall are all here. Maybe not everyone's choices for the best winners of all time, but all supremely talented performers who have the potential to make this a season for the ages.
That is, if late period Drag Race's love of crappy twists does not get in the way. It seems like we are getting such a twist at the start of Episode 1 when non-winner Raven is revealed as the ninth competitor.
No sooner have we all written our angry tweets about this strange decision, however, that it is revealed to be a fake-out, in fact a fake-out that is definitely setting Raven up for the inevitable All Stars 8.
The other twists at the start of the episodes make sense. The prize money is raised to $200,000 (about time), and it is revealed that this season no one will go home. Instead, queens will win badges, and the four queens with the most at the end will compete in a lip-sync smackdown for the crown.
Though the fact that no one is going home could rob the season of drama, this was perhaps inevitable as the format.
After all, who wants to sign up to a winners season where they could go home first and thereafter be known as "the worst ever winner."
Well, the second worst ever winner after Tyra Sanchez...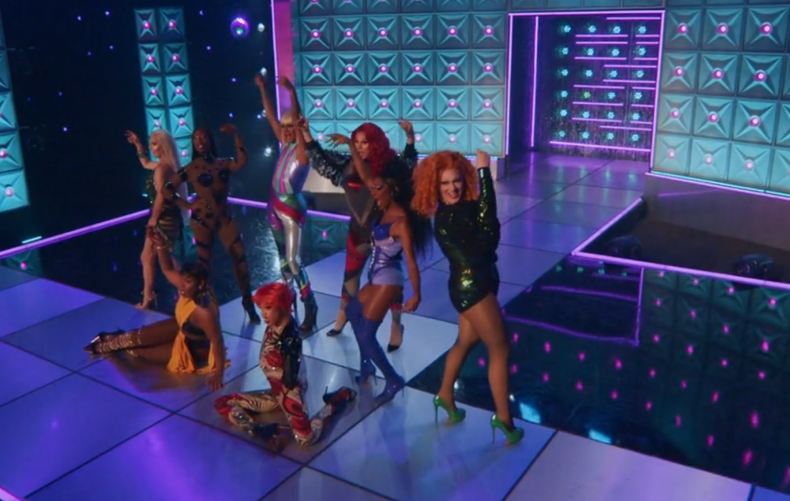 Once everyone is re-introduced, and Raven has been booted back to Ru's make-up room, we get our first reading challenge.
Highlights include:
"Raja. Boot" (Trinity)
"Your teeth really represent the cast here. Some of them are big, some of them are small, three of them are white." (Shea to Jinkx)
"Geminis have two faces. Have you been putting the good makeup on the other face?" (Jinkx to Raja)
"Not many people know Monet is a talented singer. That's because she's not." (Vivienne)
Yvie's joke to Trinity about "throwaway filler jokes" was also funnier than the reaction it got. But it is Jinkx who takes the win. Because of course it is: the laugh she got simply from calling Raja "Roger" was bigger than other queens got from their biggest barbs.
So good to have Jinkx back. There still hasn't been anyone like her on Drag Race since (except Dela and Robbie Turner. A bit).
Once everyone is introduced, we get our first unnecessary section, as guest Naomi Campbell does a runway masterclass with the queens. To misquote Sasha Velour (who was probably offered a place on this season so producers could trigger Shea's PTSD), this section combines all the excitement of walking with the thrill of just standing there.
There is no real reason for it to exist other than the fact the show signed up Naomi, though Shea's emotional moment with her idol was sweet.
This week's challenge is to write and perform a verse on Ru's new song "Legends." Somehow, it takes 40 minutes to get to this point, and the show does not seem to care that much about the whole process of writing and recording the song. Why would it, when it has white-hot footage of people walking to show instead?!
Throughout this section, The Vivienne has some anxieties about being the only UK queen. Snap out of it, Viv—your win was one of the most convincing of anyone in this cast. With no one going home this season, your biggest obstacle to the win is yourself, and there are some confident queens here who can crush you if you show a moment of doubt.
This week's guest judge is Cameron Diaz, who is taking a break from not being in movies anymore. She tells RuPaul she is a big fan of her music—it's taste like that, Cameron, that led to you starring in Knight and Day, Bad Teacher and the Annie remake.
This leads into the second totally unnecessary few minutes: Ru performing her new single. Look, we get that Ru couldn't pass up the opportunity to flog her single, but all it does is highlights how 90 percent of Drag Race queens could out-perform her at this point.
Performance time comes, and everyone does pretty great. Trinity does not know the words, and Jinx has to awkwardly stand behind Raja for an entire verse, but it is still a pretty strong start to All Stars 7.
Then comes the first runway. Clearly, these queens have been saving up those dollars from their various post-Drag Race endeavours, because there is nothing here that does not look expensive.
Highlights come from Raja serving Richelieu realness (no one does a theme quite like Raja) and Shea's Black Excellence take on Valentino. Someone get this queen in Black Panther 2, stat. Jinx is also worth shouting out. Probably the worst-dressed on her season out of this cast, she has never looked better than in this sexy take on Elizabeth I. Virgin Queen? Yeah right.
No real missteps, though Vivienne's use of burlap gives her look a strangely raggedy quality. It has that Balenciaga thing where high fashion goes full circle and becomes kind of ugly again. Trinity wears one ribbed look too many this episode (ribbed for her displeasure?). Yvie's look is uniquely her and a serve, but not necessarily an elevation of what she was doing before.
The judges' critiques are almost wholly positive, save for Michelle calling out Trinity for not knowing the words, and Yvie for her "alley cat" in the performance. We get it, they are all delivering at the highest quality, but this season is going to drag if every single comment is so positive.
After the critiques (can we even call them critiques if they did not criticise anything?), Monet and Shea are declared the winners. Very telling to see who changed into a lip-sync outfit here. Everyone except Raja, The Vivienne and Jaida changed into something they could dance in, which shows how close everyone is to the top this week.
What a lip-syc it was! The show may not have made a choice this loopy since "Malambo No. 1" way back in Season 5. Watching two drag queens lip-sync Ella Fitzgerald's version of "Old MacDonald Had a Farm" is the sort of pleasure only this show can bring, and if Paramount+ has a choice this berserk every week, it might make up for any amount of filler elsewhere in the episode.
With a moo-moo here and a moo-moo there, Shea is named the first winner of the season, and gets the power to block a competitor from winning a badge next week.
She chooses Trinity, which would be smart if next week was not the Snatch Game. Might as well etch Jinkx's name onto that badge now.
RuPaul's Drag Race All Stars Season 7 airs Fridays on Paramount+.