'RuPaul's Drag Race All Stars 7' Episode 3 Recap: 'Wheel of Fortune' and Fantasy
RuPaul's Drag Race All Stars 7 is only on its third episode, but already the possible winners of the All Winners season are starting to emerge. By the end of Episode 3, five people have Legend badges, and the top four are probably among them.
Episode 3, however, shows everyone at the top of their game. There are multiple looks in the Realness of Fortune Ball that would be showstoppers in any other season, but here barely get a mention. Even Jinkx delivers a look that might just about save her from the bottom two in a normal season!
Before the ball, however, the Paramount+ show begins Episode 3 with the queens untucking. Having the plungered queen come in last does not actually make that much sense (why would having the Platinum Plunger mean you had to stay on stage longer?), but Shea makes the most of the contrivance by making everyone believe there are secret rules that you only learn about when you get it. Don't give Ru any ideas for dumb plot twists, we're begging you!
(There's only one true secret of the Platinum Plunger: That it's gold.)
This week's challenge is a ball, inspired by (but legally distinct from) Wheel of Fortune. Because RuPaul cannot resist any opportunity to cosplay as a game show host, we have a quick round of "hungman" before this week's challenge was announced. Side note: Remember that shortly lived game show Ru had a few years ago. To quote Ginger Minj in the Season 7 parody songs challenge, "girl, that really was a rough spot."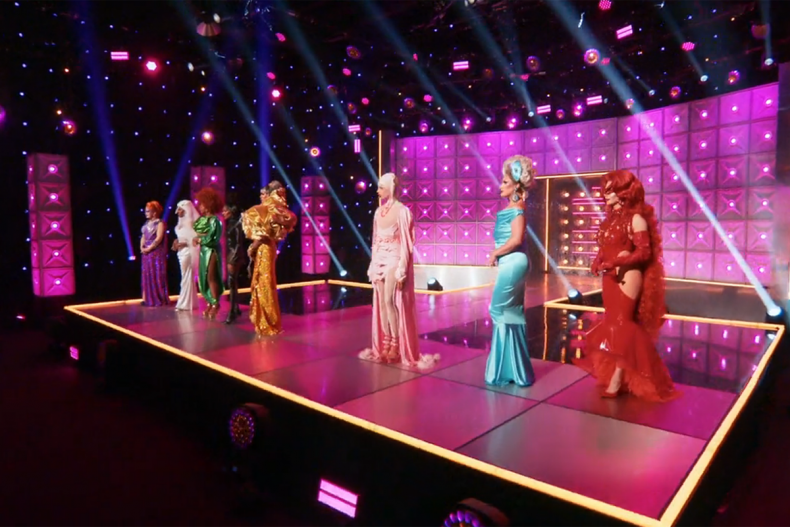 The All Stars queens have to serve three looks: Vanna White realness, a "before and after" look that combines two looks in one, and Realness of Fortune Eleganza, a from-scratch look inspired by a colorful destination around the world. The link to Wheel of Fortune is tenuous, but then the whole thing feels like they booked Vanna White to appear and then worked backwards.
What follows is a lot of footage of people who are quite good at making clothes. Breaking up this Project Runway realness is poor Jinkx. She didn't know how to sew on her season, and hasn't learned since. Because why would she? She won the show, and then never had to worry about sewing an outfit ever again.
Luckily Trinity is on hand to help her. You can't really say that Trinity's help makes the look more aesthetically pleasing, but at least it will now not physically fall apart on the runway.
We have to give kudos to the show for moving on in the way it treats Jinkx's narcolepsy. In her season her sudden lulls in energy were nearly always accompanied with wacky music, like it was the goofiest thing that she was falling asleep. Here, it's not even mentioned except for one shot of her looking sleepy and one of the queens' referencing her taking a nap.
Project Runway soon becomes Big Brother, as Trinity and Monet try to widen their alliance. Jinkx is having none of it, and Shea is unwilling to commit to not blocking Monet—after all, unlike Trinity and Shea, she has a badge and has not yet been blocked.
This alliance stuff serves fine to fill time for the runway, but let's hope it doesn't become a main plot this season. Because who wins does not really matter—all of these queens will be here until the finale anyway, so whoever takes home that $200,000 ultimately does not matter that much.
This week's guest judge is Kirby Howell-Baptiste. No disrespect to the actor, who was one of the best parts about the final season of The Good Place, but this is an obvious piece of Paramount+ cross-promotion for Why Women Kill. Why not just have Vanna White as the judge rather than as odd sort of side spectator, like Statler and Waldorf if they were nice?
(Though if Paramount wants to cross-promote its best show The Good Fight, having Christine Baranski or Audra McDonald as judges would be iconic).
White is a welcome presence on the show, and the queens' surprise at seeing her there seems genuine. Bless Vivienne for pretending she knows who she is—here in the U.K. we have our own version of Wheel of Fortune, and White's fame has not crossed the pond. Have you ever heard of Carol Smillie? No, so we're not expected to know Vanna White, OK?
Of the Vanna White realness looks, Trinity's is probably the best, with Jaida's similarly patterned dress a close second. Though Raja's take on classic Vanna is the most fun, and sold with the total commitment we expect from one of the show's best ever runaway presences.
Next it is the "before and after look." Good thing the phrase that inspired each look came up on screen. Asked to guess what each look was, you would probably only be able to guess Jinkx's "Whatever Happened to Baby Jane Fonda" and Monet's "Bob the Drag Queen Elizabeth." Though Shea's "Gold Tooth Fairy" is fun too.
Raja, meanwhile, probably lost herself a spot in the top two with her "Olivia Newton-John Waters" look. While it may have been a little too much for her to eat poop on the stage Divine-style, there was definitely more she could have done to read as John Waters other than the pencil moustache. Jaida won the category with her "bag lady in red" outfit, which manages to be both glamorous and unhinged—the Venn diagram of a perfect Drag Race look.
It is the eleganza category that steals the show. How Raja has that much volume without it swamping her is pure drag alchemy. Shea's bridal look is reverent and resplendent. Trinity's red dominatrix look is pure her, and a genuine impressive feat of sewing. Vivienne's look is the night's most underrated, and proof positive that she can match any U.S. queen when it comes to polish. And as for Jinkx... It's worse than the judges' comments make it seem but has some nice elements. The shoulders were cute.
Luckily for Jinkx, however, there are only tops this season (insert your own hacky joke here). After deliberation, Trinity and Jaida are the tops, but Raja and Shea must have been a wig hair away from the top too.
Outfit change check: Even Raja changes for the lip-sync this week, proving that she too thought she had a pretty good chance of winning. But ultimately it is Jaida who wins the week after the lipsync to Beyoncé's "Green Light." It's no "Old MacDonald," but this season remains a treat for lip-sync fans everywhere. Trinity had a few killer moments, but you could watch Jaida spin that ponytail in that Elsa-from-Frozen-goes-to-the-harem forever.
When it comes to deciding who to block, she opts for Jinkx. Jaida can pretend she's not playing strategically all she wants, but this is a smart move. After a design challenge, it was very likely that the next challenge would be an acting challenge. And so it proves—next week is an improv challenge in which the queens have to play characters in a courtroom for fantasy creatures. It's giving running out of ideas realness, but hopefully the raw talent on display this season is enough for us to get through it.
RuPaul's Drag Race All Stars 7 airs Fridays on Paramount+.