Rush Limbaugh Praises Trump's Attack on Cummings, Claiming He's Pushing Back Against 'Real Human Misery' Caused By Democrats
Right-wing radio host Rush Limbaugh lauded President Donald Trump for attacking Democratic Representative Elijah Cummings over the weekend, arguing that the president was pushing back against "real human misery" caused by Democrats.
"Wherever you find this decadent decay, you're going to find Democrats having run the operation, or the city, the state, whatever it is, the county for decades," Limbaugh claimed during a Monday segment of Fox News morning show Fox & Friends. The right-wing host went on to say that Trump's criticism of Cummings was "classic pushback."
"What he [Trump] is saying here is the absolute truth but it's not supposed to be said about any place where the Democrats are in charge," Limbaugh continued. "But this is what you get if you elect Democrats and there's no opposition, there's no pushback, there's no balance of power ... because the Democrats want people in need."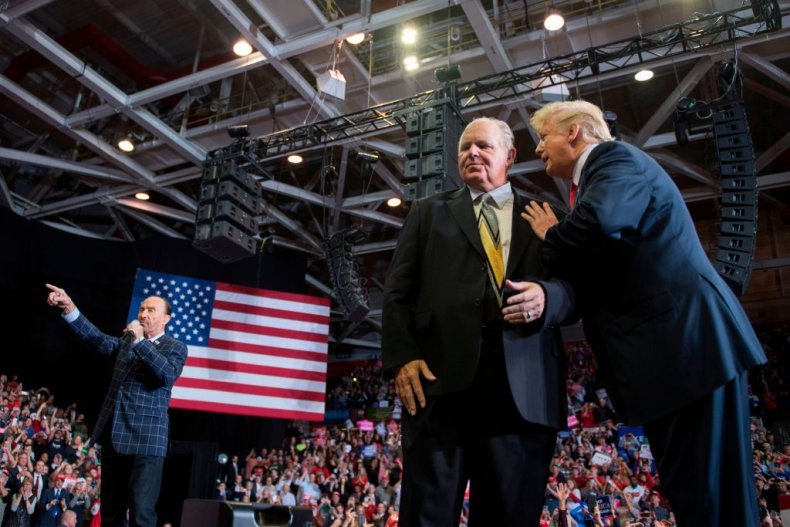 He insisted that Democrats "never do anything that actually improves the quality of the lives of their constituents," claiming that "their constituents are as unhappy today as they were 50 years ago."
"The Democrats take every one of these minority group's votes for granted and it's about time somebody pushed back against the real human misery that results from unchecked Democratic leftist control and power," Limbaugh said.
Trump attacked Cummings and the city of Baltimore, over half of which is included in the congressman's Maryland district, in a series of Saturday tweets. "Cumming [sic] District is a disgusting, rat and rodent infested mess. If he spent more time in Baltimore, maybe he could help clean up this very dangerous & filthy place," the president wrote.
"No human being would want to live there," he added in a follow-up tweet.
The president's criticism came after Cummings strongly criticized the well-documented poor conditions in immigrant detention centers, for which the Trump administration has received a steady stream of national and international condemnation. The House Oversight Committee, which is chaired by Cummings, also voted last Thursday to subpoena text messages and personal emails of top White House aides, including the president's daughter Ivanka Trump and her husband, Jared Kushner.
Responding to Trump's attack, Cummings wrote: "Mr. President, I go home to my district daily. Each morning, I wake up, and I go and fight for my neighbors. It is my constitutional duty to conduct oversight of the Executive Branch. But, it is my moral duty to fight for my constituents."
Many Democratic lawmakers and Trump critics quickly jumped to the congressman's defense, arguing that the president's attack was "racist" because Cummings is an African-American and represents a largely African-American district. But the president doubled down on his attacks on Sunday and again on Monday, even saying that Cummings was "racist."
Although there are significant issues with crime and poverty in parts of Cummings' district, many have pushed back against the criticism. Mayor Bernard "Jack" Young of Baltimore slammed the president's remarks in a Monday interview with CNN, arguing that Trump "needs to send us the federal assistance – not only to Baltimore, to cities around this country that are in the same situation that Baltimore is in."
He said that the president is instead "interested in childish tweets."