Rush Limbaugh has claimed that forecaster's predictions that Hurricane Florence could have a devastating and potentially life-threatening effect when it batters the East coast has been exaggerated in order to "politicize" climate change.
The right-wing radio host said during his show that hurricane forecasting has been amplified in order to convince people that climate change is causing greater natural disasters, noting how previous hurricanes are downgraded before they make landfall.
Millions of people have been told to brace themselves as Hurricane Florence approaches with winds of up to 140 miles per hour expected to batter North and South Carolina and Virginia, bringing the risk of storm surges and flash flooding.
"We have exhaustive experience with hurricanes here at the Southern Command, and we have great empathy for anybody who is in the pathway of one of these things," Limbaugh said.
"You remember the hurricane that hit Houston. It stopped shortly after hitting landfall, and you saw people with their speedboats and rowboats on the streets in front of their homes. This is one of the things that has everybody alarmed for the Carolinas.
"These things have become very politicized as you know, folks. Hurricanes and hurricane forecasting is much like much else that the left has gotten its hands on, and they politicize these things. For those of you asking, 'What's the politics of a hurricane?' Climate change is the politics of hurricanes. The forecast and the destruction potential doom and gloom is all to heighten the belief in climate change."
Limbaugh also made a similar suggestion last September as Hurricane Irma was due to devastate the Caribbean islands as well as cause major destruction in Florida.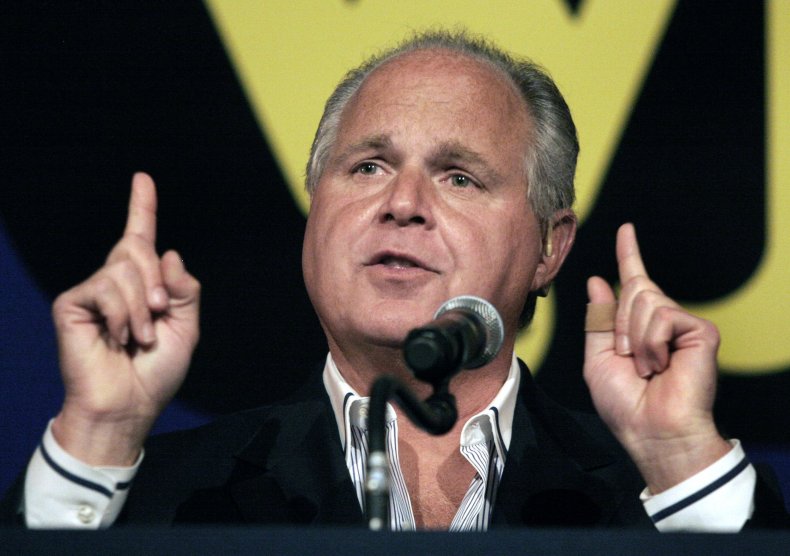 "There is a desire to advance this climate change agenda, and hurricanes are one of the fastest and best ways to do it," he said during a September 5, 2017 broadcast of The Rush Limbaugh Show.
"You can accomplish a lot just by creating fear and panic. You don't need a hurricane to hit anywhere. All you need is to create the fear and panic accompanied by talk that climate change is causing hurricanes to become more frequent and bigger and more dangerous, and you create the panic, and it's mission accomplished, agenda advanced."
Meanwhile, North Carolina governor Roy Cooper is urging everyone in the state to leave their homes in preparation for Hurricane Florence.
"The waves and the wind this storm may bring is nothing like you've ever seen," Cooper said, reports Associated Press. "Even if you've ridden out storms before, this one is different. Don't bet your life on riding out a monster."
The National Weather Service (NWS) in Wilmington, North Carolina, also warned that Florence will likely be "the storm of a lifetime for portions of the Carolina coast."
"I can't emphasize enough the potential for unbelievable damage from wind, storm surge, and inland flooding with this storm," the NWS said in a forecast.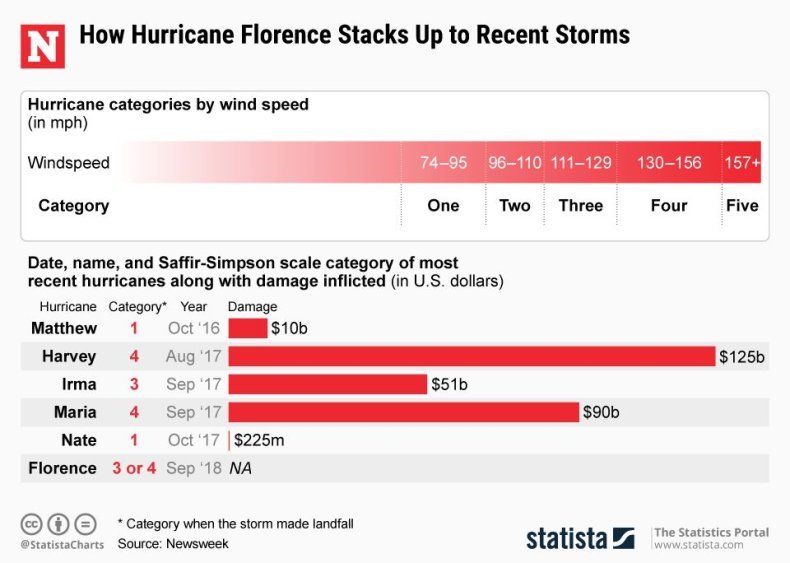 This article has been updated to include an infographic.