Russell Brand's working relationship with a U.K. book publisher has been suspended after he was accused by four women of rape, sexual assault and emotional abuse over a seven-year period.
According to a joint investigation by The Sunday Times, The Times and Dispatches, the women have claimed they were sexually assaulted between 2006 and 2013, while Brand was a presenter on radio and television in the United Kingdom. At the time of the alleged incidents, he was also an actor in Hollywood.
Brand has denied the allegations and said in a video posted on Friday to X, formerly Twitter, that his relationships have been "always consensual." He also stated that he seriously refutes "these very serious criminal allegations."
On Monday, it was announced by Bluebird, an imprint of British publishing giant Pan Macmillan, that it had paused its relationship with the star in light of the allegations.
"These are very serious allegations and in the light of them, Bluebird has taken the decision to pause all future publishing with Russell Brand," Bluebird said in a statement shared publishing trade magazine The Bookseller.
Newsweek reached out to representatives of Brand via email for comment.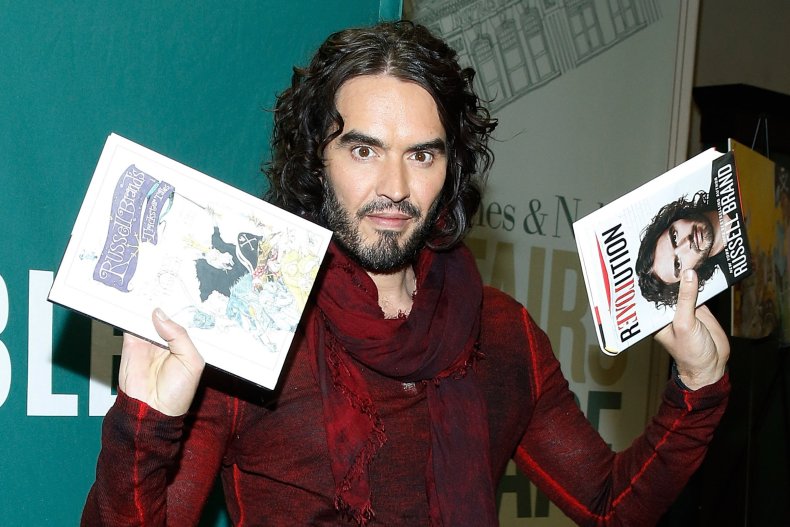 Bluebird has been publishing works by Brand since 2017. Titles include Recovery: Freedom from our Addictions and Mentors: How to Help and Be Helped. Another book, Recovery: The Workbook, was scheduled to be published this coming December.
Brand's 2007 autobiography, My Booky Wook, was published by Hodder & Stoughton, while his politically-themed project, Revolution, was brought to bookshelves by Random House (called Century in the U.K.) in 2014.
The Forgetting Sarah Marshall star has also seen other professional relationships affected by the allegations. Literary and talent agency Tavistock Wood stated that it has "terminated all professional ties to the comedian.
The Times reported that one of the accusers approached Brand's agent at Tavistock Wood with her allegations back in 2020. However, she alleged, she only received in response a "very aggressive" letter from Brand's lawyers. Ties were officially cut after the agency was contacted by The Times as part of its investigation.
"Russell Brand categorically and vehemently denied the allegation made in 2020, but we now believe we were horribly misled by him. TW has terminated all professional ties to Brand," the agency said in a statement.
British women's charity Trevi, which supports women impacted by abuse and violence, has also severed ties with Brand. It was announced in 2022 that the charity would be working with Brand's Stay Free Foundation, which supports people recovering from addiction.
The charity said in a statement on social media that the allegations against Brand have been "difficult to process but our priority remains and continues to be the safety and well-being of all women and girls now and in the future. We have ended our association with Russell Brand and the Stay Free Foundation."
In his video posted to X, Brand maintained that he has been transparent about his previous relationships being consensual and wants to continue being transparent. He suggested that "mainstream media outlets are making a coordinated attack" against him.
"These allegations pertain to the time when I was working in the mainstream, when I was in the newspapers all the time, when I was in the movies, and as I've written about extensively in my books I was very, very promiscuous," he said.
According to an article published by The Sunday Times at the weekend, one woman alleged that Brand raped her in his Los Angeles home and that she was treated at a rape crisis center on the same day. The Times said it had seen medical records supporting the allegation.
A second woman alleged that the comedian assaulted her when he was in his early 30s and she was 16 and still in school. She said he referred to her as "the child" during an allegedly emotionally abusive and controlling relationship that lasted for about three months.
A third woman said that Brand sexually assaulted her while she worked with him in Los Angeles and that he threatened to take legal action if she told anyone about her allegation.
The fourth woman alleged that she was sexually assaulted by Brand and that he was physically and emotionally abusive towards her.
The investigations developed over the past few years, according to The Sunday Times, with reporters interviewing hundreds of sources who knew or worked with Brand, such as ex-girlfriends and their friends and family, comedians, celebrities, people who worked with him in radio and TV, and senior staff at the BBC, Channel 4 and other media organizations.
To corroborate these allegations, The Sunday Times wrote that reporters viewed private emails and text messages, submitted freedom of information requests, viewed medical and therapists' notes, and Brand's books and interviews.
Update 09/18/23, 8:55 a.m. ET: This article has been updated with additional information.