Texas Man Working With Russian Army Wants to Return to U.S. on a Tank
American veteran Russell 'Texas' Bentley says the only way he'll ever return to the U.S. is if he's on a Russian tank arriving to "liberate" America.
Bentley has been based in the Donbas region of Ukraine since December 2014 when he arrived from Texas to fight with a pro-Russian militant group in the Donetsk People's Republic.
Speaking exclusively to Newsweek, 61-year-old Bentley said he has no intention of ever returning to the United States because he'd be arrested on "some bogus bulls*** charge" but also because there's currently no place he'd rather live than Donbas.
"I'm sure that if I went back to the United States, I would be met at the plane by cops and put in chains and never see the light of day again," Bentley told Newsweek.
As a young man, Bentley served in the United States army before gaining an honorable discharge. During his time out in Ukraine, Bentley says he has served on the front lines with the Russian militant group the Vostok Battalion, but is staying out of the current conflict as he prefers life as a veteran more than a soldier.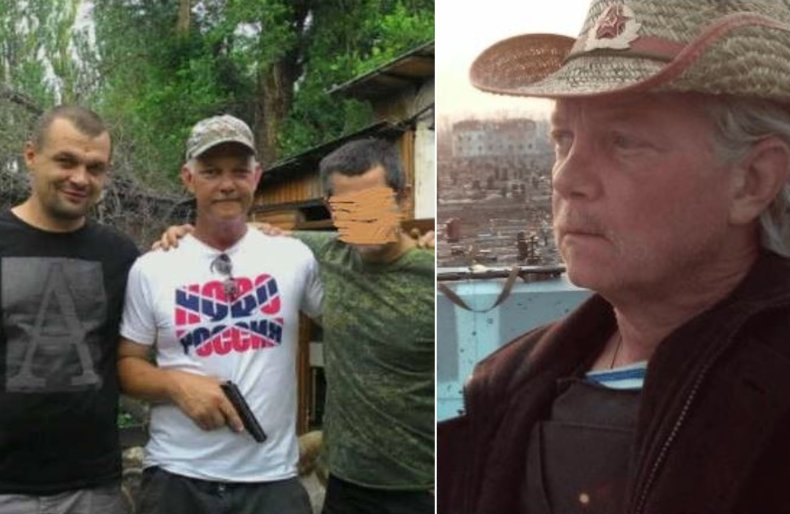 Bentley echoes Vladimir Putin's unfounded claims that Russia's invasion of Ukraine is aimed at removing neo-Nazis from the "fascist" Ukrainian government, and the only way he'd return to America is if it were part of the same mission.
"If I return to the U.S., it'll be on a Russian tank to liberate the U.S. just like what we're doing here," Bentley said.
"If I go back to the U.S. unarmed I'll spend the rest of my life in prison for some bogus bulls*** charge. But I don't need to go back to the U.S. I have a DPR passport. I'm a citizen of the Donetsk People's Republic. I'm also a Russian citizen."
In his seven years in Donbas, Bentley has made a life for himself, finding a home and a life partner. "I have a beautiful, brilliant wife, who's smart and tough and cool. She speaks three languages, more educated than 90 percent of the people in the United States.
"We have a small house, we have a big garden. I got apple trees, I got grapes growing, I make my own wine. I'm 61, dude, I don't know how much time I got left. But I'm gonna live here in the breadbasket of the world, the coolest and most beautiful place I've ever been in."
Bentley frequently uploads videos from Donetsk to his YouTube channel and regularly features the Texas flag behind him. While he still thinks about his country of origin, he expanded on his reasons for avoiding America and its government.
"I love the idea of America. I love American people, my family, my friends there, you know, I don't want anything bad to happen to any good people anywhere."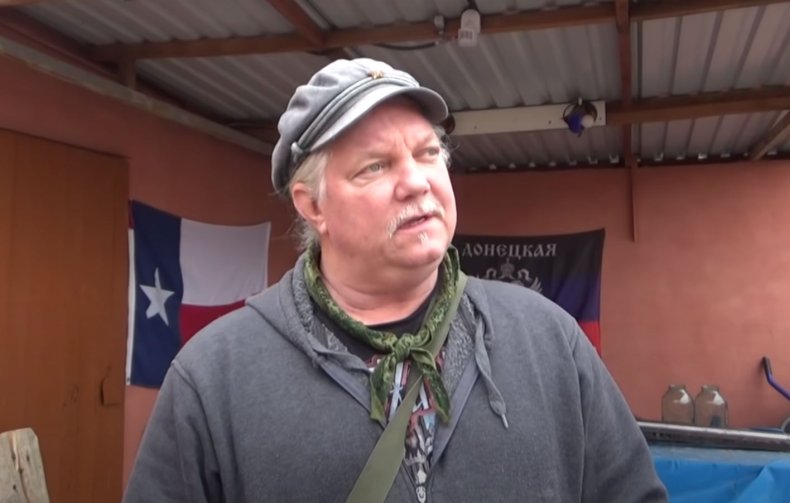 He continued: "But the United States is ruled by a fascist regime. And I'm not some college punk that sits in a coffee house and says, 'Oh, this guy's a Nazi, because my cappuccino is cold'. Benito Mussolini, who founded the [Italian] Fascist Party, supposedly once said that 'fascism should better be called corporatism because it is a merger of state and corporate power'. It is exactly the perfect definition of what the United States especially and much of Europe, and Australia have today.
"To say that the United States is a democracy is a cynical joke. You can only be a liar or an idiot to even say that," Bentley said.
To read Newsweek's full interview with Russell 'Texas' Bentley, click here.