Who is Russell Bonner Bentley? Texas Man 'On the Front With Russian Troops' in Ukraine
Vladimir Putin has an unusual ally, in the form of a Texas man named Russell Bentley, who is currently "on the front with Russian troops" in Ukraine.
Russell "Texas" Bentley's latest social media video shows him surrounded by Russian military in Ukraine, and has amassed over millions of views.
According to his own website, Bentley has been blogging about the war in the Donbas region of Ukraine since 2014, when he first made the trip over from his native Austin.
Bentley, or "The Donbas Cowboy" as he's often referred to himself, has been posting videos on his YouTube channel for years, speaking out in support of Russia from the ground in Ukraine.
He has continued to post messages supporting Russian troops ever since they invaded Ukraine on February 24, with his latest offering catching the attention of the Twittersphere and going viral.
On Monday, Bentley posted a 40-second video to his YouTube channel titled "ON THE FRONT WITH RUSSIAN TROOPS TODAY TRAILER."
Speaking from "the front line" Bentley said: "[I'm] with the de-Nazifyers and liberators of Ukraine. These guys are tough, these guys are ready and there's plenty of them. So far Russia has used about 10 percent of its military power and we're getting ready to bring the hammer down. These guys are gonna save and liberate all the good people in Ukraine, and the bad people 'Boom', kick their ass."
Bentley's story has been told in various places across the years since he arrived in Donetsk in December 2014.
According to his own website, Bentley is "doing Information Warfare for the Donetsk People's Republic"—a self-proclaimed breakaway state in Ukraine, and an area at the center of the Russian-Ukrainian crisis.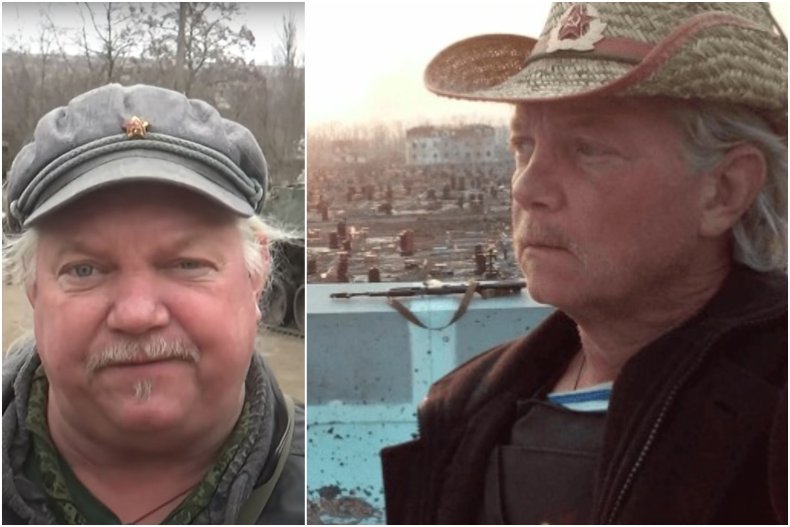 A 2018 Texas Monthly article profiled "Russell Bonner Bentley III's" and revealed how the then 54-year-old man journeyed from Texas to Donetsk.
He was formerly an arborist (tree surgeon) in Round Rock, Austin before he got pulled into the the Ukrainian conflict after immersing himself in "Russian media sources that blamed the war on 'U.S.-backed Nazis'."
He has since been involved in many conflicts within the Donbas region, and has been posting pro-Russian and pro-DPR videos on his YouTube channel ever since.
According to his website, Bentley believes "Fascism has again raised its ugly head, and we are here to fight and defeat it."
Posting the "frontline" video with Russian troops to his 16,700 YouTube subscribers, he gained over 100,000 views.
Since the video was shared across Twitter by the account @BadWeaponTakes, it has been viewed more than 1.7 million times. The account wrote underneath the video, "[That feeling when] the weird uncle you only see at Thanksgiving turns up in Ukraine."
Newsweek has reached out to Bentley for comment.