It was the result everyone expected: Vladimir Vladimirovich Putin was elected for a fourth term as president of Russia with a thumping majority of the vote.
Why was it expected? Because in Russia's sham elections, only Putin is allowed to win.
Putin, 65, secured over 76 percent of the vote on a turnout above 67 percent. If he serves the full six-year term, he will have been either president or prime minister of Russia for a quarter of a century—and he has never faced any genuine opposition.
So how does Putin rig the an election? And if he's so powerful already in Russia, why does he bother having one?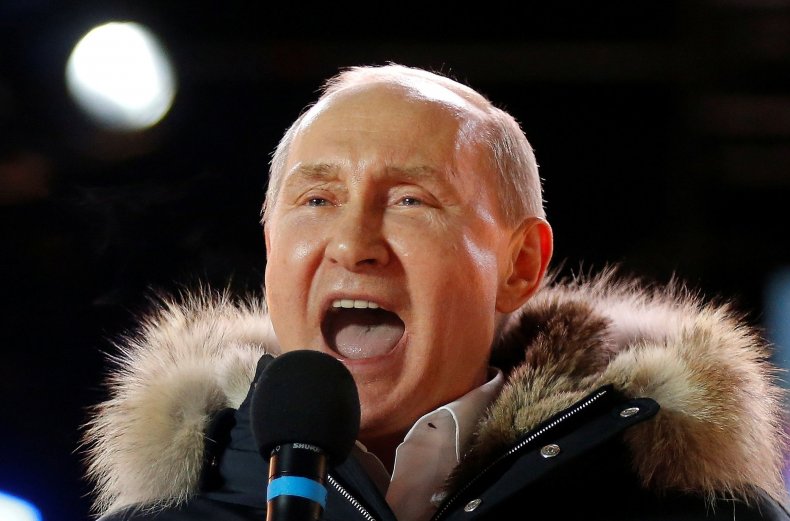 "They are not elections if you look at international, modern standards of democracy," Mathieu Boulègue, research fellow on the Russia and Eurasia program at Chatham House, a London-based foreign affairs think tank, told Newsweek. "This is a performative moment not only for Russia but also for the international community.
"Russia is not a full-blown dictatorship where Putin has dictatorial control over the population. It is very much strong one-man rule and a presidential regime, but it is not a dictatorship. And even the most gruesome dictators in Africa or other parts of the world go through elections.
"So, in a sense, Russia cannot be the odd man out by not calling elections."
Here are four reasons Putin's election isn't really an election at all.
1. No Real Political Opposition Is Allowed
Anyone seen as enough of a threat to Putin's hegemony is shut out. "They keep it contained by cherry-picking opponents they want to run for the elections," Boulègue said.
At best, potential candidates are barred from standing by the election authority in some Kafkaesque legal contortion—at worst, they end up dead.
Boris Nemtsov, a longtime Putin critic and the most prominent opposition figure in Russia, who advocated for pro-market and democratic reform and aspired to the presidency, was shot dead in 2015 by a group of Chechen assassins. Nobody knows for sure who called the hit—but many have alleged that the order traced back to the Kremlin.
Alexei Navalny, the most recent serious challenger to Putin, has been harassed by security services and repeatedly detained. In one violent attack by an unknown assailant, Navalny had a green dye sprayed in his face. He said he lost 80 percent of the sight in one eye.
Navalny was then rejected as a candidate in the presidential election for a fraud conviction he and his supporters claim is concocted. The European Union said his ban "casts a serious doubt on political pluralism in Russia and the prospect of democratic elections."
What's left on the ballot paper is a handful of candidates who pose no real threat to Putin.
Even outside of the election, Putin cracks down on ordinary dissent. Protests are often disrupted by an aggressive police force using draconian anti-public assembly laws.
Demonstrations supportive of Navalny's call to boycott the Russian election—Putin wants the turnout to be large and encourages gimmicks such as buffets and fancy dress competitions to get voters in, which benefits his claim to legitimacy—were dispersed.
"The Kremlin's agenda is crystal clear—the loudest protesters and vote-boycotters must be cleared from the cities' streets during the final stages of the presidential campaign," said Denis Krivosheev, deputy director for Eastern Europe and Central Asia at Amnesty International, the human rights group.
"While various methods are used, the authorities usually turn to their favourite one: arbitrarily throwing dissenters behind bars."
2. Electoral Corruption Is Widespread
Videos of election officials allegedly stuffing ballot boxes at polling stations are going viral on Russia social media. In one video, a woman at a Moscow polling station appears to repeatedly stuff ballot papers into the box, looking around her and checking each time.
In another video, as election officials prepare to count the votes, a woman moves a balloon in front of a monitoring camera. Another CCTV video shows a man in military uniform at a voting station in Chechnya putting several ballot papers into a box.
There are multiple incidents where election observers have allegedly been assaulted, reported Associated Press.
According to AP: "Aida Mirmaksumova, who is collecting violations in Makhachkala, said burly men dressed in black dragged an observer for Communist Party candidate Pavel Grudinin on the ground as he shouted, 'Help!' Others yelled: 'Get out of here!' Amid the melee, people were seen stuffing what appeared to be ballots into a ballot box."
Putin and his supporters use their administrative control of Russian civil society to orchestrate his victory. "They manage the whole process very carefully by playing with what they call administrative resources," Boulègue said.
This means making sure federal money goes to the right places, effectively buying the cooperation of governors and local officials, who respond by ensuring the elections go to Putin's plan.
Local government resources are also used to Putin's advantage. There are reports of voters turning up to polling stations to be greeted by large posters of Putin as they enter, and of official communication channels used to push his campaign, breaking neutrality rules.
"The governors in the regions know exactly what to do in terms of the electoral process and how it should unfold on election day so that there is not too much raucousness, or too much mess about the elections," Boulègue added.
3. Putin Controls the Media and Dominates Coverage
Much of the most popular media in Russia—broadcast, print and online—is state-owned. Television, the most popular medium, is particularly dominated by state-run channels.
By extension, Putin dominates the media, which is generally uncritical of him and supportive of Russian government positions. Coverage of Putin is ramped up ahead of the elections, giving him a significant advantage over his opponents.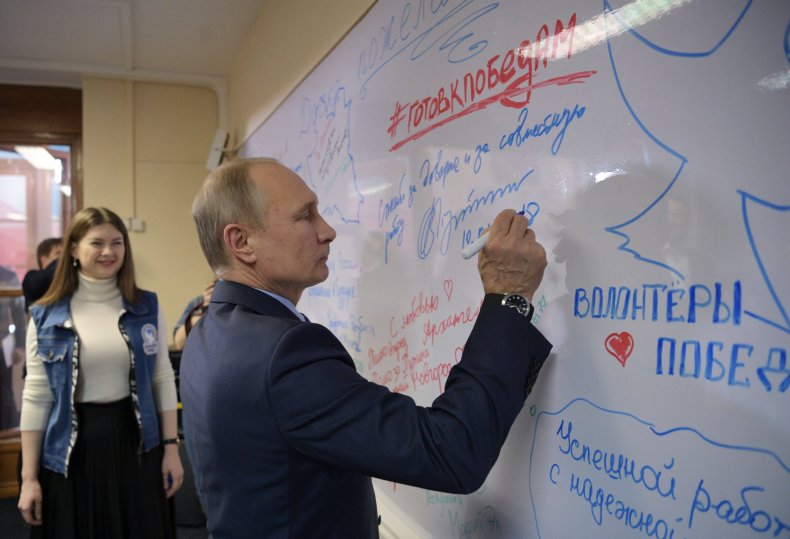 While there is some independent media in Russia, journalists who criticize or investigate those in power are harassed, violently attacked and even killed. Anna Politkovskaya, a reporter for Novaya Gazeta, was assassinated as she investigated Putin and human rights abuses in Chechnya. Others are routinely locked up or silenced by the courts.
In the 2017 Press Freedom Index compiled by Reporters Without Borders, Russia ranks 148 out of 180.
4. Russia Is a Gangster State, and Putin Is the Godfather
Over the years, Putin has rewarded himself with great power by centralizing it and, his critics say, phenomenal wealth—estimated to be several billion dollars.
Moscow's strongman is godfather of gangster Russia. He sits at the top of a power structure that spans the administrative, political and security bureaucracies of the Russian state, the oligarchs who own everything, and a violent criminal underworld—all willing to do his bidding. Loyalty is rewarded in both directions.
"Power in Russia's authoritarian political system is concentrated in the hands of President Vladimir Putin," says the pro-democracy group Freedom House in its 2018 Freedom in the World report.
"With loyalist security forces, a subservient judiciary, a controlled media environment, and a legislature consisting of a ruling party and pliable opposition groups, the Kremlin is able to manipulate elections and inhibit genuine opposition."
5. Putin's Past Record in Elections Is Terrible
The world awaits the final report of the Office for Democratic Institutions and Human Rights (ODIHR), the elections watchdog in Europe, which had observers in Russia for the poll on March 18, 2018. But there's little sign that anything has changed since the previous presidential election in 2012.
And the ODIHR's final report in 2012 made for grim reading. "Although all contestants were able to campaign unhindered, the conditions for the campaign were found to be skewed in favour of one candidate," the report said.
"While all candidates had access to media, one candidate, the then Prime Minister [Putin], was given clear advantage in the coverage. State resources were also mobilized in his support. On election day, observers assessed voting positively, overall; however, the process deteriorated during the count due to procedural irregularities."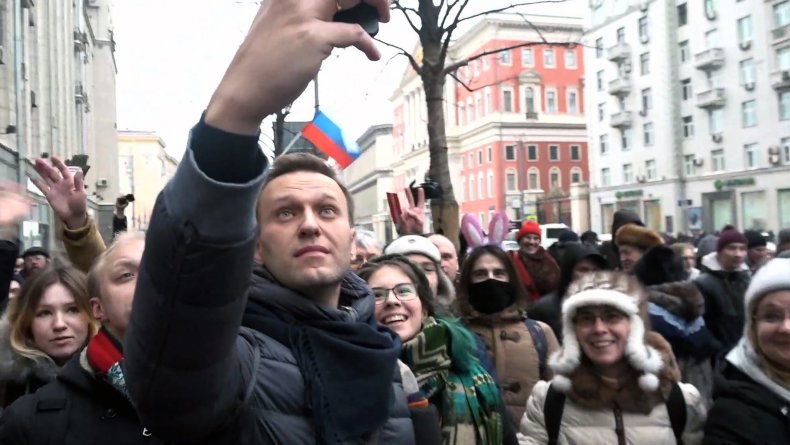 It added that there was "a general lack of confidence among many interlocutors in the independence of election officials at all levels, mostly due to their perceived affiliation with local administration and the governing party."
And it said: "There was an evident mobilization of individuals and administrative resources in support of Mr. Putin's campaign...In several regions, participants in campaign events reported that they had been ordered to take part by their superiors.
"Various levels of public institutions instructed their subordinate structures to organize and facilitate Mr. Putin's campaign events. Local authorities also used official communication, such as their institutional websites or newspapers, to facilitate Mr. Putin's campaign."