Russia Accuses U.S. of 'Colonial Thinking' in Syria, Where Residents of This Camp Are Dying
Russia and Syria accused the United States of using the residents of a remote refugee camp in a Pentagon-controlled security zone as justification for its ongoing military presence in the country.
In a statement issued Monday—days before Syria's civil war entered its ninth year—Moscow and Damascus's interdepartmental coordination headquarters condemned what they said was "the suffering of Syrian citizens forcibly held in the Rukban refugee camp by U.S.-controlled armed groups." The camp is located in an isolated stretch of southern Syria near the Jordanian border and within a roughly 34-mile "deconfliction zone" maintained by a U.S.-led coalition and a partnered insurgent group known as Maghawir al-Thawra at Al-Tanf.
The U.S. and Russia have blamed one another for deteriorating humanitarian conditions that have left at least a dozen children dead since the beginning of the year, but Moscow has recently provided satellite imagery it argued could prove Washington's alleged misdeeds at Rukban. Among Russia's claims were that the U.S. and rebel allies charged residents $300 to exit the camp and had constructed a massive security wall "designed to prevent the residents of the camp from leaving its territory."
"This is quite in the spirit of the colonial thinking of Americans," the statement read.
The U.S. has repeatedly denied such claims and accused Russia of purposely publishing misinformation to distort the Pentagon's mission. Shortly after the Russian and Syrian governments issued a similar statement Wednesday, contending that the U.S. and Maghawir al-Thawra were holding residents "hostage" in order "to continue to justify their illegal military presence there," the Pentagon shot back with its own statement.
"The U.S. Central Command continues to stand ready with our partners in Syria to provide security within the At Tanf deconfliction zone to U.N. humanitarian aid convoys to the 40,000 internally displaced persons (IDPs) at Rukban, as we have repeatedly done in the past. Despite Syrian and Russian propaganda to the contrary, the United States is not restricting the movement of IDPs into or out of the camp at Rukban," U.S. Central Command spokesperson Navy Captain Bill Urban said Thursday.
"The United States fully supports a process to allow IDPs freedom of movement that is free from coercion and allows for safe, voluntary and dignified departures for those wishing to leave Rukban," he added.
Dismissing these remarks, Monday's statement—attributed to Russian National Defense Management Center head Colonel General Mikhail Mizintsev and Syrian Local Administration and Environment Minister Hussein Makhlouf—said that "Washington does not care, the humanitarian catastrophe occurring in the camp is its fault, and it is trying to shift the responsibility to Russia and Syria."
"It is advantageous for the USA to keep the camp of temporarily displaced persons at Al-Tanf as long as possible for the sake of substantiating its illegal presence in the south of the republic," it added.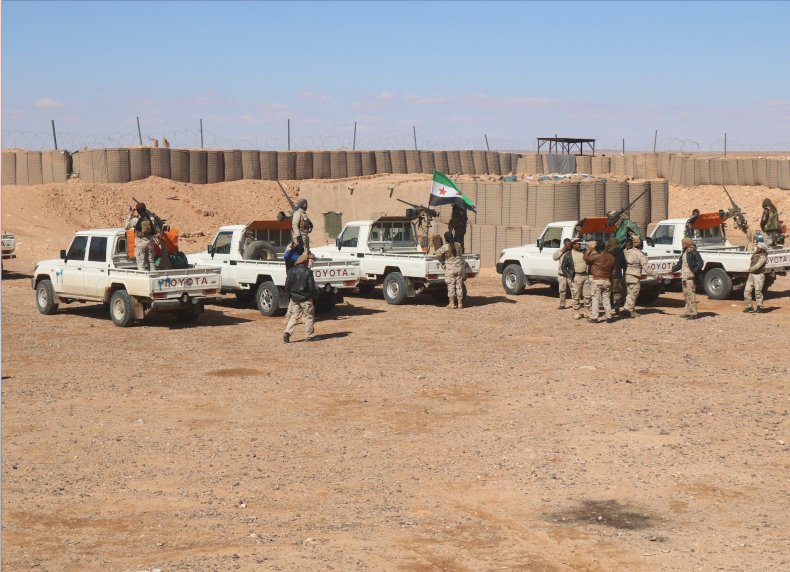 Last month, a humanitarian convoy jointly arranged by the United Nations, the U.N. International Children's Emergency Fund (UNICEF) and the Damascus-based Syrian Arab Red Crescent reached Rukban to provide desperately needed supplies. When Russia and Syria reportedly tried to send a convoy to evacuate the camp last week, the two countries claimed they were refused entrance by Maghawir al-Thawra and that the U.S. declined to guarantee their safety.
With up to 15 deaths plaguing Rukban in the first weeks of 2019, UNICEF and other international aid groups have warned of the worsening conditions of the camp.
"Children and families in no man's lands continue to live in limbo," UNICEF Executive Director Henrietta Fore said Friday in a statement to Newsweek. "The situation of families in Rukban, near the Jordanian border, continues to be desperate, with limited access to food, water, shelter, health care and education."
The U.S. and its regional allies have accused Syrian President Bashar al-Assad of war crimes and attempted to oust him via support for a 2011 rebel and jihadi uprising that he has since largely overcome with the help of Russia and Iran. Since 2015, a U.S.-led coalition has instead focused on assisting a local, mostly Kurdish contingent known as the Syrian Democratic Forces battle the Islamic State militant group (ISIS), which the pro-government campaign has also fought in separate offensives.
President Donald Trump announced in December that he would withdraw U.S. troops from Syria, where around 2,000 soldiers have been deployed—roughly 200-300 of them at Al-Tanf. However, reports emerging in recent weeks have suggestedin that the White House planned to maintain a "peacekeeping force" of around 200 troops the war-torn country, where Assad and his international allies have deemed U.S. military presence illegal.