Russia Responds to Donald Trump's Latest Syria Move: 'We Do Not Understand'
Russia has responded to the White House's latest announcement in regards to U.S. policy in Syria, expressing confusion over what appeared to be the latest turn in President Donald Trump's strategy there.
In December, Trump initially surprised observers—and reportedly his own staff as well— by announcing a total withdrawal of the roughly 2,000 U.S. troops in Syria, where they had been supporting mostly Kurdish forces battling the Islamic State militant group (ISIS). The details of the pullout have since remained unclear, however, and White House press secretary Sarah Sanders revealed Thursday that "a small peacekeeping group of about 200 will remain in Syria for a period of time."
Russia, too, was involved in the anti-ISIS fight but was on the side of the Syrian government, which considered the U.S. presence illegal because of its attempts to overthrow Syrian President Bashar al-Assad. Russian President Vladimir Putin initially welcomed Trump's decision to withdraw, but Putin has grown skeptical amid conflicting statements from Washington, and his spokesperson appeared puzzled by the latest twist.
"We do not understand at the moment what it is all about," Kremlin spokesperson Dmitry Peskov said Friday, according to the state-run Tass Russian News Agency. "Sometimes we hear different statements from different agencies, so we are watching with great interest and attention the evolution of the United States' stance on the issue and analyzing all these statements."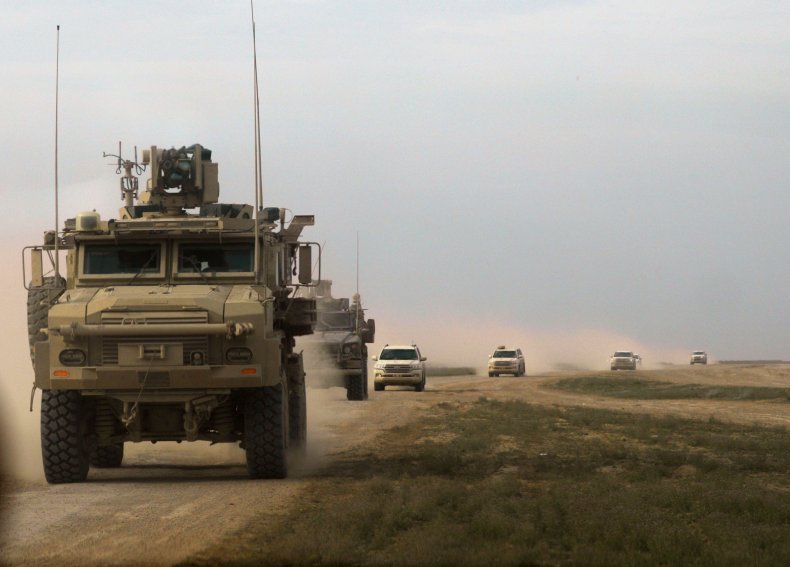 Moscow has long criticized Washington's approach to the conflict in Syria, where the CIA offered support to opposition elements in the wake of a 2011 rebel and jihadi uprising against Assad, who stood accused of human rights abuses. Russia feared a repeat of what happened in Libya after the fall and execution of longtime leader Muammar el-Qaddafi in the midst of a separate 2011 insurrection, backed by the U.S.-led NATO Western military alliance.
Both countries descended into civil war, allowing Islamist forces to grow powerful. By 2013, ISIS had spread to Syria from the ultraconservative Sunni Muslim insurgency that erupted in Iraq after the 2003 U.S. invasion a decade earlier. The Pentagon formed an international coalition in 2014 to begin bombing ISIS and teamed up with the Syrian Democratic Forces a year later, just as Russia entered to support Assad.
The dual campaigns led to the virtual eradication of ISIS, with only a pocket of influence remaining in Syria's far east. Trump declared the group "defeated" in December and, though he had campaigned for an end to costly and lengthy foreign conflicts, his decision to leave Syria was followed by several high-level resignations, including that of Defense Secretary James Mattis, and no clear outlook of how and when the U.S. would exit.
Following Trump's announcement, Reuters cited a U.S. official as saying the entire pullout may take between 60 to 100 days. Weeks later, a Defense Department official confirmed to Newsweek that the evacuation of equipment had begun from a strategic airstrip in Syria's northeast, near the border with Iraq. As Russia and Iran have pushed for a quicker U.S. departure, one other area has been of particular international concern.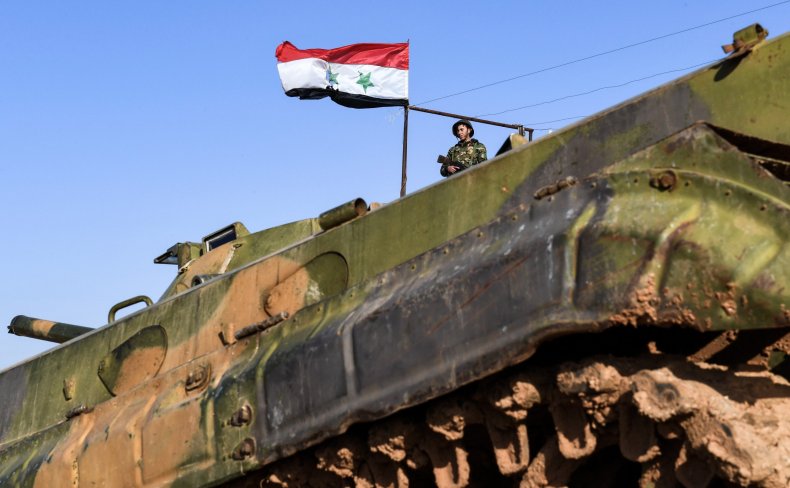 In addition to its presence within the roughly one-third of Syria under the control of the Syrian Democratic Forces, the U.S. also maintains about 200 to 300 troops in a southern deconfliction zone surrounding the Al-Tanf garrison in southern Syria, near the borders with Jordan and Iraq. Here, the U.S. was supporting a rebel group known as Maghawir al-Thawra, and has attempted to disrupt growing influence from Assad's other major ally, Iran.
The outskirts of the Al-Tanf zone have been the venue for several clashes between the U.S.-led coalition and pro-government forces, some of whom may be linked to Iran. Russia too has warned it would support local allies in pressuring the U.S. to leave Al-Tanf behind, while Israel—which has waged its own unilateral campaign of strikes against alleged Iranian targets in Syria—has reportedly urged the U.S. to stay.
While the White House has not elaborated on whether the remaining U.S. troops in Syria would be those posted in Al-Tanf, national security adviser John Bolton said last month that the garrison was "still very strategically important in connection with our determination that Iran not achieve this arc of control stretching from Iran through Iraq into Lebanon and into Syria."
In addition to Russia and Iran, NATO member Turkey was also among the international voices calling for the U.S. to withdraw from Syria. Though Ankara was the last major power supporting the Syrian opposition, it has worked alongside Moscow and Tehran to help solve the crisis and has threatened military action against U.S.-backed Kurdish forces it considered terrorist organizations due to alleged links to a separatist insurgency at home.