Why Russia's Airstrikes Could Signal a Defining Chapter in Ukraine War
Russia's missile blitz on Ukraine has somewhat punctured the swell of optimism that accompanied Kyiv's recent battlefield successes, as well as the delight over the audacious attack on the strategically and symbolically vital Crimean Bridge.
But the punishing strikes—which have killed at least 19 people and disrupted vital services across the country—might yet backfire for the Kremlin.
Ukrainians who spoke with Newsweek expressed their hope that the Russian standoff barrages will galvanize Western military support and ultimately put Putin in a corner.
"It's a sign of Russia's weakness," lawmaker Oleksandr Merezhko, chair of the Ukrainian parliament's foreign affairs committee, told Newsweek. "It's incapable of winning war on the ground, so it's trying to scare and terrorize civilians."
"Reluctant European countries cannot ignore any more Russian atrocities," he added.
Serhiy Kiral, a deputy mayor of the Western city of Lviv—among those hit by Russian missiles—told Newsweek he expected increased foreign support: "Putin is stupid enough to make this happen. As with every such escalation, the resolve here strengthens and the West is more ready to deliver."
If Putin's blitz does wane without fracturing Ukrainian or Western resolve, the Kremlin could look for more escalatory options to sap Kyiv's front-line momentum.
"[Putin] needs a pause, and he believes that to get such a pause he needs to escalate," Oleg Ignatov, Crisis Group's senior analyst for Russia, told Newsweek. "Without escalation, he doesn't get a pause on his terms. It will be on Ukrainian terms, or on Western terms."
"He needs more and more escalation at the same time or over a very short period of time," Ignatov explained.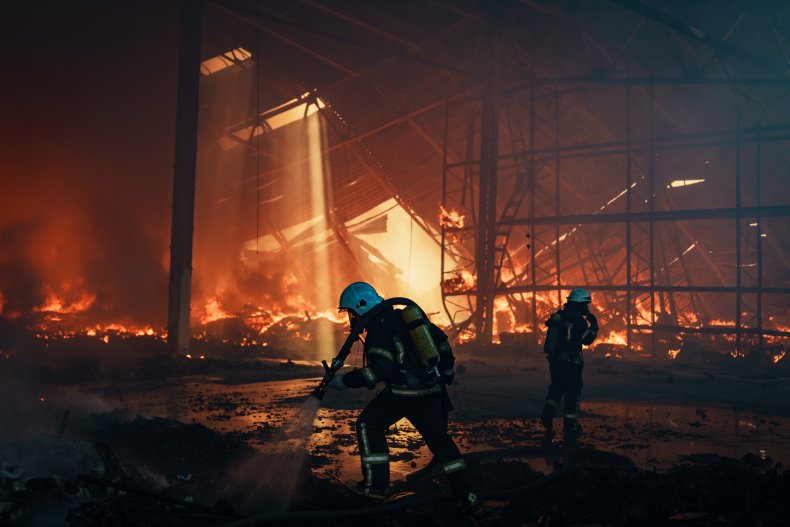 The mobilization effort is one such lever, as are hybrid and covert options like cyber attacks or deniable strikes on critical infrastructure in the West.
The arrival of more and more mobilized Russian troops—whether properly trained and equipped or not—Ignatov said, will prompt a "bloodbath" akin to the Second World War where Russian forces try to overwhelm Ukrainian defenders.
"I think he has prepared such an option," Ignatov said. "Why does he need so many mobilized people?"
The nuclear option looms above all. "I'm skeptical about the nuclear escalation because only a massive strike could change something on the ground," Ignatov said. "Limited use of nuclear weapons won't change everything."
Russian forces blanketed Ukraine with missile strikes on Monday and Tuesday, targeting a range of infrastructure and civilian targets. As well as 119 casualties, several major cities—including Kyiv—faced blackouts, water supply problems, and internet issues.
Kyiv's allies were quick to condemn the Russian strikes. The White House said more "advanced" anti-aircraft systems would be sent to Ukraine, while Germany announced Tuesday that its first IRIS-T anti-aircraft system had reached Ukrainian forces, though that transfer was already in the pipeline before the missile attacks.
Ukrainian leaders have been demanding new anti-aircraft systems since the very beginning of the invasion. The failure to provide Kyiv with comprehensive anti-missile defenses remains a major grievance for Ukrainians.
Ukraine's Foreign Ministry expects the West to take "unprecedented" action to ensure "Russia's full economic and political isolation." This, the ministry said in a memo shared with Newsweek, should include additional air and missile defense systems along with further long-range weapons and the recognition of "Russia as a terrorist state."
"The world needs to use this moment to show that democracy is stronger than autocracy and that there should be respect for the international order," Iuliia Mendel—a former press secretary to President Volodymyr Zelensky and author of a new book The Fight of Our Lives—told Newsweek.
"It seems strange to still talk of what we need to do after eight months of war, but here we are. "We need modern anti-aircraft and weapons, we need trained soldiers. Then Ukraine guarantees progress."
Kiral, too, bemoaned the delay. "Is the genocidal nature of Russian aggression still not obvious? Are they waiting for Putin to exterminate all Ukrainians to get back to business as usual? In my opinion, these are more legitimate questions than enquiring among Ukrainians if they are ready to be killed."
The strikes will give fresh impetus to Kyiv's security ambitions. Merezhko said the best response would be "to admit Ukraine to NATO immediately," as Zelensky has recently requested.
Mendel pointed to the Kyiv Security Compact proposed by presidential aide Andriy Yermak and former NATO Secretary-General Anders Fogh Rasmussen, which they hope will protect Ukraine while it strives for membership of the transatlantic alliance.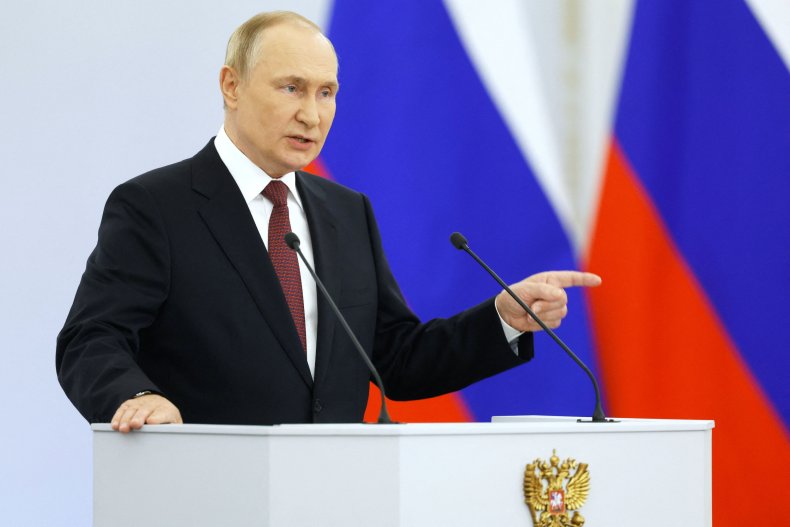 Russian officials have threatened more strikes, with Moscow seeking to exacerbate the looming winter by devastating Ukrainian infrastructure and freezing its people.
Ukrainian officials proudly tweeted images and videos showing the rapid clean up effort that followed the first range of missiles, but an extended campaign is a different prospect.
"New needs emerge after new attacks," Kiral said, adding of Monday's strikes: "All services in much of the city were renewed by end of the day. If we speak about the immediate response and supply of power and water, this is done in the matter of hours and not days. However, more time will be needed for capital repairs, for the infrastructure to be used on a sustainable basis."
The foreign ministry also said it would "welcome additional technical and financial support to urgently rebuild the infrastructure and provide energy and heating to schools, kindergartens, and hospitals."
A long-term campaign of aerial bombardment also poses difficulties for the Russian military, the most advanced weapons of which depend on imported components from the West no longer available due to sanctions.
"They have limited amounts of precision guided weapons like Iskanders and Kalibrs," Ignatov said. "They have enough Soviet-type missiles, which means that the effectiveness of such a campaign will be diminished."
"Russia can run such a campaign because it has many old missiles, but the goal of his campaign will be to intimidate and bring chaos, not to affect the situation on the front line," Ignatov said. "We could see more casualties, but maybe fewer problems for critical infrastructure because they are not so precise."
Newsweek has contacted the Russian Foreign Ministry to request comment.
It is not yet clear how much EU, NATO, and G7 nations might accelerate military support for Ukraine and further sanctions for Russia.
The EU, for example, has just passed its eighth Russian sanctions package, with preliminary discussions on the ninth now underway. "I'm not sure that the ninth package will go quickly," one Estonian diplomatic official—who spoke with Newsweek on the condition of anonymity as they were not authorized to comment publicly—said.
Would recent strikes move the needle? "I can't really say," the diplomat replied. "From our perspective it definitely should...but this war has been going on since February, we don't need additional reasons from bombings and so on."
A Latvian diplomat—also not authorized to publicly comment—told Newsweek: "The political logic would suggest that this should indeed trigger more military support, but I'm not sure that one day later we are already there."
But it appears a question of when, rather than if, the diplomat said. "I'm convinced it will all result in more air defense weapons for the Ukrainian army in the near future," they explained.