Ukraine Wants NATO-esque Bloc to Immediately Defend Border With Russia
A working group set up by Ukrainian President Volodymyr Zelensky has called for the immediate creation of a new coalition of key partners—including the U.S. and several other NATO allies—to provide legally-binding security guarantees for Kyiv as it tries to eject Russian forces from its occupied territories.
The Kyiv Security Compact (KSC)—proposed by Andriy Yermak, the head of Zelensky's office, and former NATO Secretary-General Anders Fogh Rasmussen—would also establish a "multi-decade" plan of investment, military training, and intelligence sharing to bolster Ukraine's defensive capabilities as the country pursues full NATO membership.
At a Tuesday press conference in Kyiv, Yermak and Rasmussen stressed the KSC is not intended to replace NATO, but rather to establish a legally-binding roadmap for the grouping to respond immediately to Russian aggression.
"With the help of allies, Ukraine is successfully resisting this invasion," Yermak said, as Ukrainian troops in the south and northeast of the country continued their offensives against occupying forces.
"However, it should be noted that decisions often had to be made ad hoc, and the development of mechanisms for this aid required a lot of time, which is always lacking in war, and which is bought with pain, blood, and lives."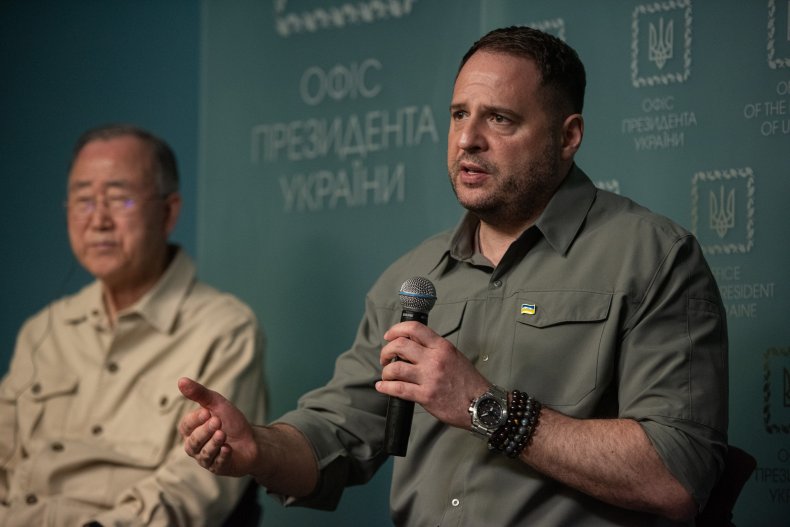 Security guarantees for Ukraine, Yermak said, should not be based on "wishful thinking" like past accords; especially the 1994 Budapest Memorandum through which Ukraine surrendered Soviet-era nuclear warheads.
Consultations with possible partners will begin "immediately," Yermak said. Among those touted as signatories are the U.S., U.K., Canada, Poland, Italy, Germany, France, Australia, and Turkey, as well as several Nordic, Baltic, and central European countries.
"These security guarantees should enter into force as soon as possible," Rasmussen said. "We should not wait for an end to the conflict."
It is unclear who may be willing to contribute. Top partners like the U.S. and U.K. have already been hesitant to sign up to new security guarantees for Ukraine, even while providing vast amounts of military equipment to help throw back the Russian invasion.
"Of course, we have tested the waters," Rasmussen said. "We deliberately did not request government commitments at this stage. What we wanted was to prepare recommendations for President Zelensky, recommendations as we see them that will work most efficiently."
Yermak added: "When we started working, no one really paid much attention. But today, I have received requests from almost all our partners. They're looking forward to this document coming out, they're looking forward to the continuation of consultations."
Yermak and Rasmussen see the compact as a collection of bilateral agreements with those named countries.
Such deals would establish "sustained investment in Ukraine's defense industrial base, scalable weapons transfers and intelligence support from allies, intensive training missions and joint exercises under the European Union and NATO flags," the KSC proposal said.
Ukrainian officials have been fiercely critical of EU and NATO failures to adequately arm Kyiv and impose pre-emptive sanctions on Moscow in the weeks before Russia's February invasion, when President Vladimir Putin ordered hundreds of thousands of troops to Ukraine's frontiers.
A broader group—which advocates want to include Japan and South Korea, among others—would help create a list of sanctions which would be automatically applied in the case of Russian aggression.
This would also include measures enabling foreign governments to seize Russian state property and money, as well as assets belonging to individuals and entities added to the sanctions list.
Ukraine and its partners must "learn the lessons of the past," Rasmussen said.
As such, the KSC calls for bilateral agreements to quickly provide Kyiv with comprehensive anti-aircraft and anti-missile systems to close the skies to aggressor aircraft, something Ukraine is still demanding of its foreign backers seven months into the war.
The Black Sea—another area of weakness for Ukraine where Russia initially enforced a costly naval blockade—might also be covered by bilateral agreements with regional states like Turkey, Romania, and Bulgaria, Yermak and Rasmussen said.