Five Russian Jets Buzz Alaska Airspace as NATO and Moscow Tensions Spike
Five Russian jets flew too close to Alaska, without entering U.S. or Canadian airspace, American military officials have said. The incident comes just after Russian warplanes escorted U.S. bombers over the Black Sea and amid continuing tensions between Moscow and NATO.
The Alaskan North American Aerospace Defense Region said it had detected, tracked and identified the Russian aircraft entering the Alaskan Air Defense Identification Zone (ADIZ) at 5.53 p.m. Thursday.
The ADIZ extends around the shores of the U.S. and Canada and is monitored by the civilian air traffic control authorities and the militaries of both countries under the control of North American Aerospace Defense Command (NORAD)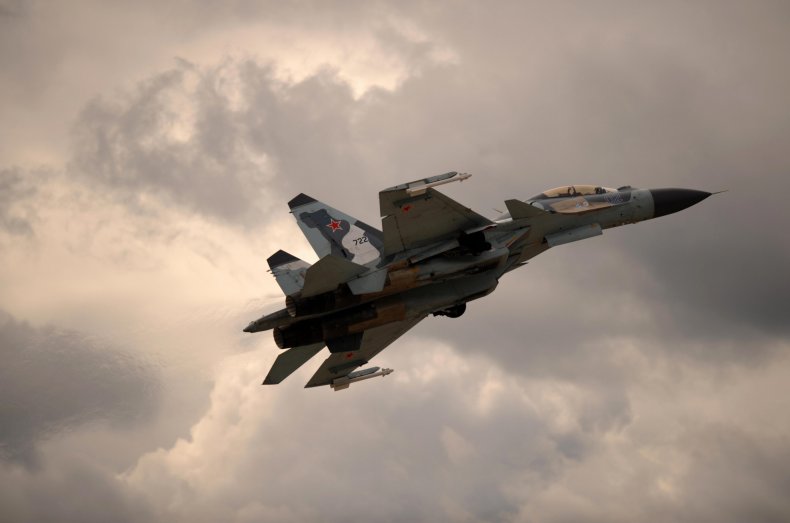 The aircraft were operating in international airspace and left the ADIZ at 7:21 p.m. according to a statement by the U.S. military's Defense Visual Information Distribution Service (DVIDS).
The statement did not specify how close the Russian planes buzzed the U.S. which is only two miles away from Russia at its closest point.
It also did not say what kind of Russian planes they were and nor did it say that U.S. aircraft had to be scrambled.
The DVIDS said that NORAD uses a defense network of satellites, ground-based radars, airborne radar and fighter aircraft" to track and identify aircraft and inform the appropriate response."
"We remain ready to employ a number of response options in defense of North America and Arctic sovereignty."
Air Force Lt. Gen David Krumm, commander, Alaskan NORAD Region said in a statement that the U.S. military would be "vigilant in our execution of aerospace warning and aerospace control for North America."
He added it would take measures to "deter strategic competitors from threatening the shared interest of the U.S., our allies and partners."
Newsweek has contacted Russia's defense ministry and the Alaskan NORAD region for comment.
The incident comes two days after Russia's defense ministry said two of its Su-30 warplanes escorted two US B-1B bombers and two KC-135 tanker planes over the "neutral waters of the Black Sea."
Moscow said that it scrambled its fighter jets on Tuesday to identify the air targets and prevent a violation of Russia's state border, according to state news agency Tass.
"The flight of the Russian planes was carried out in strict accordance with international rules for the use of airspace. A violation of Russia's state border was not allowed," Russia's defense ministry said, using its standard statement to describe such incidents.
Russia accuses NATO of encroaching on its border and there has been a spike in tensions between the two sides. On Monday, Moscow said it would suspend its permanent mission to NATO after the alliance expelled eight Russian diplomats.
Russia also took exception to comments by the U.S. Defense Secretary Lloyd Austin in Ukraine this week after he said Washington supported Kyiv's goal to join NATO. Kyiv sees the alliance as a buffer against Russian aggression.
Deputy foreign minister Andrei Rudenko said Ukraine joining NATO would be an "extremely dangerous step that would force Russia to react accordingly."
Ukraine's foreign minister Dmytro Kuleba responded by telling Newsweek: "We are not interested in Russia's opinion on Ukraine's NATO membership."