Russia Says Ukraine Joining NATO Would Be 'Extremely Dangerous'
Russia has warned that the accession of Ukraine to NATO would be met with retaliatory measures.
The comments by Russian deputy foreign minister Andrei Rudenko come after U.S. Defense Secretary Lloyd Austin said Washington supported Kyiv's goal to join the transatlantic alliance, adding that no country could veto such a move.
During a visit to Ukraine, Austin said on Tuesday that Kyiv had "the right to decide its own future foreign policy," which it should do "without any outside interference."
Ukraine's President Volodymyr Zelensky has been clear in his aim to join NATO as a buffer against the threat of Russia, which in May massed its largest concentration of troops near the Ukrainian border since it annexed Crimea in 2014.
However, Rudenko warned against such a move, telling the news agency RIA: "We believe that this would be an extremely dangerous step that would force Russia to react accordingly." He added: "Any step will have consequences."
Secretary Austin had also said on Tuesday that Russia was an "obstacle" to a peaceful resolution to the war raging in Ukraine's east as he reiterated calls for Moscow "to end its occupation of Crimea."
Rudenko said: "Since these are negotiations between NATO and Ukraine, it is up to them to decide when and what is needed, but we kind of warned them. NATO knows our position on Ukraine."
Ukraine's Foreign Minister Dmytro Kuleba has dismissed Rudenko's comments. "We are not interested in Russia's opinion on Ukraine's NATO membership," he told Newsweek in a statement.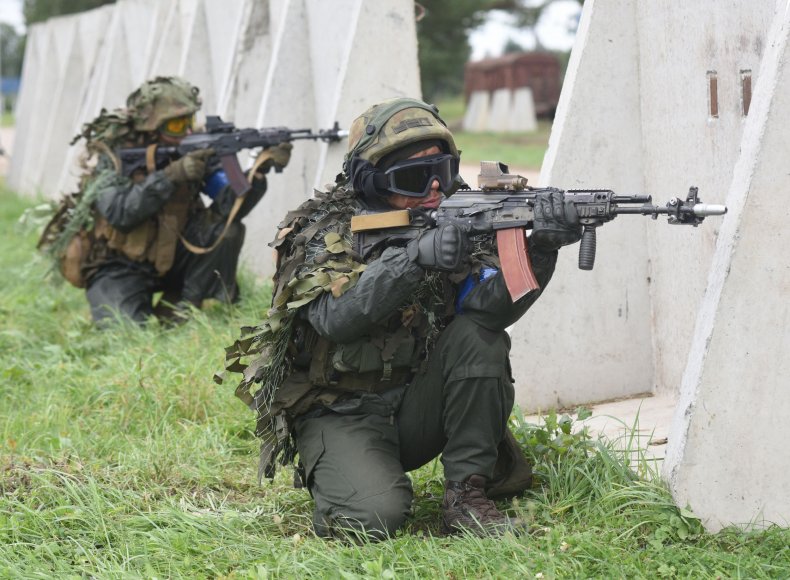 "Russia has no say in the discussion on Ukraine's future membership in the alliance."
Tensions have grown between Russia and the U.S.-led alliance in the past few months. On Monday, Moscow said it would suspend its permanent mission to NATO after the alliance expelled eight Russian diplomats earlier this month.
In July, Moscow was angered when the British Navy vessel HMS Defender sailed past Crimea, which Russia (but not the international community) considers its own territory.
Mikhail Popov, deputy secretary of Russia's Security Council, accused the U.S. and NATO allies of "a pre-planned provocation," in an incident that took place against the backdrop of NATO Sea Breeze exercises in the region that Moscow considers its backyard.
NATO defense ministers are set to agree a plan to defend against a Russian attack on multiple fronts, Reuters reported on Thursday.
The plan, titled "Concept for Deterrence and Defense in the Euro-Atlantic Area," comes as Russia develops advanced weapon systems such as hypersonic missiles.
"This is the way of deterrence," said German Defense Minister Annegret Kramp-Karrenbauer, who told Reuters the plan was being adapted to the current behaviour of Russia.
"We are seeing violations particularly of the airspace over the Baltic states, but also increasing incursions over the Black Sea," Kramp-Karrenbauer added.
Update 10/21/21, 10:45 a.m. ET: This article was updated to add a response to Newsweek from Ukraine's foreign minister, Dmytro Kuleba.