Russia Seeks to Stash Ammo at Nuclear Plant Amid Depot Attacks
Russian forces are seeking to stash ammunition and military equipment in Europe's largest nuclear power plant because they fear their inventory will be targeted and destroyed by Ukrainian forces, Kyiv's nuclear agency said Wednesday.
Ukrainian nuclear agency Energoatom said in a statement that Russian troops occupying the Zaporizhzhia Nuclear Power Plant are demanding that the plant's administration give them access to engine rooms because they want to store their military equipment there.
The nuclear plant, originally built by the Soviet Union in the early 1980s, is located on the Dnipro River in southeastern Ukraine and has been under Russian control since March 1, just days after Russian President Vladimir Putin's Ukraine invasion began. It is still operated by Ukrainian staff.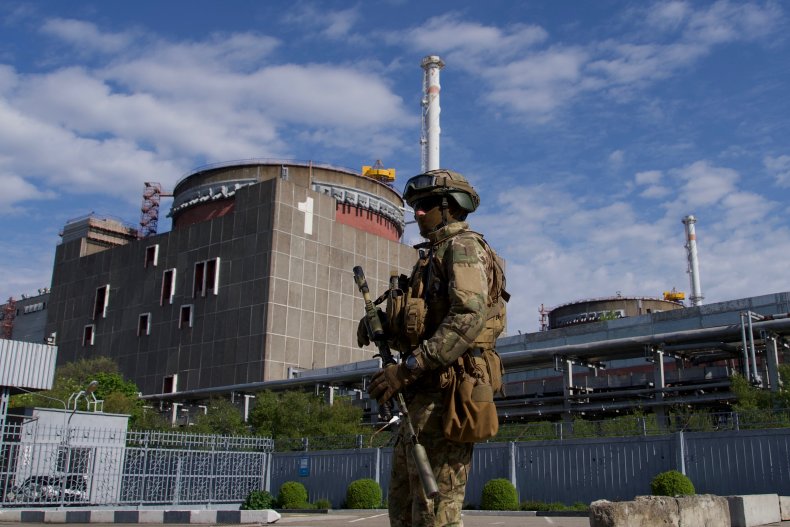 "Russian military forces are demanding that the administration of the Zaporizhzhia Nuclear Power Plant open engine rooms at the 1st, 2nd and 3rd power units so that they can store their entire military arsenal there," Energoatom said.
"It seems safer to the invaders, because they are terribly afraid of 'gifts' from the [Ukraine] Armed Forces," the nuclear agency said, noting that Putin's troops say they want to bring tanks, trucks, armaments with ammunition loads, and more to the engine rooms.
Energoatom said that should Russian forces move their equipment into the nuclear plant's engine rooms, it could pose a fire hazard, as specialized transport wouldn't be able to enter.
"Russian occupiers are violating all the standards and requirements concerning nuclear and radiation security at the nuclear power plant. They're planning to store armaments and explosives right inside the engine rooms of the largest nuclear power plant in Europe," the agency said.
Pedro Kotin, Energoatom's president, said last week that Russia was using the nuclear power plant to store weapons, including "missile systems."
"The occupiers bring their machinery there, including missile systems, from which they already shell the other side of the river Dnipro and the territory of Nikopol," Kotin said in a televised interview.
It comes as attacks on Russian ammunition depots have ramped up in recent weeks.
Natalia Humeniuk, the head of the United Coordinating Press Center of Security and Defense Forces of the South of Ukraine, said in an interview with Ukrinform on July 18 that Ukraine has recently destroyed two of Russia's military ammo depots in Ukraine's southern Kherson region.
Humeniuk said these strikes resulted in the "enemy" lacking ammo to attack Ukraine's positions, adding that they saw "very good results." Such strikes "not only interrupt the logistic chains of the area, but it also affects the morale of the occupants," Humeniuk said, Newsweek previously reported.
U.K.'s defense ministry said in an intelligence update on Thursday that Russia is prioritizing the capture of critical national infrastructure, such as power plants.
It said that Russian forces are likely closing in on Ukraine's second biggest power plant at Vuhlehirska, near Donetsk in Ukraine's Donbas region, where Putin is focusing his war efforts.
Newsweek has reached out to Russia's foreign ministry for comment.