Who Leads Russia If Putin Dies? Health Rumors Spark Succession Questions
A video of Russian President Vladimir Putin appearing unsteady and his right arm stiff during his arrival in Iran on Tuesday has sparked another round of speculation that he's in bad health.
Such rumors, which have not been substantiated, have followed Putin in recent months, leading some people to question if Russia has plans in place for a possible successor.
Countries often have contingency plans if their leader suddenly can't perform the necessary duties, and Russia is no different. If Putin resigns, dies or is removed from office, the Russian Constitution dictates that the prime minister would assume the duties of acting president, Yuri Zhukov, an associate professor at the University of Michigan, told Newsweek.
"In fact, this is how Putin rose to power in 1999, following [former President Boris] Yeltsin's resignation on New Year's Eve," Zhukov said.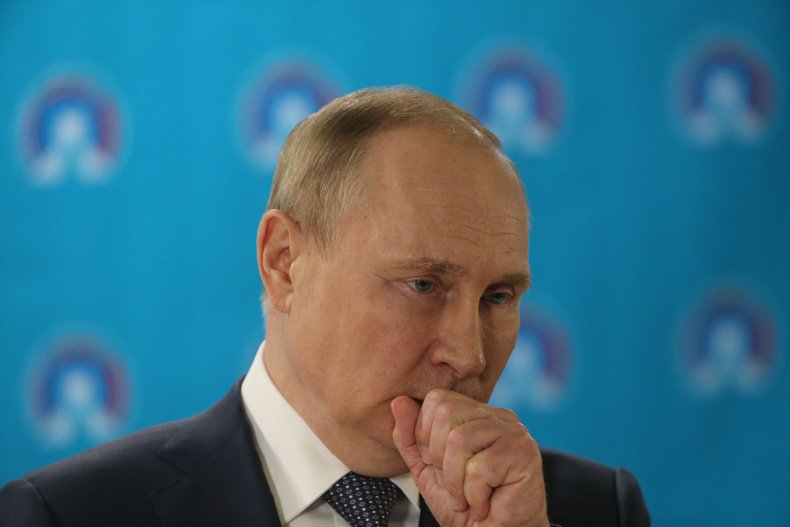 ​​The current prime minister of Russia is Mikhail Mishustin. Russian politics expert and Syracuse University professor Brian Taylor told Newsweek that "the case for Mishustin is that he would be the path of least resistance if Putin was suddenly out of office, and it would be hard to coordinate around anyone else."
Taylor emphasized that it's not known whom Russian elites favor, though. Even if Mishustin assumes the presidency in the event of an emergency, he might not be the long-term pick.
In an April story for Foreign Affairs, Taylor wrote in detail about the power Russia's civilian elites hold over the Kremlin's decision-making about leadership. He said that while Russia has elections, voting results became "progressively more bogus under Putin," and he's "kneecapped the country's formal institutions and made himself the center of everything.
"In the event that Putin dies or leaves office unexpectedly, therefore, alliances between elites will be at least as important as formal rules in determining who succeeds him."
There have been claims that some elites in Russia have soured on Putin and might push for him to step down in the near future. Meduza, a Russian- and English-language independent news website based in Latvia, wrote in May that while the war has been popular among the Russian public, many elites want it to end soon, especially as they have been hit hard by economic sanctions. The same elites allegedly blame Putin for their predicament.
"It's not that they want to overthrow Putin right now or that they're plotting a conspiracy, but there's an understanding, or a wish, that he won't be governing the state maybe in the foreseeable future," one of Meduza's sources described as close to the situation reportedly said.
The Washington Post last week wrote that Nikolai Patrushev, Russia's Security Council secretary, wields great influence in the Kremlin and could eventually fill Putin's shoes. Zhukov agreed that Patrushev could be a potential successor, as could Dmitry Medvedev, who briefly held the office of president when Putin took a break between terms.
"The Kremlin has many towers, meaning there are multiple rival clans vying for power. At the top of the pecking order is a clan of elites from the security services [the siloviki], like Patrushev, and other people with a KGB/FSB background, like Sergey Naryshkin and Igor Sechin," Zhukov said. "There is also a clan of Putin's former associates from St. Petersburg, like Medvedev and Dmitry Kozak, who generally come from a legal background.
"The smallest and least influential is a clan of liberal economists, like Aleksei Kudrin. Outside of the Kremlin and looking in are the oligarchs, like Oleg Deripaska and Roman Abramovich. These clans are not monolithic and there is some overlap between them. Although the siloviki have the greatest influence at the moment, this is not a guarantee that the successor will be one of them."
No matter who eventually replaces Putin, though, the rivalries between elites "will make it difficult for any successor to consolidate power," Zhukov said.
Putin's no stranger to reports of his waning health, but the claims have gotten a renewed spotlight since the invasion of Ukraine in late February. Various reporters and social media users have discussed the Russian president appearing shaky or tense in other videos as evidence that he might have Parkinson's disease, but some medical experts have disputed such talk.
A larger investigative report by Proekt Media in April claimed Putin was accompanied by doctors—including a thyroid cancer surgeon—on trips from 2016 to 2019. Proekt's report also said Putin might have undergone surgery several years ago, but it was not stated if it was believed Putin was diagnosed with cancer or any other illness.
Michael Kimmage, a history professor at Catholic University and former member of the secretary's policy planning staff at the State Department, told Newsweek in an email that he'd "be skeptical of anything you hear about Putin's health" due to a lack of solid evidence. Kremlin officials have also publicly denied that Putin is in anything but excellent shape.
However, Kimmage added that "[I]f one had to predict, the next leader will come from the intelligence services and from among the hard-liners who have won the policy battle over the last few years."
Kimmage also feels Putin will have a hand in the decision, if he's able.
"I'm sure Putin wishes to groom successors. He wants everything to keep going and may wish to retire [but surely knows he can't]," Kimmage said.
Newsweek reached out to the Russian Foreign Ministry for comment.