Vladimir Putin Cancer Surgery Claims—What We Do Know, What We Don't
Since the conflict in Ukraine began, multiple claims have appeared in the press and on social media scrutinizing Russian President Vladimir Putin's health.
Journalists, news outlets and Russia experts have reported both during and before the war that Putin may have cancer or is otherwise terminally ill.
In May 2022, former U.K. intelligence officer Christopher Steele claimed the Russian leader broke up meetings of his security council to receive "some kind of medical treatment between those sections," while the former head of the British Secret Intelligence Service said Putin would be "gone by 2023, but probably into the sanatorium."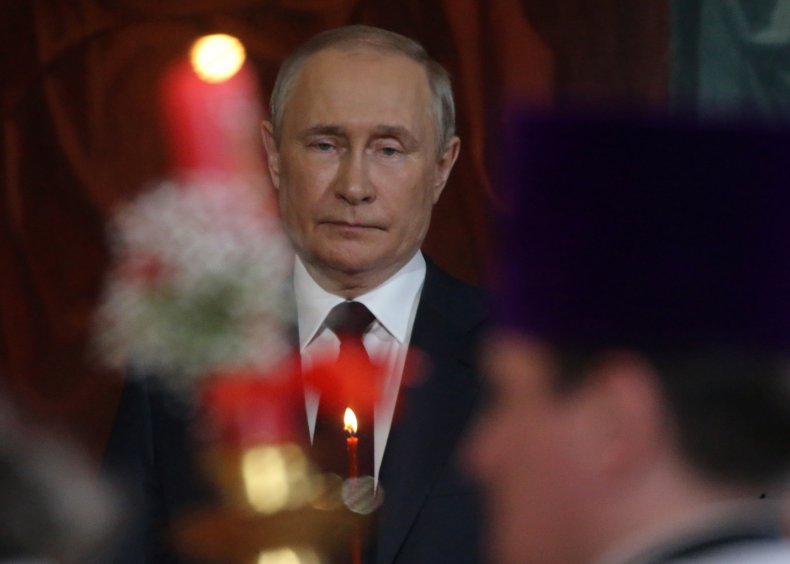 Some of the rumors about Putin's alleged ailing health have appeared on social media platform Telegram (which was founded by a Russian entrepreneur and is prone to misinformation due to the anonymous nature of public channels) including that he had not attended engagements during May 2022 as he was recovering from "cancer surgery."
Such stories have lit like torch paper as the world's attention is drawn to any cracks in Russian leadership. So, is there a grain of truth to these stories? And what can we say about the sources fueling them?
What We Do Know, What We Don't
Russia's sustained efforts to keep world media at bay during the conflict in Ukraine has to some extent backfired because it fanned the rumor mills.
Putin himself has propagated mistruths, denying that Russia has bombed Ukrainian cities (in spite of mounting evidence to the contrary). The Russian government and officials have spoken outright falsehoods, such as claiming a massacre in the Ukrainian city of Bucha was staged.
The country has also blocked Facebook and Twitter, and ordered its state-linked media organizations to delete stories that describe the nation's conflict in Ukraine as an "assault," "invasion," or a "declaration of war."
The media blackouts and misinformation Russia itself has strengthened to some extent the impression that it is trying to hide information, including about Putin.
In April 2022, The Moscow Times reported claims that journalist Alexei Venediktov had asked Kremlin spokesman Dmitry Peskov if it was correct that Putin did not have cancer. According to the newspaper, Peskov replied "Correct".
However, several reports throughout early 2022 of Putin missing engagements, including a hockey game and his disappearance during a state television broadcast, have boosted narratives about the Russian leader's alleged ill health.
An interview posted on May 23, 2022, where Putin appeared with Belarusian President Alexander Lukashenko, showed the leader hunched over and twitching, with some observers taking the seemingly nervous behavior as evidence of his "poor health."
Though the footage appeared to be genuine, it fueled conspiracy theories that the meeting was pre-recorded and served as "canned food," a Russian slang term for old footage being presented as recent, to cover for Putin's alleged absence.
Though it is not unheard of for Russian state outlets to broadcast pre-recorded footage in supposedly live segments, there is no conclusive evidence that this was the case here.
Predictably, rumors have bloomed on social media too.
In April 2022, Ukrainian race car driver Igor Sushko, posted a clip on Twitter of an Eastern church service Putin attended including, Sushko claimed, "Pre-recorded footage of him (Putin) added in, and quite poorly."
Other reports of him appearing "unsteady" were tied to speculation about his health.
However, as Newsweek has reported, some journalists dismissed the theory, saying the Twitter thread posted by Sushko was helping spread false claims and sharing more photos of him present at the event.
A Telegram account, General SVR, which has been widely quoted by media outlets, has also helped stoke a number of Putin health claims.
The account, purporting to be run by a former Russian Foreign Intelligence Service official, was quoted by author Anders Åslund on May 23, 2022.
Åslund tweeted that Putin had undergone surgery between May 16 and 17, 2022 and was out of contact from May 17 to 19, 2022, with the exception of Russia Security Council security Nikolai Patrushev.
While General SVR's claims have been attention-grabbing, it too has faced scrutiny, with fact-checking journalists at Snopes recently rating some of its reports about Putin's health as unproven.
The identity of the account holder remains unknown. It has been intermittently linked to a range of different sources, from Ukraine's intelligence agencies and a prominent former Kremlin insider, to Vladislav Surkov, the "grey cardinal of the Kremlin," who Putin tasked to lead the Russian operations in the Donbas in 2014.
However, none of those links have been confirmed, and while the identity (and by extension the reliability) of the source remains unverified, it should be treated with a healthy dose of skepticism.
It's worth noting that Telegram, with its lack of moderation or oversight especially in closed groups, has long been a source for conspiracy theories, racist or chauvinist ideology, and other misinformation.
In 2021 it was reported that one of the most popular QAnon accounts on the service had shared antisemitic conspiracy theories and Holocaust denials.
While this does not mean all information shared on Telegram is inherently wrong, its ability to aid the spread of misinformation provides both anti and pro-Russia commentators the opportunity to popularize falsehoods.
Of course, not all of the coverage has drawn on anonymous channels, armchair diagnosis via video footage, or the like. Experts too have offered their own views on what has been reported.
For example, it was recently claimed on Twitter that the Russian leader had Parkinson's disease.
But in an interview with German news outlet DW, U.K. neurogeneticist John Hardy, said Putin displayed "no sign of Parkinsonism in my view," although acknowledging he "did not look well."
K. Ray Chaudhuri, a neurologist at the University of London, also told DW they could find no evidence of Parkinson's symptoms in the clip.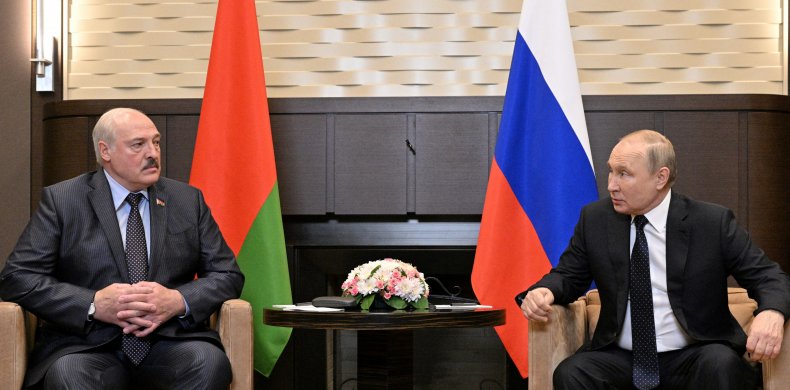 It's equally likely that the truth about Putin's health may not become public knowledge for some time, or that the rumors themselves could be part of a Canary trap operation to weed out the disloyal.
In April 2022, Olga Lautman, a senior fellow at the Center for European Policy Analysis, said Putin's "exhibiting symptoms of sickness was more theatrics and distraction."
Lautman later tweeted, following his absence from a hockey game that he usually participated in, that "Putin's services do this for internal reasons to look for anyone including people close to him planning any moves," adding "also they may be putting this out to build the groundwork to put a new face on the Kremlin."
In a Newsweek interview Kroll Institute Fellow and Director of the NYU Jordan Center for the Advanced Study of Russia Joshua Tucker said the "question of whether Putin is sick or not is likely a very tightly guarded secret and I suspect that very few people know the actual answer to this question."
He added: "That being said, it would not be surprising for domestic enemies of an autocratic leader to circulate rumors that the leader was terminally ill in an effort to weaken their hold on power.
"If someone was interested in weakening an autocrat's hold on power that was not facing term limits to their rule any time soon—as is the case with Putin—suggesting that their health was failing would be one way to try to do this."
It's not the first time Putin's health has been questioned either.
In 2020, British newspaper The Sun suggested Putin may have both cancer and Parkinson's, citing Valarey Solovei, an alleged former head of the public relations department at the Moscow State Institute of Internal Relations, who has long maintained that Putin is unwell.
The Moscow Times has also previously cited an investigation by Proekt Media that stated Putin was accompanied by doctors, including a thyroid cancer surgeon, on trips to his residence in Sochi from 2016 to 2019. The Kremlin denied the allegations as "fiction."
The news about Putin's health is likely to continue as the conflict in Ukraine rages on.
While the Russian government's media crackdown and its own history of mistruths have (at the very least) tempered the validity of its comments, any speculation ought to be approached with caution and skepticism.
Relying on video footage, unverified or anonymous reports, or other instances of unusual behavior may be the best we have for now. However, that type of commentary by its very nature should be treated with circumspection.
Until there is concrete or sufficiently verifiable evidence to prove otherwise, the Kremlin's denials and a lack of first-hand information mean the rumors about Putin remain just that for now.
Newsweek has contacted the Kremlin for comment.