Russia and Ukraine Set to Battle It Out at Eurovision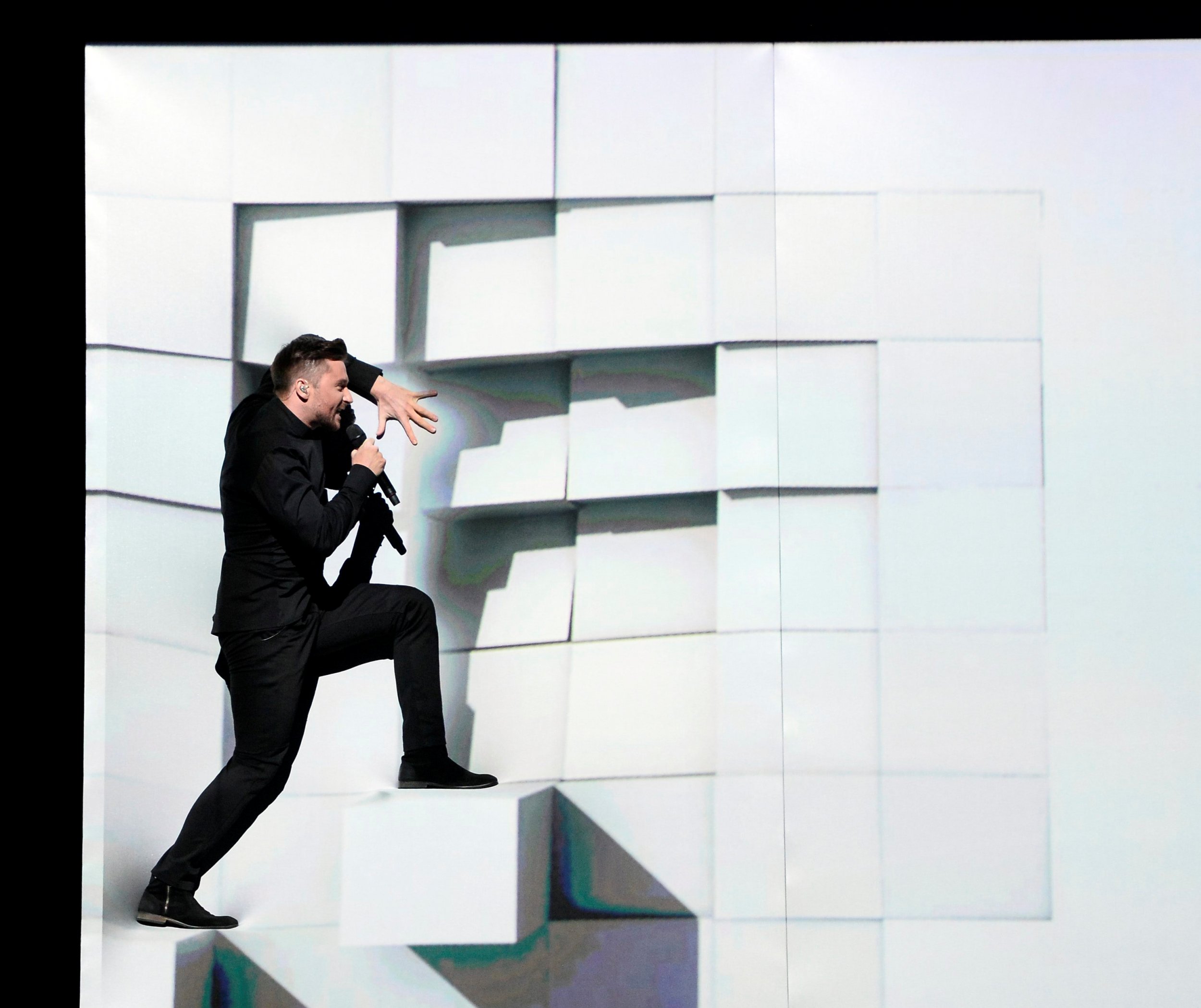 Political tensions look set to plague this year's Eurovision Song Contest, despite the organisers best efforts to enforce a no-politics rule on the annual kitsch-fest. Hot favourites for the title are Russia and Ukraine whose acts are tipped for a showdown in what could be one of the most politically charged Eurovision finals in history.
Relations between the two countries have deteriorated heavily in the last two years, with Ukraine still locked in a fragile ceasefire with Russian-backed separatist fighters in the east of the country. On Saturday the two nations will compete not just for bragging rights, but also the chance to host next year's event.
Their two entries could not be more different.
Ukraine's Jamala attracted global media attention when she was picked by popular vote to represent the former Soviet country in February. Her song, "19944" is a somber ode to the Muslim minority of Crimea, the Tatars, who have lived in the region since the Middle Ages.
The song is inspired by the mass deportations of Tatars and other minority groups from Crimea during World War Two on the Kremlin's orders. By far the group that suffered the most from the deportations were the Tatars, up to 100,000 of whom are estimated to have died as a result. The track features the sound of woodwind instruments traditional to the region and the howling chorus, which is sung in Tatar while the rest is in English, could be read as a reference to 1944 or 2014—it translates as: "I couldn't spend my youth there, Because you took away my peace."
Jamala, 32, is herself a Ukrainian Tatar and has said her ancestors' stories inspired her to record the song. Crimean Tatar officials have endorsed it in the hope that it will highlight a disturbing new trend of Tatar persecution by the Russian authorities in Crimea.
Over the last two years Tatar broadcasters have been suspended, Tatar homes have been repeatedly searched by authorities due to new laws on possessing religious extremist literature and recently the Russian prosecutor of Crimea banned the traditional Tatar council known as the Mejlis. Eurovision organizers cleared the song, meaning they did not see it as a political statement. The European Broadcasting Union, which organises Eurovision, have said they reviewed the song and neither its title nor lyrics contain a political message.
If Jamala makes it to the final on Saturday, as expected, her biggest rival for the top spot will likely be bookies' favourite Sergey Lazarev from Russia. The former boyband star, 33, one half of now defunct pop duo Smash, has been a big name on the Russian pop scene for over a decade. His entry, "You Are the Only One", is a bouncy dance-pop number, the likes of which has triumphed at Eurovision many times before. Far from Jamala's mournful crooning ballad, Lazarev's song boasts a catchy chorus, and is peppered with slightly nonsensical lines such as "Thinking of making a showdown when love is found" and "Never let our loving go come undone" buried behind the catchy electro tune.
As with many of its previous entries, however, Russia has thrown big names behind Lazarev, with one of the Soviet Union's most famous entertainers Philip Kirkorov and Eurovision veteran composer Dimitris Kontopoulos, responsible for the catchy tune. Ironically one of Kontopoulos's most successful songs, "Shady Lady", came close to winning Eurovision with Ukraine's Ani Lorak performing it in 2008, only to finish second behind Russia's Dima Bilan who won.
Lazarev's stage show is also impressive, featuring a variety of visual effects which make it seem as though he is walking on floating cubes and spinning through space. Despite commanding an army of fans in Russia and being the odds-on favourite to win the contest, Lazarev has faced criticism at home for speaking out in support of LGBT representation at Eurovision.
Austrian drag queen Conchita Wurst's win in 2014 was mocked and criticised by two Russian cabinet ministers and the head of the Russian Orthodox Church. The Russian government has also adopted increasingly gay-unfriendly laws in the last four years, however Lazarev declared earlier this week that LGBT fans of Eurovision should not fear going to Russia if he were to win.
"Gay life exists in Russia, it's not a secret. We're a modern country, all cities have gay life, we have gay clubs—you can Google it and see how many gay clubs in Russia we have," Lazarev told reporters asking if Eurovision's vast LGBT audience should fear the prospect of Russia hosting the competition.
"I think if Eurovision will come to Russia, it will be very supportive for the gay community in Russia," he added.
Odds on Lazarev winning are 23/20, while the odds on Jamala are 5/1, keeping in mind she is yet to confirm her place in the final, according to betting aggregator site Oddschecker. France's Amir Haddad is the third biggest favourite with 8/1 odds for him to win the competition. Australia's Dami Im and Sweden's Frans complete the top five in that order.