Assad Regime Is Still Making Chemical Weapons in Syria: Report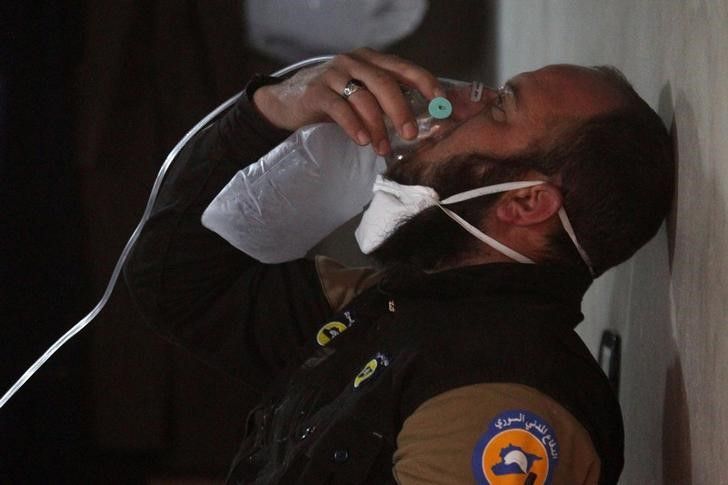 Syrian leader Bashar Al-Assad is continuing to create and maintain a chemical and biological weapons arsenal across three separate sites, a Western intelligence agency has claimed.
A document given to the BBC indicates that Assad is violating a 2013 UN-backed deal under which his regime destroyed its stockpile by continuing to manufacture chemical weapons at a site near the Syrian capital Damascus and in regime-held Hama province.
It also claims that Assad's main backers Russia and Iran are aware of the program.
The U.S. and its allies have said Syrian military commanders ordered a sarin gas attack on Khan Sheikhoun on 4 April with Assad's knowledge, killing at least 90 people in the country's northern Idlib province.
A Pentagon intelligence briefing at the time of the U.S. strike said Syrian warplanes dropped the nerve agent from the regime-controlled Shayrat Airfield.
Read more: Bashar al-Assad: Chemical Attack Claims Are '100 Percent Fabrication'
In response, President Trump ordered retaliatory strikes against the Syrian regime on the air base. On April 6, 59 cruise missiles struck the Sharyat facility in western Syria.
Assad and his officials have denied responsibility for the chemical weapons attack just as they have repeatedly rejected accusations of deploying chemical weapons throughout Syria's six year civil war.
But the intelligence documents—by an unnamed Western intelligence agency—reportedly show that weapons are still being manufactured in Dummar and Barzeh, both just outside Damascus, and in Masyaf, 100 miles south of the Syrian capital in Hama province. The Masyaf and Barzeh facilities are said to specialize in installing weaponized chemical payloads for missiles and artillery.
The sites were tested by the Organization for the Prohibition of Chemical Weapons (OPCW) between 26 February and 5 March. The Hague-based organization is still awaiting analysis of those test samples, it said in its most recent progress report.
The information in the document explains the Syrian government has purposefully attempted to hide the nature of the work at the three sites. It claims the work takes place in closed sections of the facility, one of which falsely claims to be working only on Syria's defensive capabilities.
In an April vote at the U.N. security council Russia vetoed a resolution condemning the reported use of chemical weapons, which would have prompted an investigation into the deaths in Khan Sheikhoun.
Russia's U.N. Ambassador Vladimir Safronkov told the council Western powers had pre-judged that the Syrian government was responsible for attack.
In an interview with AFP last month, Assad said accusations that the Syrian military dropped sarin on Khan Sheikhoun were "100 percent fabrication".
Assad said his forces could not have been responsible because his regime in Damascus had given up all its chemical weapons by 2014. The arrangement was brokered by Russia after 1,300 people were killed in the Damascus suburb of Ghouta in a sarin gas attack. The Syrian government has also denied culpability for those attacks.