Explosions have been heard in the sky over Belgorod, the Russian city near the Ukrainian border where Kyiv's forces have previously been accused of hitting military targets.
Night footage in which the sound of explosions and car alarms are prominent was posted on social media. Users reported that air defense systems had been deployed during the blasts on Tuesday, although this has not been confirmed.
"A loud bang, similar to the sound of an explosion of medium strength, was heard in the center of Belgorod," state news agency RIA Novosti reported.
On Monday, one person was injured in a fire at a Russian defense ministry facility in the city that lies around 20 miles from the Ukrainian border and a series of explosions were also reported.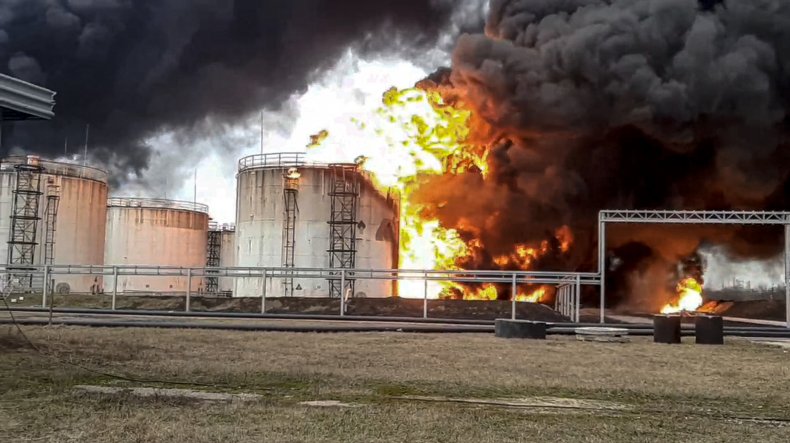 However, regional governor Vyacheslav Gladkov rejected speculation that Monday's blasts were due to Ukrainian forces, saying on his Telegram channel that Russia's "military aviation carried out combat missions as part of a special military operation," referring to the official Russian description of the Ukraine war.
He has not yet commented on the latest explosions. Newsweek has contacted the Russian and Ukrainian defense ministries for comment.
Belgorod has been the scene of alleged past attacks by Ukraine. Last month, Russia accused Ukraine of a helicopter attack on a fuel depot in the city, shelling villages and firing missiles at an ammunition depot.
Kyiv has denied responsibility but Russian state news agency Interfax said that since the start of the war there had been several attacks from the Ukrainian side on the Belgorod region in which more than 200 buildings had been damaged.
Other Russian regions near the Ukraine border have also reported cross-border shelling incidents since the start of Vladimir Putin's invasion on February 24.
Last week, explosions were heard in Kursk, with video posted on social media purportedly showing the blasts.
Also, two oil depots in the south-western city of Bryansk are believed to have been hit by Ukrainian missiles. Meanwhile, Russian air defenses were reportedly deployed against an attack on a military airbase in the Voronezh region where two loud explosions were heard.
Moscow has reacted angrily to comments by British armed forces minister James Heappey that it was "legitimate" for Kyiv's forces to hit Russian infrastructure targets.
The incidents are pointing to the prospect of the Ukraine war spilling over the border. Journalist Michael Weiss tweeted Tuesday that "war is reaching Russia's homes, it's no longer just a TV war for them."
Update 03/05/22, 4:55 a.m. EDT: This article has been updated with further information on other alleged Ukrainian attacks on Russian territory.