Russia Blocks Human Rights Group Online for 'Unreliable' Ukraine Reporting
Authorities in Russia recently blocked the social media account of Russian human rights group OVD-Info over its media coverage of the war in Ukraine, and it's not the first time they've been blocked online.
OVD-Info said on its website on Thursday that its account on VKontakte, a Russian social media platform, was blocked after the Prosecutor-General's Office alleged that the group reported "unreliable" information on Russia's "special military operation" in Ukraine, including casualties among civilians and combat efforts by Russian forces.
"We do not know the exact materials that Russian authorities questioned," Maria Kuznetsova, OVD-Info's spokesperson told Newsweek on Friday. "As a project, we stated our anti-war position from the beginning, so any of our posts can be regarded as 'discrediting' the Russian military."
OVD-Info's other social media accounts on Twitter, Facebook, and Instagram remain active as of Friday.
The human rights watchdog specializes in monitoring and reporting on political persecution in Russia with the help of tips and information received through its hotline operated 24/7. It also helps provide legal assistance, according to its website.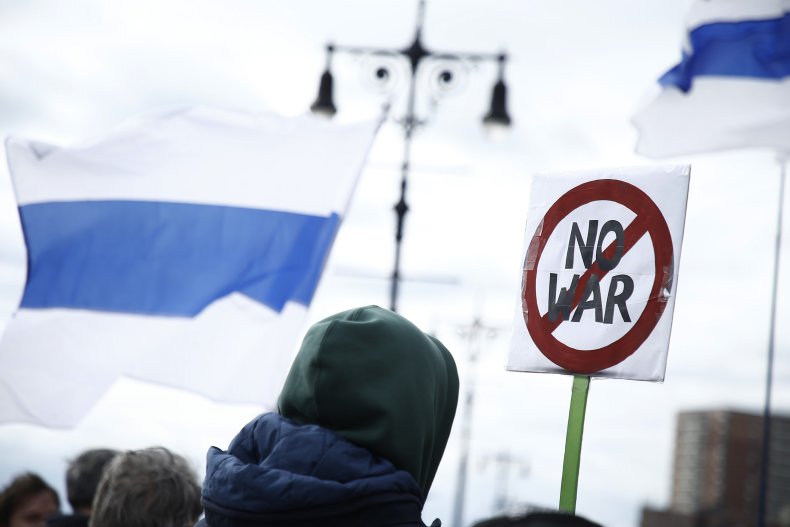 The group's website was blocked in December 2021 after the Lukhovitsky District Court ruled that OVD-Info was allegedly promoting "terrorism and extremism" in Russia. However, the court decision was repealed on July 4 due to a "procedural violation," but the site remained blocked. As a result, OVD-Info had to launch a new website, according to Radio Free Europe.
The group said in a statement on Friday that they learned by the end of December that their website was blocked "on the basis of a comprehensive psychological and linguistic study."
"What happens in Russia now can be described as military censorship. The general prosecutor of Russia has stated that at least 138,000 web pages have been blocked since the invasion," Kuznetsova said on Friday. "We do not believe that the government will lessen the pressure on our project (and the civil society in general) in the near future. Nevertheless, we will take all legal procedures to appeal."
Meanwhile, Roskomsvoboda, a Russian NGO that protects digital rights, said in a Telegram post last month that over 5,000 websites were blocked since the invasion of Ukraine in February due to "military censorship." The Prosecutor's General Office was the main reason behind those blockings, according to the organization.
Russia is cracking down not only on what they consider "fake news" but also on those individuals they deem are spreading it. Such is the case of TV journalist Marina Ovsyannikova.
On Thursday, a Russian court placed former state Ovsyannikova under house arrest for two months pending a trial. The journalist drew worldwide attention for opposing the war in Ukraine during a live broadcast.
The house arrest comes in response to her actions during a July protest in which she held an anti-Putin poster and placed dolls on the ground that were meant to symbolize dead children.
On Wednesday, she was charged with spreading what the government deemed as wrong information about the Russian military. Ovsyannikova could face up to 10 years in prison under a new law that criminalizes spreading "fake news" about its military.
Ovsyannikova also protested the invasion in March by storming the set of a live news program on Channel One, a state-owned station where she worked as an editor. She yelled over the anchor who was trying to read the news and held up signs that read: "Stop the war" and "They are lying to you here."
Newsweek reached out to the Russian foreign affairs ministry and OVD-Info for comment.
Update: [8/12/2022] 3:30 p.m. ET: the story has been updated to include comments from OVD-Info spokesperson.