Russia and China Are Testing Missiles That Could Blast U.S. Satellites out of Space
Russia and China have both tested powerful, advanced missile systems capable of taking out targets in outer space, including U.S. satellites.
The Russian Ministry of Defense announced Monday that Russia tested an upgrade for its A-135 anti-ballistic missile system, a sophisticated missile shield designed to block Moscow from air and space attacks, in Kazakhstan. Major General Andrei Prikhodko, deputy commander of the Russian air force's air and missile defense task force, told Russian Ministry of Defense newspaper Krasnaya Zvezda that the system "successfully accomplished the task and engaged the conventional target at the assigned time."
Related: Russia's and China's Presidents Are Winning Big as They Challenge U.S. and Take Power From West
Russia also conducted the sixth flight test for A-135's successor, the A-235 PL-19 Nudol anti-ballistic missile system, The Diplomat reported, citing U.S. defense officials with knowlege of Russia's weapons development program. The March 26 test took place at Plesetsk Cosmodrome, where Russia tested the RS-28 Sarmat intercontinental ballistic missile, termed "Satan 2" by the NATO Western military alliance.
The test was reportedly the first to demonstrate the A-235's direct ascent anti-satellite weapon launched from the transporter-erector-launcher system. The A-235 is just one of many next-generation weapons being built as part of Russian President Vladimir Putin's push to modernize and enhance his country's armed forces.
Russia wasn't the only up-and-coming major military power in the East. Like Putin, Chinese President Xi Jinping has also sought new anti-satellite tools for his country's growing arsenal. In February, China tested its Dong Neng-3 or DN-3 long-range receptor missile by successfully using it to shoot down another missile in space, Popular Science reported.
China reportedly conducted its first such test in 2010, making it only the second country in the world after the U.S. with hit-to-kill capabilities beyond the Earth's atmosphere. As the second and third leading military powers in the world, respectively, Russia and China have sough to narrow the gap between their strength and a more powerful U.S.
Putin, who last month won an unprecedented fourth presidential term, and Xi, who also re-elected last month and had his own term limits abolished altogether, have pursued better bilateral relations toward one another. In addition to developing trade, they have also fostered greater military ties. Chinese State Councilor and Defense Minister General Wei Fenghe chose Russia as the site of his first trip abroad.
Wei said that "the China-Russia relationship is the best major countries relationship in today's world," according to China Military Online.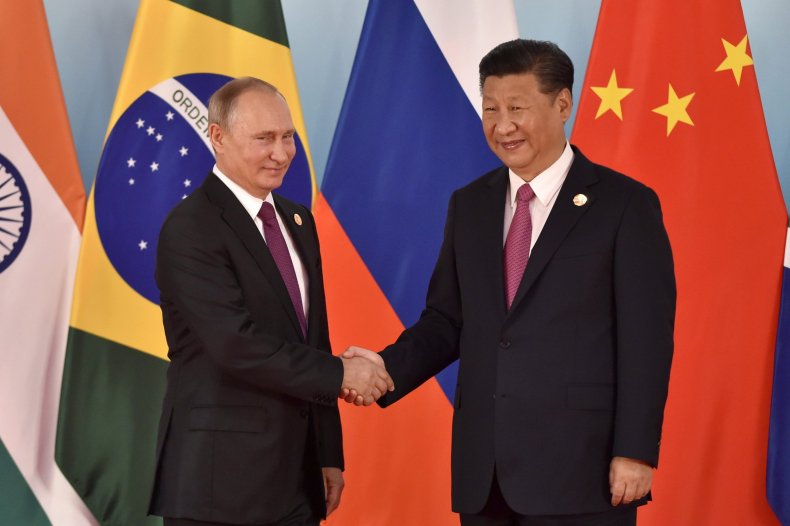 With global economic power and influence rebalancing from West to East, President Donald Trump targeted Russia and China in his December "America First" National Security Strategy.
"China and Russia challenge American power, influence and interests, attempting to erode American security and prosperity," Trump argued. "They are determined to make economies less free and less fair, to grow their militaries, and to control information and data to repress their societies and expand their influence."
Russia and China criticized the report, but Trump again took on the two major powers in his Nuclear Postue Review in February. He called for looser restrictions on the use of nuclear force and the development of a smaller, lower-yield tactical nuclear devices that some experts said may increase the chances of a conflict going nuclear. Later that month, National Intelligence Director Dan Coats singled out Russia and China for their anti-satellite development in his 2018 Worldwide Threat Assessment, in which he estimated such weapons would be operational within "the next few years."
"Both Russia and China continue to pursue antisatellite (ASAT) weapons as a means to reduce US and allied military effectiveness. Russia and China aim to have nondestructive and destructive counterspace weapons available for use during a potential future conflict," Coats said in the report.
"We assess that, if a future conflict were to occur involving Russia or China, either country would justify attacks against US and allied satellites as necessary to offset any perceived US military advantage derived from military, civil, or commercial space systems," he added.