Russia and China Say New U.S. Missile Test Is Just the Kind of 'Arms Race' They're Trying to Avoid
Russia and China have criticized the United States' testing of a missile banned for over three decades until the recent collapse of a Cold War-era treaty, with both countries calling it an attempt to draw them into an expensive and dangerous rush for new weapons.
Two weeks after leaving the 1987 Intermediate-range Nuclear Forces (INF) Treaty banning land-based weapons ranging from 310 to 3,420 miles, the Pentagon announced Monday it tested a cruise missile in California that would have been restricted under the agreement it has accused Russia of violating. In response, Kremlin spokesperson Dmitry Peskov cited President Vladimir Putin as saying Tuesday "such tests only proved that from the very start, the Americans were determined to derail the INF Treaty and were making preparations for it."
"We do not give into provocations. As Russian President [Vladimir Putin] said in France yesterday, we reiterate our commitment to a unilateral moratorium on deploying land-based intermediate-range systems until the U.S. deploys such systems in some part of the world," Peskov said, noting that "several weeks and even months are not enough to make preparations for such a test."
Quoting Russian Deputy Foreign Minister Sergei Ryabkov, Moscow's embassy in the United Kingdom tweeted: "Russia will not be pulled into [a] new arms race."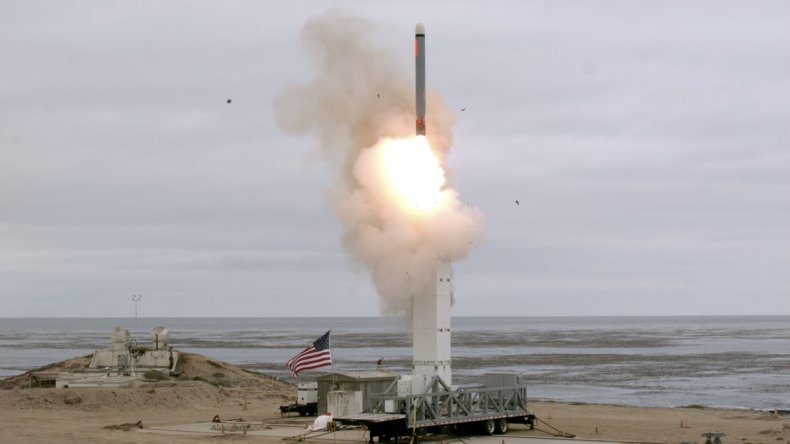 The U.S. has for years accused Russia of violating the INF through the development of the Novator 9M729 cruise missile, while Moscow has charged Washington with breaking the treaty by deploying defense systems that use platforms resembling Mark-41 Vertical Launch Systems (Mk-41 VLS) capable of firing offensive missiles like the Tomahawk Land Attack Missile. Though both sides have denied the claims against them, a Pentagon spokesperson confirmed to Newsweek on Monday that the weapon tested was indeed a Tomahawk variant fired out of an Mk-41 launcher.
"It is noteworthy that the test of an advanced Tomahawk-type missile was conducted just 16 days after the U.S. withdrew from INF, and the treaty was terminated," Ryabkov told the state-run Tass Russian News Agency. "Perhaps, there can be no clearer and more explicit confirmation of the fact that the United States has been developing such systems for a long time, and preparations for quitting the agreement included, in particular, the relevant research and development."
He pointed out that "the missile had been fired using the Mk41 vertical launching system, noting "that's a universal launching system that is suitable for both firing SM-3 interceptor missiles and ground-to-ground and surface-to-surface cruise missiles." He added: "All that is regrettable. The United States has evidently set the course for fomenting military tensions."
Joining in Russia in condemning the test was China. Though not a party to the INF, Beijing has sided with Moscow in calling for talks to keep the arms control pact alive. Following reports of the new U.S. test, Chinese Foreign Ministry spokesperson Geng Shuang also noted that it occurred "less than three weeks after the U.S. announced its official withdrawal from the INF Treaty" and criticized the launch.
"This move by the U.S. will trigger a new round of an arms race, leading to an escalation of military confrontation and a serious negative impact on the international and regional security situation," he added. "We advise the U.S. to abandon its outdated Cold War mentality and zero-sum game concept, maintain restraint in the arms development, earnestly safeguard the existing arms control system and do more that is conducive to maintaining global strategic balance and stability and conducive to international and regional peace and tranquility."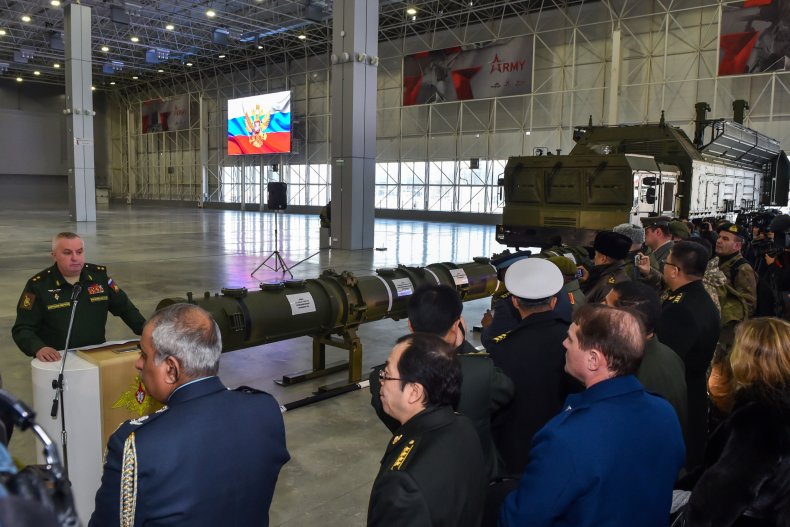 Prior to the U.S.-imposed August 2 deadline for the INF's collapse, Beijing had rejected an offer from Washington to join a new, trilateral missile deal also including Moscow. China has argued that the U.S. and Russia have unique non-proliferation responsibilities as the top two nuclear powers.
China, with this same mindset, has also declined proposed three-way talks regarding the U.S. and Russia's New Strategic Arms Reduction Treaty (START). The deal, set to expire in 2021, limits Washington and Moscow's nuclear arsenals, which contain thousands of more weapons than that of Beijing.
As Russia faced sanctions over its alleged roles in the poisoning of an ex-double agent in the United Kingdom and the war in Ukraine and President Donald Trump and Chinese President Xi Jinping engaged in a costly trade war, the U.S.' top military rival and leading economic competitor have only expanded their relations. The two have taken joint stances against the U.S. on a number of geopolitical issues such as the war in Syria, the political crisis in Venezuela and in tensions with Iran, emphasizing the emergence of a more multipolar world.