Russia Claims U.S. Ordered Ukraine to Stop Peace Talks
Russian Foreign Ministry spokesperson Maria Zakharova on Wednesday claimed that Ukraine had broken off peace talks with Russia on orders from the U.S.
TASS, a Russia state-owned media outlet, reported that Zakharova made the comments at the St. Petersburg International Economic Forum. She also reportedly said that Ukraine had initiated a round of negotiations and Russia agreed to take part.
However, she said, Kyiv officials started making more conditions that they said were necessary in order to continue the talks until they were called off. (Zakharova was not clear when the events occurred.)
Early in the war, which began with Russia's invasion in late February, peace negotiations stalled after Ukrainian President Volodymyr Zelensky accused Russian President Vladimir Putin's military forces of committing war crimes, including genocide.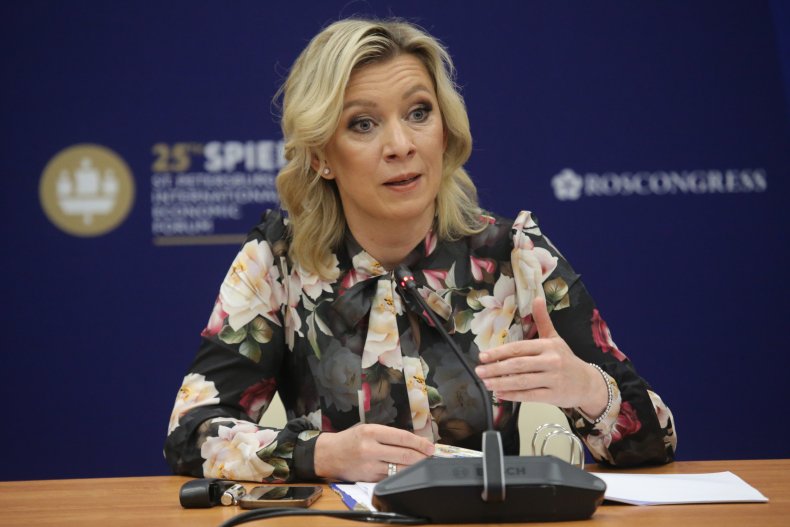 Many of the accusations came after Ukrainian officials reported multiple sites of mass graves had been found that contained civilian bodies. (Newsweek has been unable to independently verify the claims.)
Numerous world leaders have called on Ukraine and Russia to reopen peace talks, and U.S. President Joe Biden said in a May 31 guest essay for The New York Times that the U.S. will support Ukraine's "efforts to achieve a negotiated end to the conflict." However, Zelensky said in a May 23 interview with Axios that arranging a sit-down with Putin is becoming "more and more difficult" as the conflict continues.
Zakharova claimed without offering evidence that Russia learned the U.S. played a role in the stalled negotiations.
"These talks were frozen, halted, broken off," she said, according to TASS. "Let them [Ukraine] say for themselves what they did with these talks. We know that very well because we have information that was the order given by their American handlers."
Zakharova further detailed complaints Kyiv officials allegedly made that held up negotiations.
"We saw a lot of things: The venue is wrong, the makeup of the delegation isn't right, the host country needs to be different. There were a lot of quirks," she said, according to TASS.
On May 23, Russian state-owned news agency RIA Novosti reported that Russia's Foreign Ministry was ready to resume peace negotiations with Ukraine, but only after Kyiv demonstrates what Deputy Foreign Minister Andrei Rudenko called a "constructive position."
Rudenko's comments came after Zelensky adviser Mykhailo Podolyak told Reuters that Ukraine would not enter into any peace agreement with Russia that would force it to recognize the Russian occupation over any of the territories taken since Putin launched the invasion on February 24.
Newsweek reached out to the Russian Foreign Ministry and Ukraine's Ministry of Foreign Affairs for comment.