Russia's COVID Vaccine Creator Rejects Six-Week Booze Ban Recommended After Shot
In news that will lighten the New Year holiday period for Russians, the developer of Sputnik V says recipients of the home-grown COVID vaccine should only abstain from alcohol for six days, rather than the six weeks initially advised by the government.
Last week, Deputy Prime Minister Tatyana Golikova was ordered by President Vladimir Putin to roll out a widespread vaccination program across the country.
She recommended that people avoid alcohol and immunosuppressants for 42 days after the first injection of the two-shot vaccine is administered. She also advised people to avoid crowded places, use personal protective equipment and maintain social distancing.
Her recommendations were backed by Anna Popova, who heads the country's consumer safety watchdog, Rospotrebnadzor.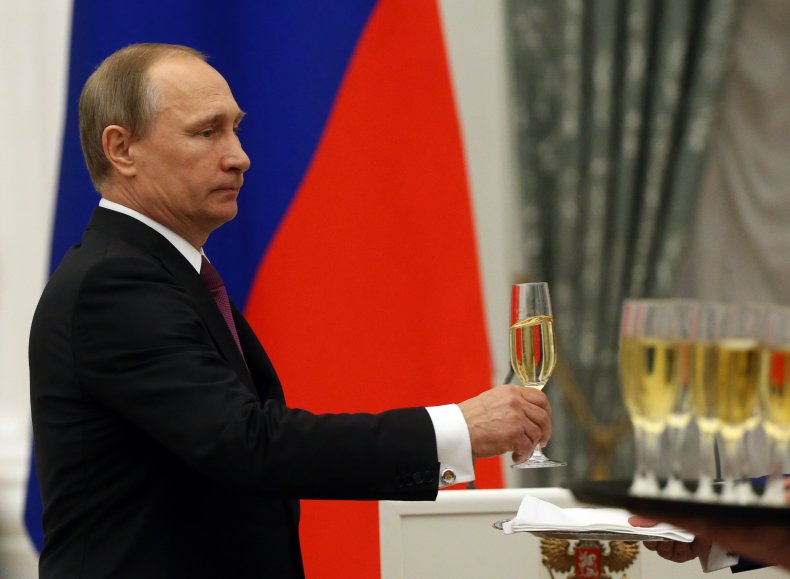 Popova went even further, saying that recipients should also abstain from alcohol for two weeks before and 42 days after the vaccination, totaling 56 days.
She told Komsomolskaya Pravda radio: "It is absolutely necessary to stop taking (alcohol) at least two weeks before immunization."
"The development of immunity is 21 days between the two injections, and another 21 days after the injection—42 days. We must clearly understand that the 42 days from the first injection to the last 42 days is the period when immunity forms, and during this time, we still need to be careful," she added.
However, Alexander Gintsburg, who is the director of the Gamaleya Center where the vaccine was developed, simply recommended moderation.
"We strongly recommend refraining from alcohol for three days after each injection," he told reporters on Wednesday. "This is just a reasonable limitation of consumption until the body has formed its own immune response," he said, "and this is true not only for Sputnik V, but for any other vaccine."
"Of course, there is no question of any complete ban on alcohol during vaccination," he added.
However, he said that excessive alcohol consumption "can significantly reduce immunity, and therefore, reduce the effectiveness of vaccination or even make it meaningless."
He also said that during the 42 days while immunity is developing, it is not recommended to take drugs that suppress the immune system. "These are all standard recommendations for vaccination to maximize its effectiveness," he said.
Frontline workers such as medical staff and teachers are among the 100,000 Russians who have taken the vaccine so far. However, there are concerns within Russia's medical establishment about the data so far provided on Sputnik V, which developers say is 95 percent effective.
Despite skepticism at the speed of Russia's development of the vaccine, it has been purchased by dozens of countries. Russian authorities reported 26,190 new daily coronavirus cases on Wednesday, taking the national total to 2,541,199, the world's fourth-highest.
The graphic below provided by Statista compares COVID cases in Europe with the U.S.