Putin's World-beating COVID Vaccine Faces Doubts From Doctors and Russians
Russia's President Vladimir Putin has championed the Sputnik V vaccine as a world first, but the Kremlin's will to undertake a widespread vaccination program could clash with distrust from the medical establishment and the wider population.
Last week, Putin told his deputy prime minister Tatyana Golikova to push ahead with vaccinations across the country as the second wave of the COVID-19 pandemic had taken infection numbers in Russia to the world's fourth-highest.
Russia claimed global bragging rights when it announced the development of Sputnik V in August but it was greeted with trepidation by the global medical community, partly due to the speed of its creation at the Gamaleya Institute, and also the fact that it had not been tested in a large-scale medical trial.
But experts within Russia also had doubts. After being given regulatory approval, a survey in August by the medical app Spravochnik Vracha (Doctor's Directory) found over half (52 percent) would refuse to take the vaccine compared with a quarter (25 percent) who were willing to take it.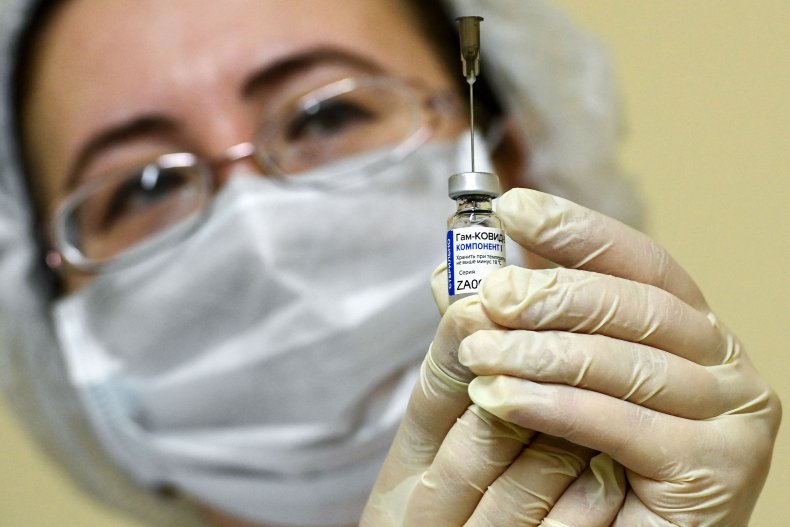 Nearly two-thirds (66 percent) said there was insufficient data while nearly half (48 percent) did not believe it could be created in so short a period, RBC reported.
These results were echoed in a September study by Doktor na Rabote (Doctor at Work), a social networking site for Russian medical professionals, which found 50 percent of respondents would reject the vaccine, Kommersant reported.
"Nobody believes what they see on TV, what they read, and what they have been promised about the vaccination," said Simon Galperin, the head of the Moscow-based League for the Protection of Doctors.
In October, Galperin volunteered for the trials of Sputnik V, during which he experienced a mild fever but nothing more serious. He said the data was insufficient to tell whether it would work.
"The vaccination was supposed to be the easy way to solve this problem of the pandemic," he told Newsweek.
"But we don't have enough information about the results of the clinical study. I believe this is the same in Russia and the west.
"Everywhere, we see the numbers of 90 and 95 percent effectiveness of how it can protect people yet we don't see the exact results and the studies that can prove that. People doubt these promises for vaccination."
This distrust is not fueled by anti-vaccination sentiment but rather disenchantment with Russia's Health Ministry as well as towards Russian-manufactured medicines.
Meanwhile, Putin has been criticized for his response to the pandemic. In April, many medical staff expressed unhappiness due to insufficient COVID-19 protections and delays to bonus payments.
"There is a disbelief in official information, by default," Denis Volkov, Levada's deputy director, told The New York Times: "On the one hand, we are happy that we are first. But we won't get it ourselves—let it go through the trials."
This uncertainty among Russians is borne out by a poll by his center on October 20 which showed 59 percent surveyed said they were not personally prepared to take the vaccine. This was five percent higher than when the same question was asked in August.
Sputnik's backers claim it offers 95 percent protection against the disease, making it a strong competitor against the offerings by Oxford/AstraZeneca and BioNTech/Pfizer. However, this is based on interim results, after just 39 trial volunteers caught COVID-19.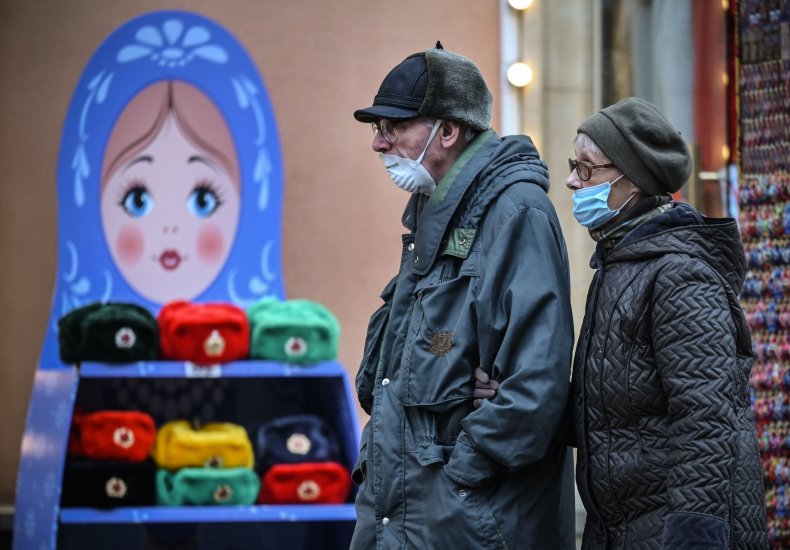 Frontline workers in health and education are being offered the vaccination, which authorities have said would be voluntary.
Some of those workers have taken to social networks to describe how their medical institutions are pressuring staff to take the vaccination, according to TJournal.ru.
Marina Litvinovich, a member of the Public Monitoring Commission, wrote in a Facebook post how "doctors do not want to be vaccinated, but they are forced under threat of dismissal."
She posted screenshots of a chatroom referring to how medical staff had left a clinic in central Moscow for this reason, although the Moscow Department of Health rejected as "baseless" claims of staff being pressured.
Russian opposition figure Alexei Navalny, who is recovering from Novichok poisoning, suggested in a Facebook post that if the vaccine was so effective then top government figures and Putin's family should receive it in front of the media.
"It has really been pushed on us from above. The doctors who are taking it now need to have clear insurance policies and not to be told the trials haven't even finished yet," Roman Stroganov, a surgeon at Moscow's Clinical Hospital Number 50 told The Moscow Times.
"I'm not saying the vaccine is bad, but I'm not happy with the limited information we have about it."
The graphic below from Statista shows the countries with the highest number of coronavirus cases.