Russia to Deploy Advanced Anti-air Missiles to Crimea Amid 'Full-scale War' Warning
Russia has said it will deploy another unit of its most advanced anti-air system to the Crimean peninsula as tensions rise over Moscow's seizure of three Ukrainian naval ships last weekend.
Russian military officials said Wednesday that a battalion of S-400 Triumf anti-air missiles would be sent to Crimea on combat duty, the state-backed Tass news agency reported. The Southern Military District noted the systems would be sent by rail to a permanent base on the peninsula "in the near future." They are expected to be operational by the end of this year.
The international community is watching nervously as Ukraine and Russia face off in eastern Europe. Sunday's naval clash in the Sea of Azov saw 24 Ukrainian sailors and their ships captured by Russian forces, who rammed and opened fire on three Ukrainian boats trying to make their way through the Kerch Strait off Crimea.
The Ukrainian government has introduced martial law in some areas of the country as President Petro Poroshenko claims to have received intelligence of an imminent Russian ground offensive into Ukraine. On Wednesday, he warned Ukraine could soon be facing "full-scale war."
Russia has worked hard to secure Crimea since it annexed the peninsula in 2014 following the overthrow of the Kremlin-backed Ukrainian government. It has built a new bridge spanning the Kerch Strait to connect Russia to Crimea and poured in troops and military hardware to shore up its military infrastructure there, Reuters reported.
This effort has extended to the Sea of Azov, where Russian vessels have reportedly been increasingly aggressive towards Ukrainian ships traveling between the country's eastern and western ports.
On Tuesday, Russia released video footage of three of the Ukrainian sailors detained Sunday. All admitted to have deliberately crossed into Russian waters, ignoring requests to stop. At least one of the men appeared to be reading from a prepared statement. The footage did little to soothe outrage in Ukraine.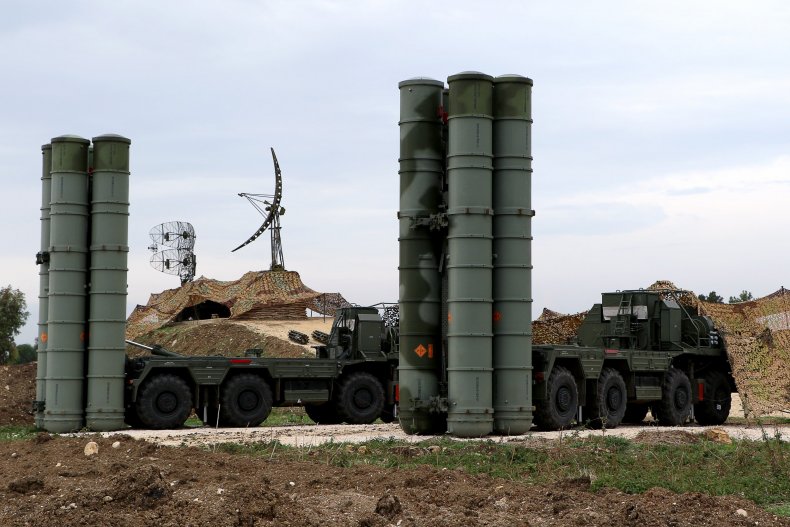 The deployment of the S-400 system has likely been planned for some time, but the announcement will be seen as a warning both to Ukraine and its western backers that Russia will not be cowed by international pressure.
Crimea already hosts three battalions of the anti-aircraft missile systems, Reuters noted, but the additional battalion will extend its coverage even further. The forces deployed there will be able to monitor and defend large areas of the strategically-vital Black Sea, including Ukraine's entire coastline.
The S-400 is arguably the most advanced anti-aircraft system in the world. Code-named the SA-21 by NATO, the system is made up of four different missiles with varying ranges. It can destroy aircraft, cruise missiles and ballistic missiles, but can also be used against ground targets.
The longest range missile, which travels at Mach 15 (11,509 miles per hour) can hit targets roughly 250 miles away at an altitude of more than 98,000 feet.
The weapon has already caused diplomatic damage within NATO, with Turkey having signed a $2.5 billion deal with Moscow to acquire the system despite U.S. pressure not to do so. China, has already taken delivery of its first S-400s, while India, Egypt, Qatar, Iraq and Saudi Arabia are among those who have expressed interest.