Russia Drives Vans Screening Propaganda Around Occupied Mariupol
Russian forces occupying Mariupol are driving vans around the devastated city screening propaganda.
The Kremlin's Federal Emergency Management Agency sent three "mobile complexes for informing the population" to Mariupol to blast Russian propaganda at residents in the city, which has seen some of the worst shelling of the Ukraine war, which began on February 24.
Russia's state-run news agency TASS released a video showing vans with large screens mounted on their sides broadcasting clips of Russian television and instructions for Mariupol residents.
"Three mobile complexes for informing the population are deployed in Mariupol," reported TASS. "They broadcast news from federal and republican TV channels, provide background information to residents and show cartoons to children."
Days earlier, the Mariupol City Council said on Telegram that Russian forces had deployed a network of mobile TV screens showing Russian propaganda.
The city council said: "This could be enough for the Russians, but you can't feed our people with such 'noodles.'"
The city council suggested that Russia's celebration of Victory Day on May 9 "showed the disloyalty of locals to the new regime."
"Out of 150,000-170,000 citizens, only a few dozen came to the official event. Hence the increasing information pressure on people," the city council wrote.
The press service of Russia's Ministry of Emergency Situations told TASS that the vans were deployed in the city because for nearly three months, the "residents of Mariupol were in an information vacuum due to a lack of power supply."
"To communicate operational information, the rescuers of the Russian Emergencies Ministry deployed three mobile complexes for informing and alerting the population. One of these complexes is installed permanently, the other two move around the city for two hours broadcasting news in different parts of Mariupol," the ministry said.
"Also, such complexes operate in Volnovakha and Krasnolimansky districts. They broadcast news from federal and republican TV channels, provide background information for residents, and show cartoons and fairy tales to children," the ministry added.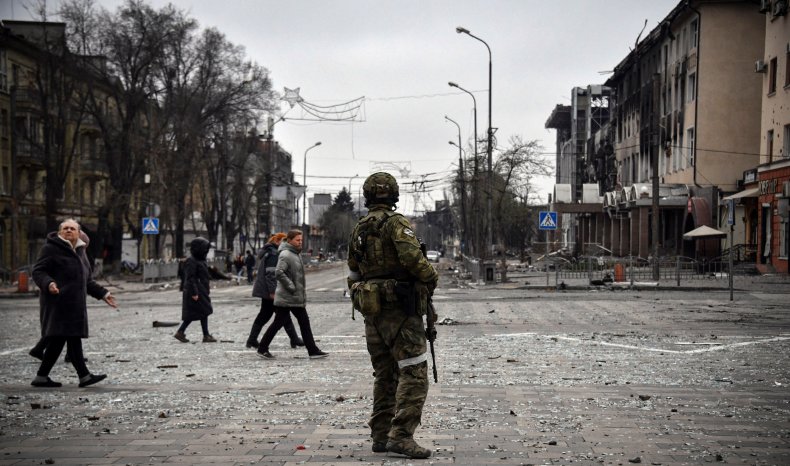 Some clips shown in the video shared by TASS tells residents that touching Russian combat helicopters is "strictly forbidden." Another clip appears to show information about police departments in Mariupol.
A nearly three-month siege ended last week in the city after roughly 2,500 Ukrainian fighters abandoned Mariupol's Azovstal steel works after making a stand against Russian forces.
Mariupol is a strategic port city on the Azov Sea that forms part of a land corridor from the eastern Donbas region, which borders Russia, to Crimea, which the Kremlin annexed from Ukraine in 2014.