Russia's defense ministry has said its troops have destroyed Ukrainian weapons supplied by the U.S.
Defense Ministry spokesman Lieutenant-General Igor Konashenkov claimed the successful strikes during an update to reporters on Saturday.
"As part of the counter-battery fight, two American M777 howitzers were destroyed in the area of ​​Stepnogorsk, Zaporozhye region," he said, according to state news agency TASS.
In May, the U.S. gave 90 of the field artillery pieces, which are used by the U.S. Army and Marine Corps, to Ukraine. The M777 uses NATO-standard 155-millimeter shells, which is an improvement over Ukraine's 122 and 152-millimeter artillery pieces.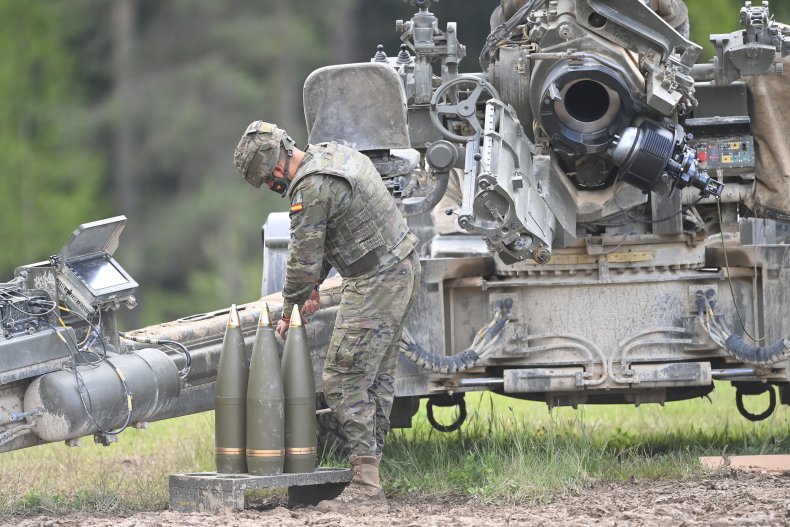 They generally fire precision-guided Excalibur rounds that use the Global Positioning System (GPS) to hit targets and Ukraine has hailed them for their precision and power.
Konashenkov also said on Saturday that Russian troops had destroyed Ukraine's Soviet-era multiple launch rocket systems, Giatsint-B and Uragan. This followed strikes in the towns of Kodema and Belaya Gora in the self-proclaimed Donetsk People's Republic, which Moscow backs.
Newsweek has contacted the Ukrainian defense ministry for comment.
Russia has made a number of unverified claims about destroying Ukrainian weapons. Last week, Russia said it had destroyed four M142 High Mobility Artillery Rocket Systems, or HIMARS, which are also supplied by the U.S.
However, the claim came only a day after the U.S. said that all of the systems it had supplied Kyiv remained intact.
Both Russia and Ukraine's claims about the opposing side's losses have been met with some skepticism. Independent Russian outlet Agentstvo reported last month that the number of weapons and military vehicles Moscow claimed to have destroyed in Ukraine exceeded what Kyiv had in its arsenal.
Ukraine has previously dismissed Russian reports of successfully targeting HIMARS.
Meanwhile, the weapons systems are proving to be a game changer for Kyiv's forces. They were used to destroy ammunition depots in the southern Ukrainian city of Nova Kakhovka and the vital Antonivka Road Bridge in the Kherson region, where Ukrainian troops are mounting a counter-offensive.
HIMARS can shoot targets up to 50 miles away allowing Ukrainian forces to shoot from a long distance and move away before there is any counterattack. A Pentagon official said on Friday that they have stopped Russia from gaining air superiority in the war.
So far, the U.S. has supplied 12 of the systems and pledged an additional four. However, Ukrainian Defense Minister Oleksii Reznikov has said his country would need at least 100 of the systems to reverse Russian gains in the Donbas region.
Newsweek has contacted the Russian Defense Ministry for comment.