Russia Drops Bomb on Ukrainian School Sheltering 90 People: Governor
A school in Ukraine's Luhansk region that was serving as a shelter for nearly 100 people in the village of Bilohorivka has been bombed by Russia, a Ukrainian official said Saturday.
Serhiy Haidai, head of Ukraine's Luhansk Regional Military Administration, said 90 people were hiding from shelling when a Russian plane dropped a powerful bomb, according to pravda.com.
"Almost the entire village was hiding. Everyone who did not evacuate. After the social club was hit, the basement of the school was the only place of salvation, but the Russians took this chance from people," he said.
Haidai reported around 30 people had been rescued from the rubble.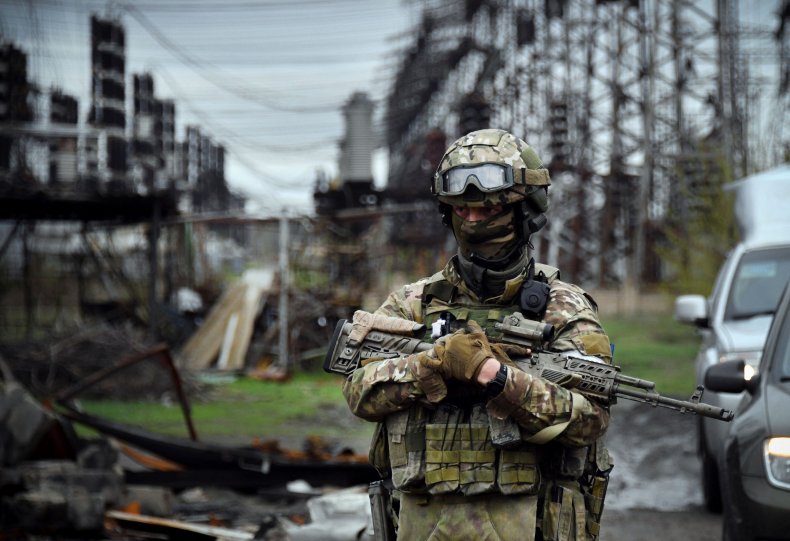 Two people were found dead, the State Emergency Service of Ukraine told the Novosti Donbassa news outlet, saying the rescue will be suspended until Sunday.
Photographs circulating with media reports show the school reduced to a pile of rubble.
Fighting has been heavy recently in the area where the school was bombed. Haidai called it a "hot spot,"' according to pravda.com. On Friday, two children were killed by shelling in Luhansk region, with an adult and two other children reportedly injured.
The ramped up fighting follows a warning by Michael Carpenter, U.S. ambassador to the Organization for Security and Cooperation in Europe, who told officials Monday that Russia may plan to annex the Luhansk and Donetsk regions in "mid-May."
"According to the most recent reports, we believe that Russia will try to annex the 'Donetsk People's Republic' and 'Luhansk People's Republic' to Russia," Carpenter said in an Al Jazeera report. He also said evidence points to Russian officials seeking to turn Kherson, in the southeast, into a "people's republic" as well. Kherson is under Russian control.
The bombing of the school also comes ahead of Russia's Victory Day celebrations, held each year on May 9 to mark the Soviet Union's 1945 victory over Nazi Germany in World War II.
This year's event will include a flight by Russia's IIyshinin II-80 airborne command plane, the aircraft which would carry Russian President Vladimir Putin and others in the event of a nuclear war, according to Reuters.
Some officials believe Putin will formally declare war with Ukraine on Victory Day.
"I think he [Putin] will try to move from his 'special operation,'" British Defense Secretary told LBC Radio, according to Al Jazeera. "He's been rolling the pitch, laying the ground for being able to say, 'Look, this is now a war against Nazis, and what I need is more people. I need more Russian cannon fodder."
Newsweek has reached out to the Russian Defense Ministry for comment.