Putin Has Little to Show in Ukraine With 3 Days to Victory Day Parade
Russia on Monday will hold a parade in Moscow's Red Square in celebration of Victory Day, its annual commemoration of the end of World War II. Under normal circumstances, the day is a major event in Russia, but the country's setbacks in the ongoing war in Ukraine could cast a shadow over this year's festivities.
Reports based on Western intelligence have suggested Russian President Vladimir Putin could use the occasion of Victory Day to formally declare war on Ukraine, thus increasing his military efforts. Earlier in the conflict, U.K. defense officials said Moscow had hoped for substantive military gains before May 9, but those goals have not been met.
Various Russian officials have publicly admitted that the war is not going as well as the Kremlin had hoped it would. The country's military has been beset with low troop morale along with suffering many casualties and strategic setbacks.
"It's going poorly for Russia," Jonathan Katz, the director of Democracy Initiatives and a senior fellow with the German Marshall Fund of the United States, recently told Newsweek. "He [Putin] doesn't have a tremendous amount to show on the battlefield."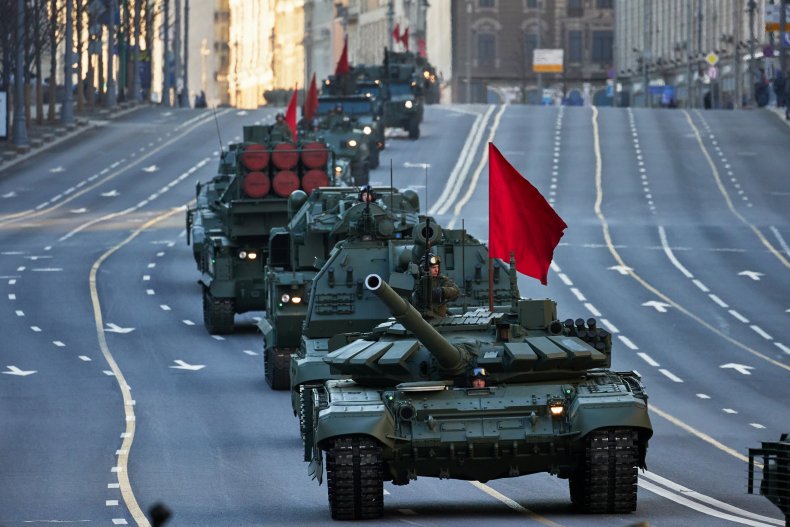 Kremlin spokesman Dmitry Peskov on May 4 denied Putin would make a war declaration against Ukraine on Victory Day. If the Russian leader indeed doesn't make any announcements regarding tactical changes, he may use the occasion to build morale for the war.
"The May 9 date for Russians is historically so important, and Putin is trying to weave together this past victory in World War II to what he's doing in Ukraine," Katz said.
No matter what Putin may or may not do on Monday, early reports indicate that Russia plans to tone down the celebrations for this year's Victory Day parade. Data released from the Russian Ministry of Defense shows the parade will be scaled back from 2021. The ministry reported there will be 129 units of military equipment in Red Square on May 9, while last year, 191 military vehicles took part.
The ministry also said around 10,000 civilians will walk in the parade this year, compared to 12,000 who participated last year. Meanwhile, the Russian state-run outlet RIA Novosti reported that more than 11,000 troops are expected to march, which is down from the 12,000 troops who marched in 2021.
Last month, Putin looked to address some of his military's failures in Ukraine by appointing a new top commander in the military campaign. U.S. officials confirmed General Aleksandr Dvornikov took over command of Russian forces in Ukraine in April.
When asked about the new commander, White House press secretary Jen Psaki told reporters on April 11: "Our view is that even a changeover in personnel or leadership at the top is not going to erase the fact that this is a strategic failure for Russia."