Some Western officials believe Russian President Vladimir Putin could soon formally declare war on Ukraine, a move that experts say would grant him unprecedented powers over Russia.
Recent reports have stated Putin could officially declare war on Victory Day, an annual Russian commemoration of the end of World War II on May 9, based on intelligence from U.K. defense officials. Kremlin spokesman Dmitry Peskov on Wednesday disputed those reports, yet there is a feeling such a declaration could still be made in the coming days.
"This would not be a symbolic declaration," Yuri Zhukov, an associate professor at the University of Michigan, said to Newsweek. "If Putin declares war on Ukraine, this will give him powers beyond anything we've seen so far in his presidency."
Zhukov and other experts told Newsweek a war declaration would allow Putin to mobilize reserve troops into Ukraine and draft conscripts. The move would also allow him to wield more control over citizens within Russia.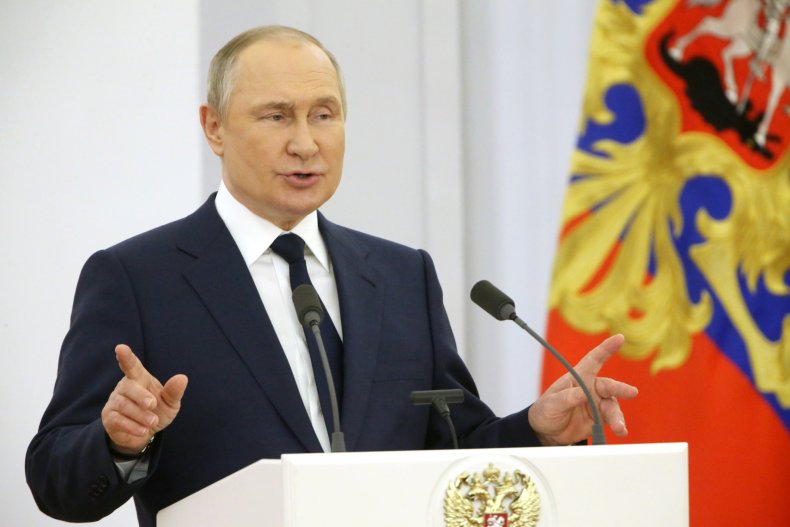 "The Russian president will have the power to cancel elections and referenda; shut down the activities of political parties; ban all public gatherings, political demonstrations and labor strikes; restrict the ability of people to freely travel within the country; prohibit Russian citizens from leaving the country; prohibit people from moving to a new address; implement curfews; confiscate private property; implement total censorship; and halt the activities of any international and foreign organizations operating in Russia," Zhukov said.
Simply put, Zhukov said a war declaration "would place Russia several giant steps up the totalitarian ladder."
Numerous reports have suggested morale is low among Russian troops in Ukraine, which could affect future recruitment efforts as the conflict drags on. If Putin formally announces a war, martial law could then be declared in the country, allowing Russia to draft conscripts into service.
"Manpower has been in short supply for Russia so far in this war, especially after the personnel losses of the first few weeks," Zhukov said. "The military has tried to use monetary incentives and generous combat pay to recruit volunteers for front-line duty, but there are limits to how far you can get with this approach."
A formal war declaration would allow Putin to not only increase the amount of troops available, but it "also could keep soldiers in the fight for longer periods—what we call stop-loss—and to justify to them and their families why they aren't returning home on schedule," Northwestern University political science professor William Reno told Newsweek.
"The Russian government can try to redefine 'winning,' but an extended conflict without fresh, well-trained battalion-level elements to rotate into the battle will leave Russia in a worsening position," Reno said. He noted Putin's strategy so far seems to be to "outlast the Ukrainians in a war of attrition."
Lawrence Reardon, an associate professor of political science at the University of New Hampshire, told Newsweek he thinks Putin feels he needs to hold back on the use of chemical and tactical nuclear weapons, lest NATO be drawn into the conflict. Thus, by declaring war, the Russian leader could perhaps make more of a case of the invasion to China.
"With its quick victory transforming into a military quagmire, Putin needs to shore up international support with his Chinese allies as well as reinforce his control over the Russian military," Reardon said.
"It's going poorly for Russia," Jonathan Katz, the director of Democracy Initiatives and a senior fellow with the German Marshall Fund of the United States, told Newsweek. Because of this, Putin could use a war declaration to "maintain some domestic momentum to continue to do what he's doing."
"He doesn't have a tremendous amount to show on the battlefield," Katz said. A war declaration would then have "a domestic side to reporting his narrative to the Russian public to maintain support."
"Putin stands at a crossroads now and will have to choose whether to wind the war down without having accomplished much or whether to escalate and to try to return to the political aims he had at the beginning of the war," Michael Kimmage, a history professor at The Catholic University of America and former member of the secretary's policy planning staff at the State Department, said to Newsweek.
Kimmage added that the Russian president could benefit politically from full mobilization, because "it could obscure how badly the war has gone for Russia."
However, it could be a grave miscalculation, according to Reardon.
"Should Russia continue to falter, Putin's declaration of war will turn into a declaration of defeat and the end of his regime," Reardon said.