Ukraine Claims Russia Wants to End War by May 9, Its WWII 'Victory Day'
Russia wants to end its war with Ukraine by the same day it celebrates its victory in World War II, Ukrainian officials said.
The general staff of the Armed Forces of Ukraine told the Kyiv Independent their intelligence indicates the Russians want to end the war by May 9, which is a day celebrated in Russia to mark its victory over the Nazis more than 70 years ago.
Victory Day is one of Russia's biggest holidays, with many schools and businesses closing for the day and military parades marching throughout the country, according to Time and Date. It marks Nazi Germany's surrender to Soviet forces in 1945.
With Russian President Vladimir Putin continually claiming that Russia's invasion of Ukraine is a "denazification" of the country—despite no evidence of widespread Nazism and Ukrainian President Volodymyr Zelensky being Jewish—the date holds significance for the Russians, both in the past and the present.
The news comes as Russia's attack on Ukraine marks the end of its first month. Throughout Russia's various attacks in Ukraine, Russia has claimed to be targeting Nazis rather than civilians. For example, a Russian official said forces bombed a nuclear research lab in Kharkiv earlier this month because the Azov Battalion, a neo-Nazi military regiment, was planning to blow it up and blame the Russians.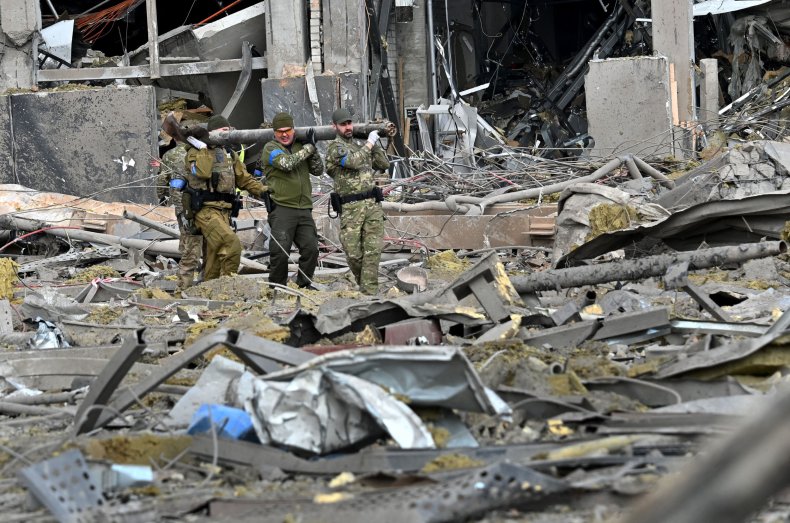 Officials also said a children's and maternity hospital in Mariupol was targeted in an airstrike because far-right radicals had taken it over, despite providing no evidence. Political figures around the world, including in the United States, have referred to the attacks on the hospital and on nuclear facilities as war crimes.
Despite Putin's claim of denazification as the reason for Ukraine's invasion being "propaganda," it's true that Ukraine has seen a rise in neo-Nazi and white supremacist groups, according to an NBC News report.
The leader of one group, called Svoboda, said Ukraine is controlled by a "Muscovite-Jewish mafia," with another member calling the Holocaust a "bright period" in history. The founder of the Azov Battalion, which is part of Ukraine's National Guard, has said Ukraine's "national purpose" is to get rid of the Jews and "inferior races" living in Ukraine, the report added.
However, there is no evidence of Nazism in Ukraine's leadership. Zelensky's own family died in the Holocaust. In a previous interview with Newsweek, Thomas Graham, distinguished fellow at the Council on Foreign Relations and cofounder of the Russia, East European and Eurasian studies program at Yale University, said the anti-Nazi narrative is strong in Russia.
"One of the great Russian triumphs of the last century was the victory over Nazi Germany, which came at tremendous sacrifice by the Soviet people," he said. "So Putin is trying to sort of recycle this anti-Nazi narrative to appeal to a very strong emotion as a way of rattling support for what he's doing."
Newsweek reached out to Russia's Ministry of Foreign Affairs for comment.
Update 03/24/22, 5:40 p.m. ET: This article was updated with additional information and background.