Russia Expert Warns of Putin Expanding War Beyond Ukraine as Donbas Pounded
As the military onslaught continues in Ukraine's Donbas region, Olga Lautman, an expert on Russia, is warning about the country's plan to expand its aggression across Europe.
Russian President Vladimir Putin raised alarms this week about his military intentions going forward when he invoked the legacy of the monarch, Peter the Great. The famed Russian leader, who reigned from 1682 to 1725, notably led a series of successful wars that helped establish the country as a major international force.
"Peter the Great waged the great northern war for 21 years," Putin said during a speech. "It would seem that he was at war with Sweden, he took something from them. He did not take anything from them, he returned [what was Russia's]. Apparently, it is also our lot to return [what is Russia's] and strengthen [the country]. And if we proceed from the fact that these basic values form the basis of our existence, we will certainly succeed in solving the tasks that we face."
In light of this comparison, the Express UK spoke with Lautman, who is also the host of the Kremlin File podcast, about what the future could hold for the country militarily. Noting that the country is already engaged in a conflict with one former Soviet Union territory, Lautman warned in an interview published Saturday that others could be at risk.
'The War Will Come Out of Ukraine'
"The West must supply Ukraine with as much military support as it can, because if Russia succeeds in Ukraine they will expand their war," she said. "The war will come out of Ukraine into other parts of Europe."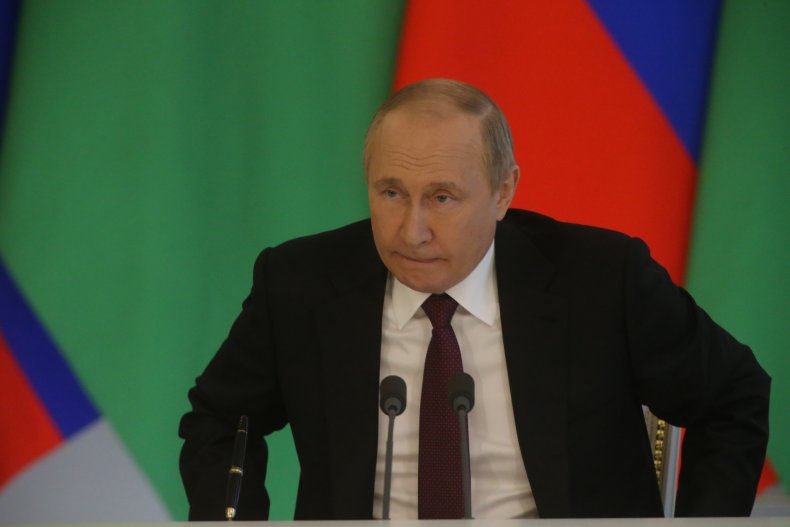 Lautman specifically highlighted Russia's military build-up in Transnistria, an unrecognized breakaway region of Moldova, another former Soviet territory. The invasion of Ukraine was also precipitated by an unrecognized breakaway region, Donbas. A similar situation is also taking place in South Ossetia, a breakaway region considered to be a part of Georgia.
Putin has also been increasingly antagonistic to other European nations beyond those that used to be Soviet territories, including some that have made overtures toward joining the North Atlantic Treaty Association (NATO).
"Then of course Poland, we have heard the former Russian prime minister Medvedev's comments about Poland," Lautman added. "We have also seen the threats against Finland and Sweden because they wanted to join NATO, and you have the Baltics too."
In March, Russian Foreign Minister Sergey Lavrov previously asserted that the country has no plans to invade other nations following its operations in Ukraine. He also insisted that the country's actions in the Eastern European country are not an attack, characterizing them as a response to threats against "the safety and security of the Russian Federation."
Newsweek reached out to the Russian Ministry of Foreign Affairs for comment.