Ex-Soviet Nations Likely to Reject Russia, Belarus Calls to Form New USSR
Russian President Vladimir Putin and Belarusian President Alexander Lukashenko reportedly have plans to strengthen their "Union State" and are looking to attract other former members of the dissolved Soviet Union, but the likelihood of other ex-USSR republics joining seems low in the face of the Ukrainian invasion.
Belarus has remained one of Russia's top allies since the start of the Russia-Ukraine War in late February, which drew condemnation from around the globe. But reports from Belarus' state-owned BelTA news agency indicate that Lukashenko and Putin are interested in taking the relationship between their countries to a more cooperative level in a move reminiscent of the former USSR, though authorities have yet to confirm these reports.
"We are building a single Union State on the new principles to ensure that everyone's interests are respected, that the sovereign independent states—Belarus and Russia—keep developing. I am sure that this union will attract other republics of the former Soviet Union," BelTA quoted Lukashenko as saying during a meeting with Governor of Russia's Voronezh Oblast Aleksandr Gusev in Minsk on Thursday.
The Soviet Union was established in December 1922 and eventually grew to encompass 15 nations: Russia, Ukraine, Georgia, Belarus, Uzbekistan, Armenia, Azerbaijan, Kazakhstan, Kyrgyzstan, Moldova, Turkmenistan, Tajikistan, Latvia, Lithuania and Estonia, according to History.com.
Leaders of four former Soviet Union nations have firmly condemned Russia's invasion of Ukraine, making it unlikely that they would be willing to join a new iteration of the USSR.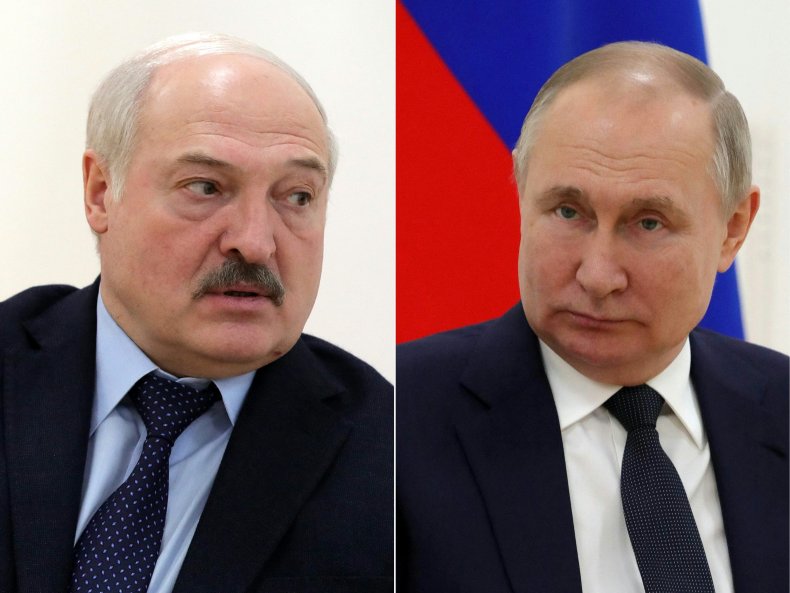 Latvian President Egils Levits immediately condemned Russia's invasion when it began on February 24 and has remained vocal in support of Ukraine in the months since. He has made calls on Twitter, for example, for Ukraine to be admitted speedily into the European Union.
Lithuanian President Gitanas Nausėda also took to Twitter on February 24 to express his condemnation and call for a response.
"I strongly condemn Russia's military attack against #Ukraine. It endangers millions of innocent people & undermines the foundations of international order. It is up for the West now to respond appropriately! #StandWithUkraine," he tweeted.
He also immediately called for "tough sanctions" against Russia and expressed the need for solidarity and readiness "in the face of raging evil."
Moldova's President Maia Sandu added to the chorus of condemnation that same day by immediately decrying the invasion as an "act of war" and describing the attack as a "blatant breach of international law" and Ukraine's territorial sovereignty.
"As a neutral state, Moldova stands ready to assist [Ukrainian] citizens in their humanitarian needs," she tweeted.
Estonia's Prime Minister Kaja Kallas, also on February 24, tweeted: "I condemn in the gravest manner #Russia's large-scale military attack against #Ukraine. Aggression is a crime that demands the clearest international reaction and strong response. We are with Ukraine and the Ukrainian people at this dark hour. We #StandWithUkraine."
She decried reports of civilian attacks and other "horrific scenes" in Ukraine in an Economist essay published earlier this month.
The stances of other ex-Soviet states have been less clear, particularly in the region of Central Asia. Kazakhstan, for example, has not condemned Russia's invasion. But it has provided Ukraine with humanitarian aid, said it will heed Western sanctions against Russia and called for the conflict to be resolved in line with the United Nations charter, Reuters reported.
Azerbaijan, in the Caucasus region, has also provided aid to Ukraine, according to a February 26 tweet from Ukrainian President Volodymyr Zelensky. But the country's leaders have largely walked a cautious line in terms of taking sides, according to Eurasianet.
In the country of Georgia, residents protested in the streets on the first day of the invasion, but in a more cautious move, Prime Minister Irakli Garibashvili refused to join other countries in imposing sanctions on Russia, Al Jazeera reported.
When the United Nations General Assembly voted to suspend Russia from membership in the U.N. Human Rights Council earlier this month, Kazakhstan, Kyrgyzstan, Tajikistan and Uzbekistan were among the 24 countries that voted against the move.
Still, aside from Belarus, none of the other former Soviet Union republics have endorsed Russia's war in Ukraine, at least publicly, presenting a potential issue that could prevent them from joining the Union State.
Newsweek reached out to Russia's and Belarus' foreign ministries for comment.