A former U.S. ambassador to the Soviet Union during the Cold War said Monday he fears a world in which Russia is seen as a "pariah" nation.
Jack Matlock Jr., who served on Republican President Ronald Reagan's National Security Council and later as ambassador to the USSR until 1991, told CNN he's wary of completely exiling Moscow from the international community.
"To think that the world would benefit from making Russia—a nuclear power equivalent to the United States—a pariah I think does not really represent our interests in the future," Matlock said. "I fear a world of that sort."
Matlock's comments came after Russia drew international outrage this past weekend over reports of mass atrocities and was accused of committing brutal war crimes in Ukraine. Officials in the country said Russian troops massacred over 400 civilians when they withdrew from the Kyiv region this weekend. Graphic images that have circulated worldwide show corpses with their hands tied behind their backs, while dozens of bodies were found in yards, cars and alongside streets.
Russian soldiers have also been accused of raping and torturing Ukrainian civilians, as well as looting.
Matlock told CNN, "I was involved in negotiating the end of the Cold War. And we had the possibility then of establishing a situation in Europe of security for everybody. But we proceeded on a different course. I think it's time to return to diplomacy. Emotions can easily take over."
He added, "I share many of these emotions, but the idea that we can make a major nuclear-weapon state a pariah, that by our actions we actually are destroying those elements in that society that could bring a positive change in the future, I think that is not wise."
But Brian Klaas, an associate professor of global politics at University College London, told CNN he disagreed with Matlock. Russia, he said, has brought pariah status upon itself.
"The idea that it's our fault in some way to make them a pariah state for committing war crimes, that's part of international law. I mean, I think this is something where we have to decide whether we're going to continue to appease a country that is willing to invade sovereign territory," Klaas said.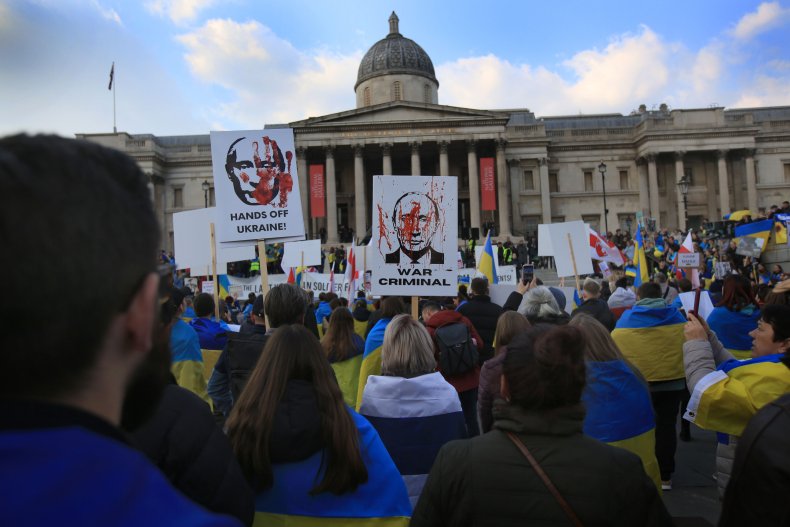 Eugene Finkel, a Holocaust expert, told Newsweek this week that the atrocities in Ukraine were akin to genocide, a term Ukrainian President Volodymyr Zelensky has used to describe the killings. Hundreds of Ukrainian civilians were discovered dead in mass graves and in the streets in Bucha, a suburb of the capital city of Kyiv, according to reports that emerged this past weekend.
Meanwhile, world leaders have condemned Russia's actions and called for further sanctions against Moscow. In response, Russia has denied it committed any war crimes and has said the footage of dead bodies was a "staged performance" by Ukraine.
On Monday, President Joe Biden called Russia's actions "brutal" and "outrageous" and joined other world leaders in saying that Russian President Vladimir Putin should be held accountable as a war criminal.
"We have to continue to provide Ukraine with the weapons they need to continue the fight, and we have to get all the detail so this can be an actual...wartime trial," the president said.
However, he stopped shorting of calling the mass killings of Ukrainian civilians genocide, saying they were a war crime.