Russia Fleet Practices Ballistic Missile Strikes Against Baltic Targets
Russia's Baltic Sea fleet has announced large-scale practice strikes using ballistic missiles against simulated regional targets, as Moscow continues to threaten action against NATO nations in retaliation for the West's expanding military support to Ukraine.
The Baltic Fleet exercises involved 50 personnel and some 10 pieces of "military and special hardware," a fleet statement translated and published by Russia's state-run TASS news agency said Wednesday.
The exercises, TASS reported, practiced the delivery of "massive missile strikes" against simulated enemy ground targets using Iskander ballistic missiles, which have played an important role in Russia's ongoing invasion of Ukraine.
The drills took part in the Russian Kaliningrad exclave—wedged between Poland and Lithuania—which has been the crux of tensions over European Union sanctions on the Kremlin.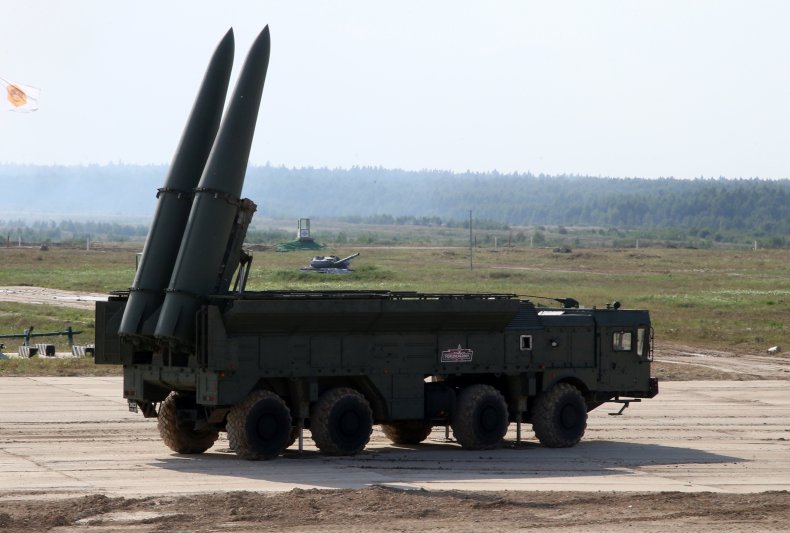 "During the drills, the missile troops stealthily advanced to the designated deployment area, equipped launch sites, and conducted electronic sole and multiple launches against the targets simulating the enemy's missile launchers, airfields, shielded facilities, and command posts," the Baltic Fleet press office said in the statement.
The fleet said the Iskander teams used drones to discover simulated enemy targets and moved after firing to avoid retaliatory strikes. The missile squads also operated in simulated radiation and chemical contamination environments, per the statement to TASS.
The ground-launched Iskander has a range of some 310 miles and can travel at a terminal hypersonic speed of up to 2,600 meters per second. It can carry a payload of between 1,060 and 1,540 pounds, including nuclear warheads.
Iskanders have been used extensively in Russia's bombardment of Ukraine. Ukrainian Defense Minister Oleksii Reznikov said in December that Moscow had fired 776 Iskanders from its total pre-invasion stock of 900, leaving only 124—or less than 14 percent—of the arsenal for use.
Russia has long deployed Iskander missiles to the Kaliningrad exclave, which would be a key strategic target in the case of a direct NATO-Russia conflict. The Baltic Fleet is headquartered in the Kaliningrad town of Baltiysk.
Last year, Moscow threatened action over a partial Lithuanian blockade of the territory related to the EU's sanctions campaign. "Russia reserves the right to take actions to protect its national interests," the foreign ministry said amid the standoff, which eventually ended with the transit restrictions lifted.
Moscow has also threatened to deploy nuclear weapons to Kaliningrad if Sweden and Finland are allowed to join the NATO alliance, though experts and regional NATO officials believe Moscow has long maintained nuclear warheads in the strategic exclave.