Russia Responds to Tucker Carlson's NSA Allegations
The scrutiny that Tucker Carlson has faced over trying to arrange an interview with President Vladimir Putin was yet another example of Russia being portrayed negatively by the U.S., the country's foreign affairs spokeswoman has said.
Maria Zakharova mocked the fracas surrounding Carlson, who claimed the National Security Agency (NSA) leaked emails about him trying to contact Putin in a bid to discredit him.
In comments made on her Telegram social media channel and picked up by Russian state media outlets, Zakharova described it as a "very strange story" which no one would have paid any attention to were it not for the fact that, "for some reason, a theory about the 'Russian threat' had been thrown into the mix."
"Allegedly, Tucker Carlson wanted to interview the President of Russia and therefore came to the attention of the special services," she said.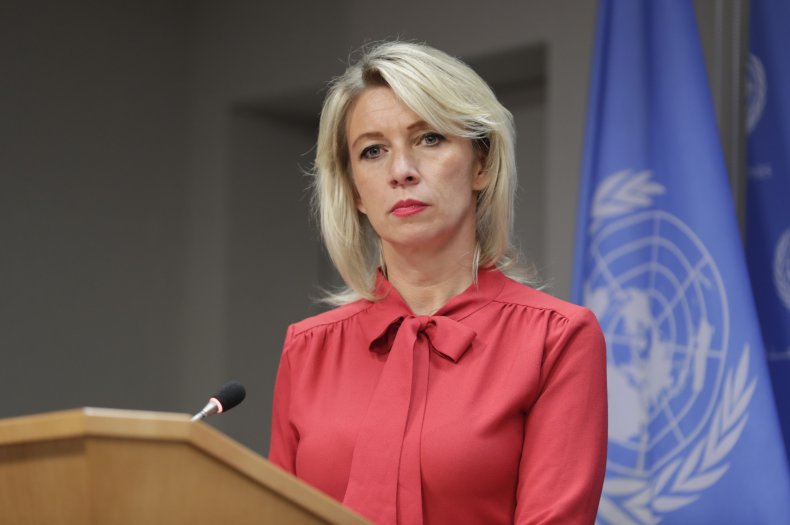 "According to the journalist, the NSA had plans to portray him as a 'mouthpiece of the Kremlin' and 'agent of Russian propaganda,' read her post made on Friday.
"In the worst traditions of McCarthyism, the 'Russian dossier' has become a stable component of U.S. domestic political life," she said.
"It's time to switch to aliens and UFO," she added in an apparent reference to the recent Pentagon report of unidentified objects that have puzzled the U.S. military.
Carlson had said he had been informed by a whistleblower that the NSA planned to leak the contents of his emails to the media in order to "paint me as a disloyal American, a Russian operative," as well as "a stooge of the Kremlin."
However, The NSA has denied claims the Tucker Carlson Tonight host was an intelligence target and said that it has never had any plans to try to take his program off the air.
Carlson then repeated the claims and dismissed the NSA statement as "infuriatingly dishonest." He also told the podcast The Truth with Lisa Boothe, which airs in full Monday that he felt he had "no choice" but to say what he did.
"I did it defensively," he said, "I don't have subpoena power. I can't arrest anybody. I can't make them answer questions.
"All I can do is talk about stuff with the megaphone of the show in the hope that that will...protect us, but I really felt threatened by it," he said in a preview clip obtained by Mediaite.
The NSA told Newsweek it had "no comment." Meanwhile, when contacted by Newsweek, Fox pointed to a statement it had earlier provided the media outlet Axios, which said, "We support any of our hosts pursuing interviews and stories free of government interference."
The network also referred to a previous statement by Carlson, which said that, "the NSA read my emails, and then leaked their contents. That's an outrage, as well as illegal."
Update 07/11/21 03:37 a.m. ET: This article has been updated to include a response to Newsweek from Fox News.