Tucker Carlson Confirms He Wanted to Interview Putin, Says NSA 'Unmasked' Him
Fox News host Tucker Carlson confirmed on his show Wednesday that earlier reports he was attempting to set up an interview with Russian President Vladimir Putin were correct. He also said that the National Security Agency (NSA) had leaked emails about this attempt in order to "discredit him."
Last week, Carlson stated that the NSA was spying on him and his communications in an attempt to remove his show from Fox News. On Wednesday morning, he appeared on the Fox Business show Mornings With Maria, he told host Maria Bartiromo that the NSA was trying to publicly shame him in front of other journalists.
"Yesterday I learned, that—and this is going to come out soon—that NSA leaked the contents of my email to journalists in an effort to discredit me," Carlson stated. "I know this because I got a call from one saying, 'Oh, this is what your email was about."
"So, it is not in any way a figment of my imagination," he continued. "It's confirmed, it's true. They are not allowed to spy on American citizens—they are—and I think more ominously, they are using information they gather to put leverage, to threaten opposition journalists, people who criticize the Biden administration. It's happening to me right now, and I think it's shocking and I don't think we should put up with it in a free country."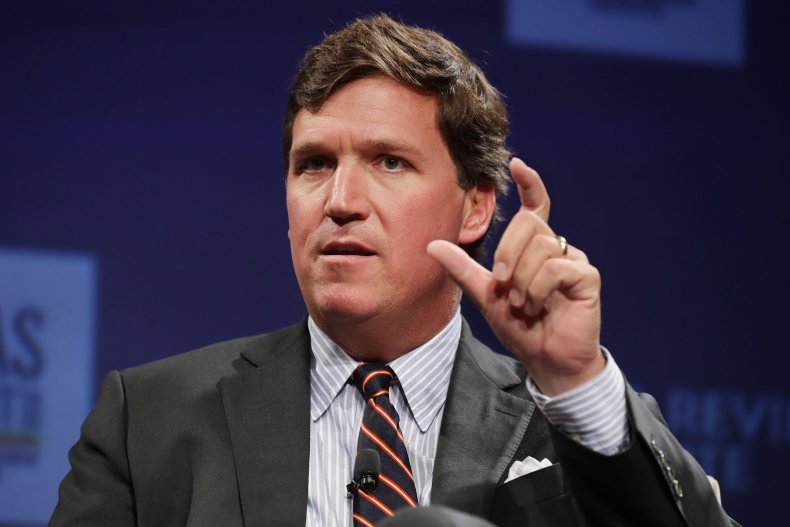 On his show Wednesday night, Carlson stated that the NSA wanted to attack his loyalty to America and embarrass him.
"They want to paint me as a disloyal American, a Russian operative—been called that before—a stooge of the Kremlin, a traitor doing the bidding of a foreign adversary."
Finally, he mentioned that he was "unmasked." When data is collected by an intelligence agency and disseminated to others in the U.S. government, the names of any private citizens who are not targets of investigation are hidden in order to protect those people from having their privacy invaded. "Unmasking" refers to when the names are unhidden from these reports. At the NSA, approximately 20 people have to approve an unmasking request, according to a 2017 interview with former NSA Director Michael S. Rogers.
Carlson also asked that current Director of the NSA, General Paul Nakasone, "should explain who asked for that unmasking."
In a statement last week, the NSA denied Carlson's claims.
"This allegation is untrue. Tucker Carlson has never been an intelligence target of the agency and the NSA has never had any plans to try and take his program off the air," the NSA said in a statement released via Twitter June 29.
"NSA has a foreign intelligence mission," its statement continued. "We target foreign powers to generate insights on foreign activities that could harm the United States. With limited exceptions (e.g. an emergency), NSA may not target a U.S. citizen without a court order that explicitly authorizes the targeting."
Carlson has disputed the NSA's statement, and on June 29 said that though the NSA said his allegation was untrue, the statement did not specifically state whether or not the Biden administration had been reading his emails. In that broadcast, Carlson also said that NSA representatives refused to answer his question directly when he called.
A FOX News spokesperson told Axios: "We support any of our hosts pursuing interviews and stories free of government interference."
Tucker Carlson also provided a statement to Axios: "As I've said repeatedly because it's true, the NSA read my emails, and then leaked their contents. That's an outrage, as well as illegal."
Update (7:00 p.m., 7/8/2021): This article has been updated to include Carlson's and Fox News' statements to Axios.